Every day thousands of people are starting to investigate crypto first time. And some of them come on your project's web page. But they are newbies that don't have ETH or USDT to purchase your token. That's a problem. Fortunately, most of these newcomers have bank cards so that they could buy your altcoin for local fiat currencies. Today, you will know about two solutions that allow your website visitors to buy your project's tokens with a bank card or Apple Pay. The first one is a simple and free solution that takes 4 hours to implement. The second solution is quite expensive, but it's more suitable for projects with high market caps.
Also, learn how to grow your token awareness at no cost. For example, boost the attractiveness of your crypto-asset by adding it for free on the Metamask, MEW, Trezor, Ledger, TrustWallet wallets, CMC, CG, Coincodex, LiveCoinWatch, CoinCheckup, Coindataflow, DigitalCoin, Coincost, Blockspot, TokenInsight, CoinLore, Coindar, BitDegree, Coinopy, and Coinpaprika trackers. Also, increase the market capitalization of your cryptocurrency and rank by updating its circulation supply on Coingecko and CoinMarketCap. Furthermore, list your token on the top coin-voting sites and add token to Binance free of charge as well as to Coinbase. Besides, turn on the price and market cap traction on the main explorers. And grow free liquidity on PancakeSwap and Uniswap now. Finally meet a step-by-step guide to making successful altcoin.
Two ways to add bank card and Apple Pay as purchasing options
There are two ways to provide your website's visitors with the opportunity to buy your project's tokens with a bank card and Apple pay. The first way is available at no cost and easy to implement. The second way allows your users to purchase your coin on your site or in your app directly but costs money. Continue reading to learn more about each solution.
How to add bank cards and Apple Pay payment options at no cost?
To add bank card and Apple Pay payment options to your website, follow three simple steps:
List your token on Tokpie exchange. Thanks to partnering with Simplex (global fiat infrastructure to enable secure credit card processing for the crypto industry), Tokpie is eligible to sell crypto with bank cards.
Ask the Tokpie team to add bank cards and Apple Pay payment options. It's free of charge.
Add a button on your website's main page and link it to the bank card payment option. Look at the real-time working example (image below).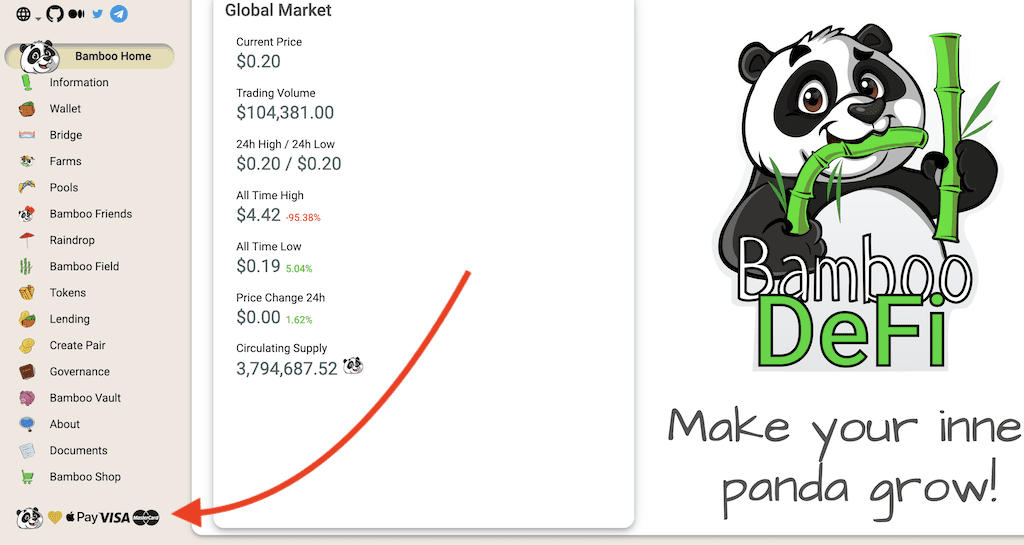 Note that you can add Visa, Mastercard, and Apple Pay logos if it's suitable for your web design.
How to add my token into the Simplex bank card processing widget?
To add your project's token into the Simplex list of crypto assets available for purchase with a bank card and Apple Pay, do the following steps.
List your token on at least three exchanges from the TOP30 due to the CoinMarketCap's rank.
Add your token on CoinMarketCap and make sure that it has a market cap above $100M due to CMC. It's important because the cost of integration with Simples depends on your market capitalization.
Be ready to pay a listing fee to Simplex. The price depends on your coin's market cap as follow:
| | |
| --- | --- |
| Pricing | Market Cap |
| $50K | above $300M |
| $100K | above $100M |
| $150K | above $150M |
Note that Simplex can recoup the payment in full or partially against Simplex's fees after six months of selling the coin.
Despite the high fee, the benefits of such integration are enormous. It allows exposing your coin to hundreds of millions of users worldwide on hundreds of exchanges and wallets, including Binance, KuCoin, Poloniex, OKEx, Huobi, Bithumb, Abra, Trust, BRD, Changelly, and many more. Moreover, you will get an immediate impact on coin valuation. For example, Deep Coin (DEP) and Tron (TRX) have got 68% and 57% price growth, respectively, since one week after integration.
What are the advantages?
After integration, your users can choose to purchase your Token with Bank Card that can be Visa, MasterCard, debit, or credit card. Also, they can use Apple Pay at checkout. Moreover, with 45% of Americans owning an iPhone, it's safe to say that Apple Pay is the popular choice for millions.
To alert the maximum number of users to this exciting addition, we suggest placing the Apple pay logo (alongside Visa and MasterCard) on your website. Tokpie takes care of all the back-end work. Give us a shout that you want us to turn it on.
Besides, additional ways of payments appears regularly. For example, users can buy crypto with PIX and Pay4Fun (look at the screenshot below).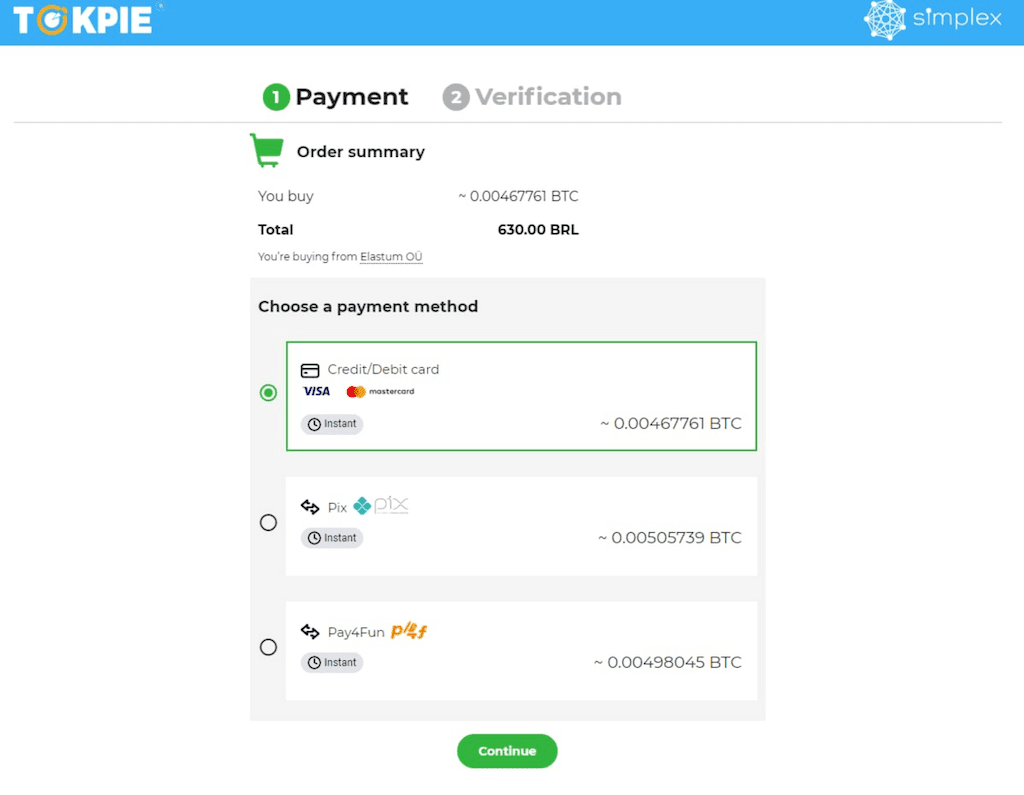 Bottom Line
Cryptocurrency adoption is growing. So many new people (your potential token buyers) are coming into the market. But these newbies don't have crypto to purchase your coin. Therefore, having the bank card and Apple Pay buying options on your site is essential. It will be supporting the demand on your project's token forever. Moreover, it allows making quick emotional sales. If you want to integrate that solution today, contact us at info@tokpie.com. The Tokpie team will help you and guide you on every step.
Useful links to make a token more attractive
For any questions or cooperation, you can contact Tokpie at https://t.me/tokpie