Adding a token to BitDegree is a complex yet rewarding process. The first part of the process involves understanding the platform's features and the role of crypto aggregators. This is followed by adhering to key considerations, such as increasing followers and trading volume. The step-by-step process includes meeting specific requirements, emailing the Bitdegree team with essential details, and regular monitoring. Dealing with hurdles can be tough. These hurdles can be keeping enough volume and liquidity or getting no answer from Bitdegree. But with steady efforts and good partnerships, these can be overcome.
Once listed, maximizing the impact through marketing strategies, performance monitoring, and community engagement ensures long-term success. This guide offers a comprehensive roadmap for adding your cryptocurrency to Bitdegree smoothly and successfully. It integrates all the essential elements, starting from the prerequisites. Additionally, it covers post-listing strategies to ensure long-term success. So, read this article to add token to Bitdegree easily and free of any charge.
Understanding Bitdegree Coin-Tracker
Bitdegree is a pioneering educational platform in the crypto realm. It offers an innovative Coin-Tracker system. This system bridges the divide between learning and earning. It does this through tech-based courses like programming, AI, and blockchain. The platform rewards learners with Bitdegree tokens and employs a gamified learning experience to cater to all skill levels. Integrating education with token incentives enhances Bitdegree's appeal, opening avenues for learners and token creators. Furthermore, it is a crucial platform for crypto startups, promoting and educating their tokens. The transparency and efficiency in managing these aspects underscore Bitdegree's value in the crypto Community. Bitdegree has a large and varied user base. This includes many crypto fans and expert developers. That's why Bitdegree is a great place to add your token, as it can be seen and possibly used by many people.
What is Bitdegree?
Bitdegree is a revolutionary educational platform in the crypto industry, offering an innovative Coin-Tracker system. More than just an academic service, Bitdegree aims to bridge the gap between learning and earning. Users who progress through various tech-based courses get rewards with Bitdegree tokens. This marriage of education and token incentives makes it an attractive proposition for anyone looking to Add Token to Bitdegree.
Key Features of Bitdegree
Bitdegree's key features encompass a broad spectrum of user-focused services. Its tech-related courses range from beginner to expert levels in programming, AI, and blockchain technology. Moreover, the gamified learning environment provides an enjoyable learning experience, fostering continuous growth. Adding a Coin to Bitdegree makes it even more attractive. It helps both learners and those who create tokens. They all get benefits from using the platform.
Why It's Crucial for Crypto Startups
Bitdegree's system holds significant importance for crypto startups. Bitdegree allows companies to add their tokens. It is a place where businesses can show off their tokens. At the same time, they can teach potential users about them. The transparent and efficient way Bitdegree manages these processes is a testament to its value within the crypto Community. Additionally, a project's currency gets a dedicated page on the Bitdegree (image below). Such a page shows the asset name, symbol, and pricing, including a price chart. Moreover, the "social signals" section displays the metrics of a project's social accounts and web traffic.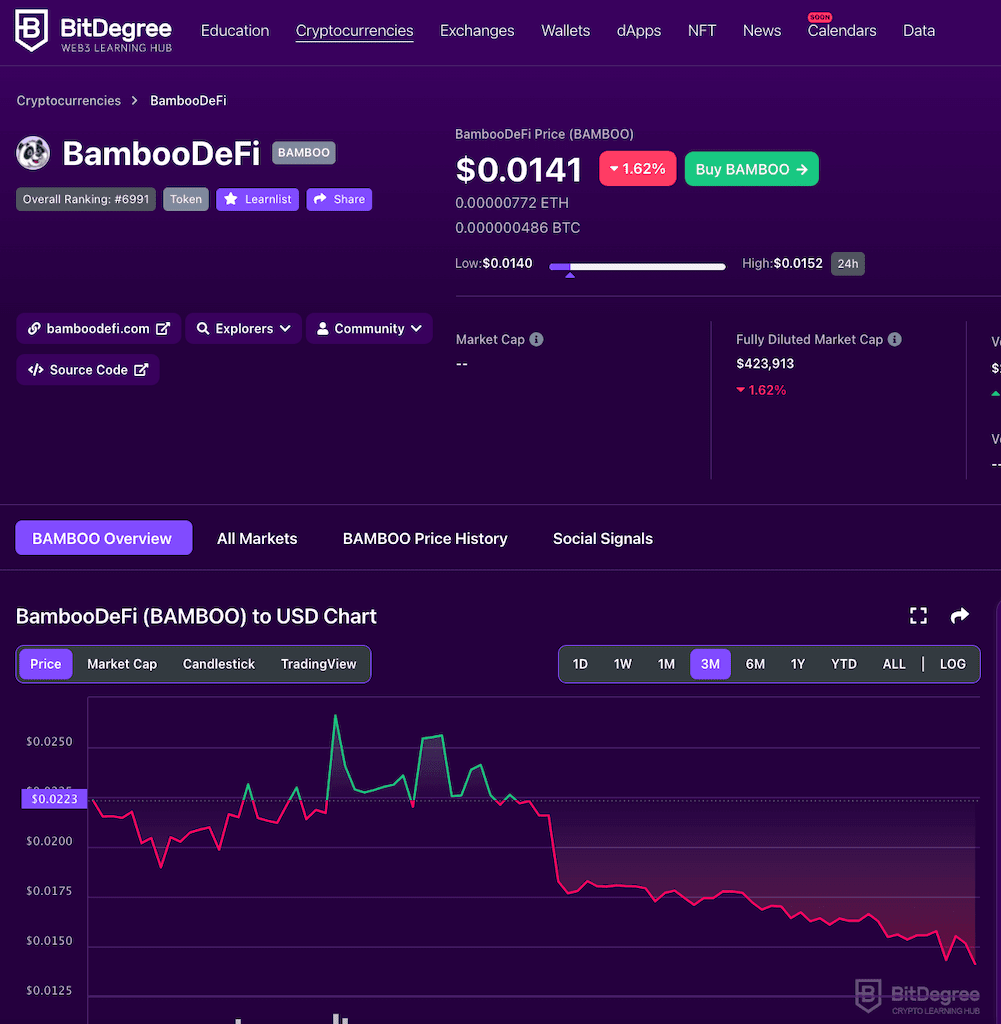 Traffic: Bitdegree's User Base
Bitdegree's user base is a remarkable testament to its widespread appeal, boasting a monthly range of 550 to 650 thousand active users (image below). This extensive and diversified Community comprises individuals from various backgrounds. Such backgrounds include crypto enthusiasts, budding developers, and seasoned tech professionals. Therefore, a broad audience makes Bitdegree an exemplary platform for those looking to Add Token to Bitdegree. Why? Because it ensures maximum visibility and opens up opportunities for potential adoption.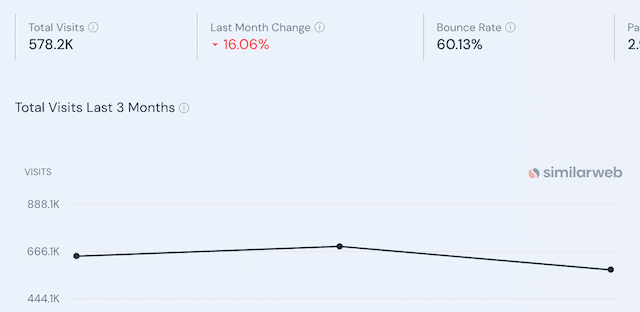 Furthermore, a report from Ahrefs enhances Bitdegree's credibility by bestowing a good domain rating of 76 (image below). This rating shows how strong Bitdegree's domain is. It's compared with other websites in Ahrefs's database. The rating also shows Bitdegree's leading role in the industry. Additionally, data from Similarweb, indicating around 650K monthly visits to Bitdegree's site, corroborates the substantial traffic. This consistent user engagement, coupled with the platform's attractive features, underscores why Bitdegree is not just adequate but an ideal hub for crypto activities.
Preparation Steps to Add Token to Bitdegree
To successfully Add Token to Bitdegree, meticulous preparation is paramount. The process starts with meeting certain rules and needs. These include having a professional website. The site should clearly explain what it does, its future plans, and its team. This helps to build trust. A domain-based email address is not an optional add-on but a vital mark of professionalism, assisting Bitdegree in corroborating your token's legitimacy. Listing on authorized exchanges, such as Tokpie, is a non-negotiable facet, underlining Bitdegree's assurance of the token's validity and escalating its presence across notable platforms like CoinMarketCap and Coingecko.
Furthermore, you must select reasonably from available exchanges, double-checking that Bitdegree has initiated coin tracking for the chosen crypto exchange. Understanding timelines also plays a vital role. Bitdegree's staff manually ensures that tokens are updated every 2-4 weeks, adding new ones in batches. Thus, from selecting an authorized exchange to comprehending the timelines, these preparation steps form the bedrock of a smooth process to Add Token to Bitdegree.
Compliance and Requirements
The process to Add Token to Bitdegree entails meeting specific compliance requirements and prerequisites:
Your coin must belong to a working, professional website that articulates its utility, roadmap, and the team steering it. This professional presentation is instrumental in bolstering credibility.
Maintaining a domain-based email address is more than a mere necessity; it symbolizes professionalism and aids Bitdegree in authenticating your token's genuineness.
Listing on Bitdegree's authorized exchanges like Tokpie is paramount.
It ascertains Bitdegree of the token's legitimacy and amplifies its visibility across significant platforms, such as CoinMarketCap and Coingecko. You need to choose from the approved exchanges or any available ones. But be careful with your choice. You need to check that Bitdegree has started tracking coins for the chosen exchange. For example, Tokpie's authorized exchange demonstrates active coin tracking, while other exchanges might lack it, as indicated by remarks such as "…markets are not provided because of exchange inactivity." Therefore, a scrupulous inspection of these factors is vital for seamless integration into Bitdegree's ecosystem.
Working website
Your coin should have a working and professional website. This site should detail its use, plan, and the team behind it. This helps in establishing credibility when you Add Token to Bitdegree.
Domain-based email address
A domain-based email address is more than just a need. It's a sign of being professional. So, it helps Bitdegree check if your token is genuine.
Listing on authorized exchanges is a crucial aspect of the Add Token to Bitdegree process and involves some necessary considerations. Having your coin listed on recognized exchanges like Tokpie assures Bitdegree of the token's validity and reflects compliance with general industry standards. If you list a cryptocurrency on Tokpie, your altcoin gets noticed more. It reaches beyond Bitdegree's aggregator. It also appears on popular platforms like CoinMarketCap, Coingecko, and more than 11 other trackers.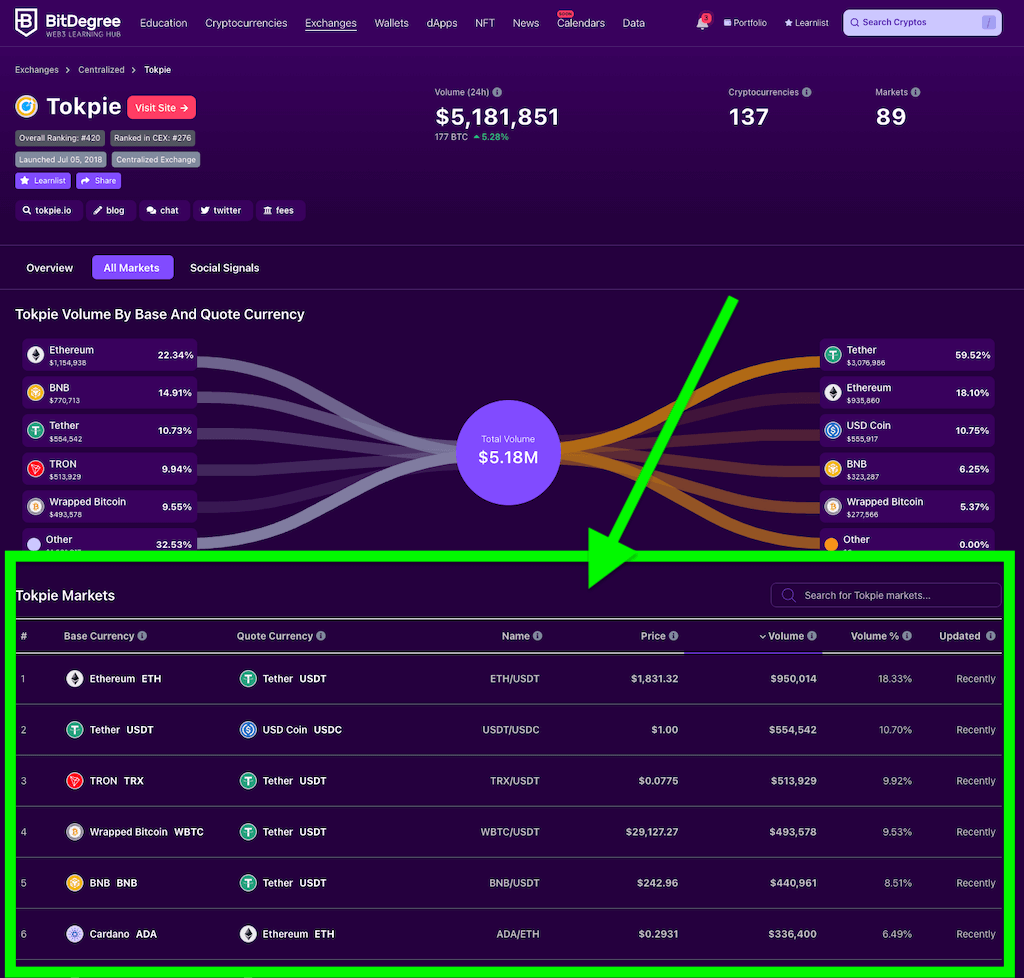 You may also choose to select an exchange from an available list, but it's imperative to verify that Bitdegree has enabled coin tracking for the selected crypto exchange. There are two pictures that show some important details. The first picture (above) shows the authorized Tokpie exchange, which actively tracks coins. The second one (below) shows an exchange on Bitdegree's list. However, this exchange does not have active crypto tracking. It has a note saying, "…markets are not provided because of exchange inactivity" in the "All Markets" tab. Thus, vigilance is vital, and you must thoroughly check for any inconsistencies or inactivity by navigating to the "All Markets" tab on a chosen exchange's page, ensuring alignment with Bitdegree's standards.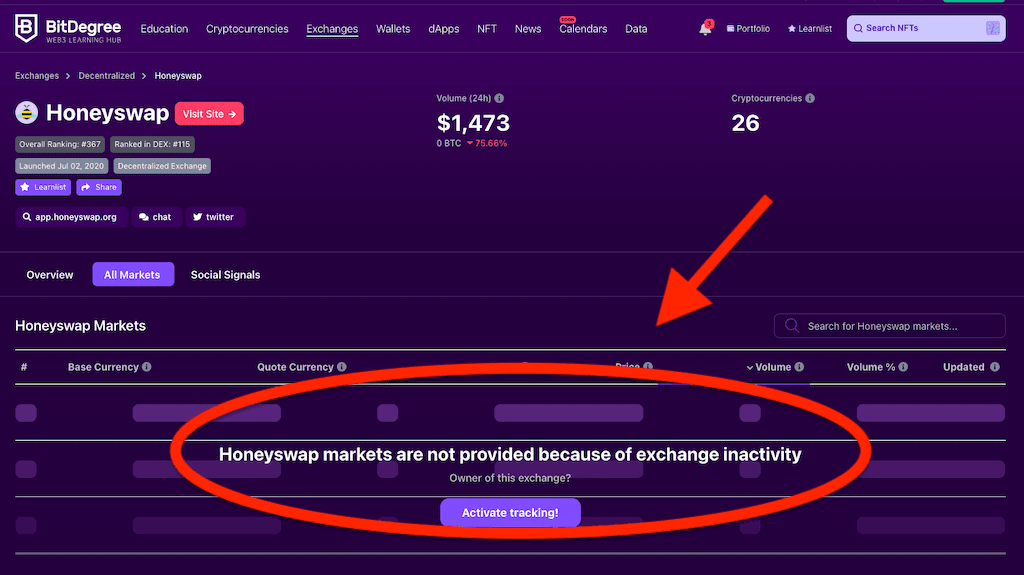 Understanding Timelines
Understanding timelines is crucial for planning. From initial application to final Listing, knowing each stage's duration helps set realistic expectations. Bitdegree's staff have a process they follow. They check to make sure all listed tokens are current. They do this task every 2 to 4 weeks. At that time, they add new coins in groups.
How to Add Your Token to Bitdegree
Adding your token to Bitdegree can occur automatically if it's listed on a supported exchange like Tokpie. However, if your altcoin isn't visible within 30 days of listing, a more detailed approach is needed. This process begins by meeting all prerequisites. This step ensures that the token aligns with Bitdegree's standards. You need to send an email next. The email should contain specific information. This includes the project's website URL, token address, and active market links. It should also include a unique description. So, send email to the tracker. Regular follow-ups and monitoring of the result via the tracker's main page search bar are crucial.
Key considerations for a successful addition include building a supportive community and increasing the token's trading volume. Challenges may arise, such as a lack of response from Bitdegree or difficulty maintaining suitable volume and liquidity. Persistent communication and strategic partnerships can facilitate overcoming these issues. Adding your token to Bitdegree involves many steps. These steps help to make sure your token gets listed successfully. They also support long-term growth and stability in the crypto world. This is done by working with the community and following the best methods.
Step-by-Step Process to Add Token to Bitdegree
Adding your coin to Bitdegree may happen automatically if it's listed on a supported exchange like Tokpie. A more hands-on approach is necessary if your altcoin isn't visible on Bitdegree within 30 days since the listing on an exchange. The process starts by ensuring that all prerequisites are met. Meeting these requirements confirms that the token aligns with Bitdegree's standards. Once these are in place, you must compose an email to Bitdegree. After dispatching the email, monitoring the result is essential. It's very important to keep checking on your token's status. You can do this by regularly following up and answering questions quickly. You can also use the search bar on the main page of the tracker. If these steps are followed methodically, adding your currency to Bitdegree should be a straightforward and rewarding experience.
Meet requirements
The first thing to do is meet all the given requirements. This makes sure your token fits with Bitdegree's rules. Meeting these standards is significant.
Write to Bitdegree's team.
After satisfying the requirements, write an email letter to advertise@bitdegree.org. Such a letter should contain the following information:
Your project's website URL.
Token address (i.e., https://bscscan.com/token/0x198abb2d13faa2e52e577d59209b5c23c20cd6b3).
The link(s) to active markets. For example, https://tokpie.com/view_exchange/BAMBOO-BNB/.
Short and unique description of your cryptocurrency.
Monitor the result
It's important to keep an eye on the results. You should also follow up often. Answering any questions quickly is key to a successful listing. So, you can watch by entering your token name into the search bar on the tracker's main page.
Key Considerations and Best Practices
When strategizing to add a token to Bitdegree, it's crucial to recognize some key considerations. Adhering to best practices can foster success. Focus on increasing followers on various social platforms is essential. Building a robust community around your token enhances public trust and adds credibility. Secondly, working on increasing the trading volume and establishing a solid market presence cannot be overlooked.
Active trading showcases your token's vitality and signals its potential success, a core criterion when aiming to Add Token to Bitdegree. Together, these considerations form the foundation of a well-rounded approach. It's not just about adding a token; it's about creating a resonating presence in the market, engaging with the Community, and demonstrating the value and potential of your token. Follow these key points and best practices for success. This helps you add your token to Bitdegree. Doing so can lead to growth and lasting success in the crypto world.
Increase followers
Increasing followers on social platforms create a supportive community around your token. This can be pivotal when planning to Add Token to Bitdegree and other aggregators.
Increase volume
Active trading and a solid market presence signal potential success, which is vital when looking to Add Token to Bitdegree.
Common Challenges and How to Overcome Them
There may be hurdles and challenges when adding a token to Bitdegree. But the process can be smooth with knowledge of how to navigate these challenges. One common issue is that Bitdegree doesn't respond to your request. In this case, persistence is critical. Double-checking that all requirements have been met and following up diligently can facilitate better communication and response. Another potential challenge is maintaining suitable volume and liquidity, which is vital when adding Token to Bitdegree.
This may seem daunting, but it's manageable. Strategic partnerships and engaging with the Community can boost both volume and liquidity. Utilizing market-making platforms like TokenListed solution offers an efficient way to handle this aspect. Together, these strategies can help overcome common challenges and move forward successfully. It's about understanding the potential roadblocks, having a proactive plan, and utilizing available resources and strategies to ensure that your attempt to Add Token to Bitdegree is met with success and smooth integration within the platform.
Bitdegree doesn't reply to my request.
Should Bitdegree fail to respond, persistence and ensuring that all requirements have been met can facilitate communication.
I cannot keep the suitable volume and liquidity.
Maintaining volume and liquidity may be challenging but can be overcome with strategic partnerships and community engagement. For example, you can use market-making platforms like TokenListed solution.
Maximizing the Impact of Adding Token to Bitdegree
Once your token has been added to Bitdegree, careful strategies are needed to maximize its impact. Tapping into influencers, leveraging social media, and running targeted campaigns are all under promotion and marketing strategies. These efforts can significantly enhance your token's visibility and adoption. Tailoring marketing strategies that resonate with your target audience will help turn interest into action.
Next, under monitoring performance on Bitdegree, it's essential to keep an eye on how your token is performing. Regularly tracking trends and identifying areas that might require improvement will ensure that adding your token to Bitdegree remains profitable.
Lastly, engaging with the Community emphasizes the importance of fostering loyalty and trust within the Community. Regular interactions, transparent communication, and responsive feedback loops with the Community can create a thriving ecosystem around your token. These combined efforts serve as a comprehensive roadmap to fully capitalize on the benefits of adding your cryptocurrency to Bitdegree, ensuring successful integration and continued growth.
Promotion and Marketing Strategies
After successfully adding your token to Bitdegree, marketing strategies can be implemented to increase its visibility. Leveraging influencers, social media, and targeted campaigns can boost adoption.
Monitoring Performance on Bitdegree
Regular performance monitoring on Bitdegree helps identify trends and areas for improvement, ensuring that the decision to Add Token to Bitdegree pays off in the long run.
Engaging with the Community
Community engagement fosters loyalty and trust. Regular interactions and transparent communication are paramount to sustaining interest.
Conclusion
Bitdegree serves as an advantageous platform for crypto enthusiasts looking to list their tokens. Doing so requires a detailed understanding of the platform, its features, and meeting its prerequisites. The process involves initiating communication with Bitdegree's team and monitoring the results meticulously. While hurdles may arise, including a lack of response or maintaining necessary volume and liquidity, they can be navigated through persistent follow-ups and strategic alliances.
Once the token is listed, the journey doesn't end. It's crucial to leverage promotion and marketing strategies, monitor the token's performance on Bitdegree regularly, and foster an engaging community. This comprehensive guide provides a roadmap to navigate these steps successfully, underscoring the potential for sustainable growth and successful integration of your token into the Bitdegree platform. Essentially, the journey of adding a token to Bitdegree is not just about listing; it's about creating and sustaining a valuable presence in the crypto ecosystem.
Free Strategies to Enhance Cryptocurrency Visibility
You can boost your cryptocurrency's profile for free. First, add your currency to different aggregators. Next, list your coin on CoinGecko and CoinMarketCap yourself. Update your token details on Etherscan and Bscscan. Boost liquidity and join voting contests. Use free tools and join platforms that improve visibility. Lastly, add user-friendly payment methods like Bank Cards and Apple Pay on your website. So, the following steps help your cryptocurrency succeed.
Trackers, explorers, and other platforms