Due to the most recent Coingecko research, the rise of Decentralized Finance (DeFi) projects will be one of the main trends in the future. Nowadays, one of the most popular DeFi projects is MakerDAO that designed DAI cryptocurrency.

What is DAI
DAI is a completely decentralized stablecoin pegged to the US dollar. 1 Dai stablcoin = 1 USD. This is the first unbiased stablecoin in the World being soft-pegged to the US Dollar.
DAI advantages
The main advantages are:
Safety and stability
Anyone can issue
Growing adoption
What makes it safe and stable
Most popular stablecoins such as USDT and USDC are centralized and govern by its issuing companies. So, there are high risks that government authorities and banks will suddenly arrest and lock issuing companies' assets on accounts. It could lead to the inability to exchange USDC or USDT to fiat USD or any other valuable cryptocurrencies. On the other hand, DAI is governed by Ethereum based smart contracts. These smart contracts collect collaterals (ETH, BAT, and other valuable cryptocurrencies, which the community chooses) from users who want to issue DAI. Therefore, it doesn't depend on banks' tight rules and crypto-negative politicians' decisions because of being based on smart contracts. In addition, the usage of different assets pledged as collateral makes it more stable.
How to issue
Instead of simply buying DAI on exchanges, anyone can issue (create) it, in the five steps:
Connect your wallet to Oasis app.
Click on Get Started
Select collateral (currently ETH or BAT)
Walkthrough the vault management
Generate it and confirm
The result, you will lock your crypto assets (ETH or BAT) as collateral to generate DAI.
IMPORTANT: the issuance of Dai is like borrowing that will have a cost called 'stability fee'. Such a fee may vary. At the moment of writing the article, the fee is 8.00%.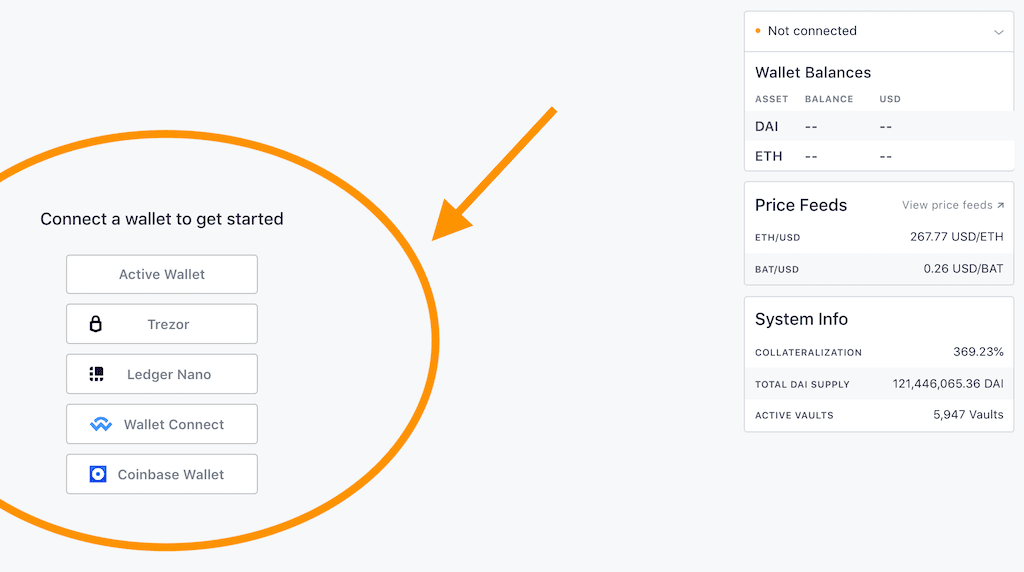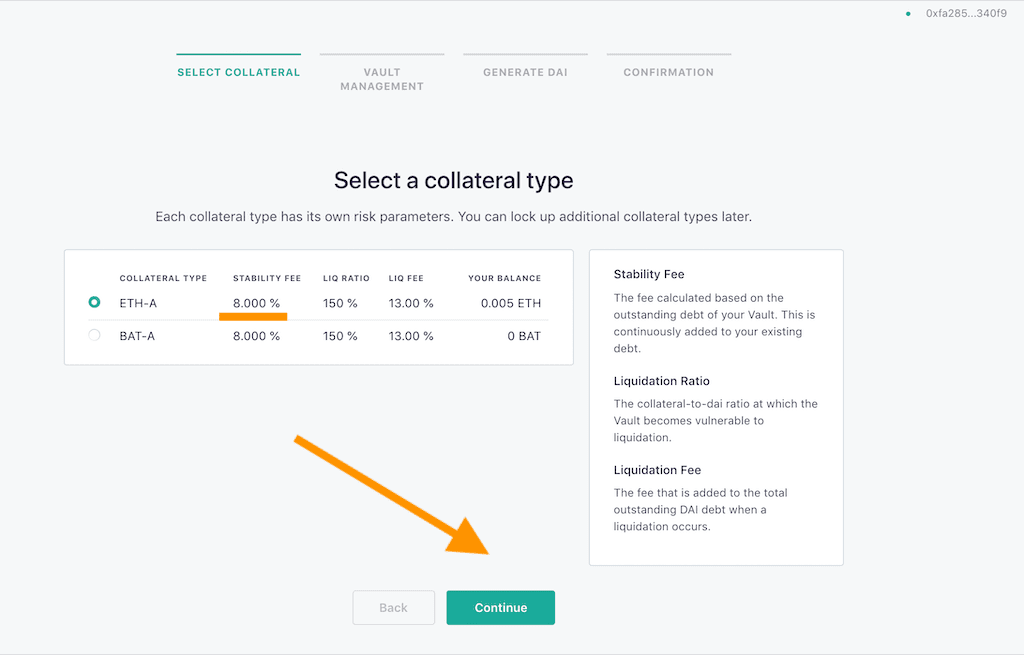 What is the adoption rate
One of the most objective ways to check the adoption rate for any Ethereum based cryptocurrency is to look at a smart contract. The analysis of its smart contact shows a strong uptrend in the number of unique senders. (users).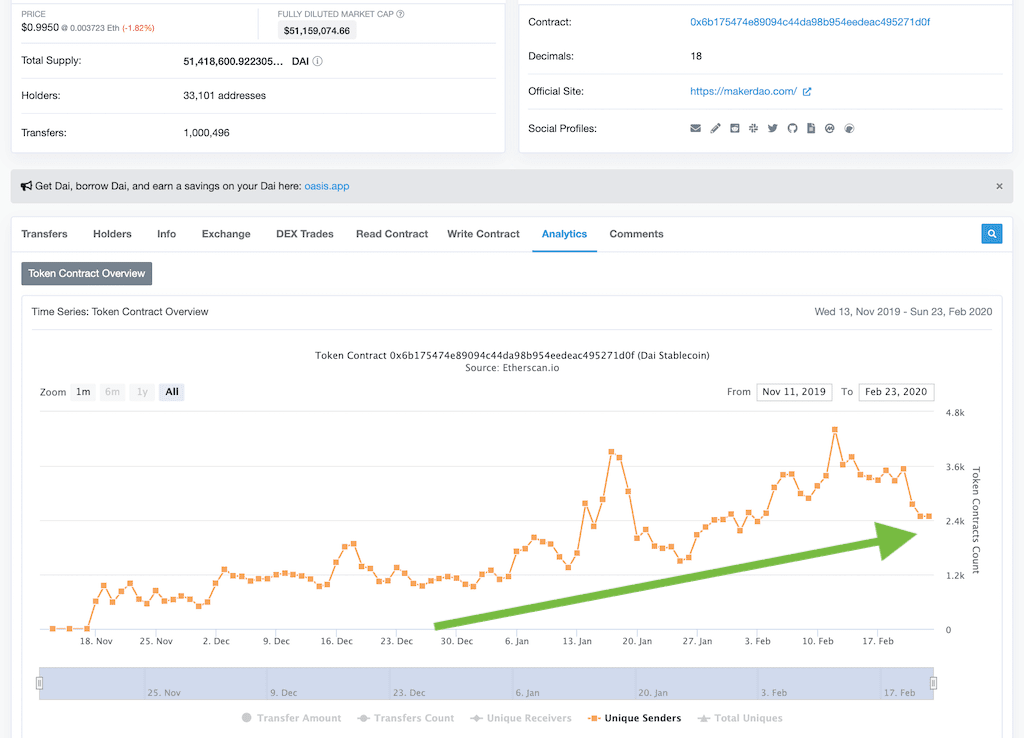 What is DAI used for
Dai Stablecoin can be used for the following:
hold value without a bank account
protect a value if you leave in economies suffering high inflation rates
make mass payments to people in a borderless and the cheapest way
Regardless of bank holidays and other factors, you always have access to your value stored in DAI. You can easily transfer it to anyone and anywhere in seconds and with several cents as a transaction fee. Hence, this is a great alternative to any bank operations nominated in US Dollars.
What is MakerDAO
MakerDAO (Maker) is a decentralized organization aiming to stabilize the crypto economy. To reach this goal the Maker unlocks the power of decentralized finance (DeFi) for everyone by creating an inclusive platform for economic empowerment; enabling everyone with equal access to the global financial marketplace. Moreover, eligible members of the MakerDAO community govern, maintain and manage DAI token.
HOW to buy DAI with Bank Card
You can now buy DAI with a credit card or debit card.
The minimal amount starts from $50
Maximum is $50,000
You can use Visa and MasterCard.
How to trade DAI
To trade DAI with the best spreads, click on the related button below.
Depositing fee: 0
Trading fee: 0.02% – 0.10% (depend on plan)
Withdrawing fee: 1 DAI
No KYC for withdrawals below: $2500/day
Spread: 0.01-0.1%
In addition, thanks to the growing adoption, you can buy and sell it on many other markets. Due to the CoinMarketCap stats, you can trade it on more than 64 markets supported by +22 exchanges. Also, you can easily find a pair you need by using CoinGecko. To trade, simply click on a Pair in the lists provided by CMC or CoinGecko.

Note that by generating DAI instead of purchasing, you can catch the potential upside of your crypto.
How to earn DAI
The best way to earn DAI is to lend it and get a return. There are two ways how to do it.
First, you can use the Oasis platform to save it. Oasis allows you to earn the Savings Rate set by the Maker community.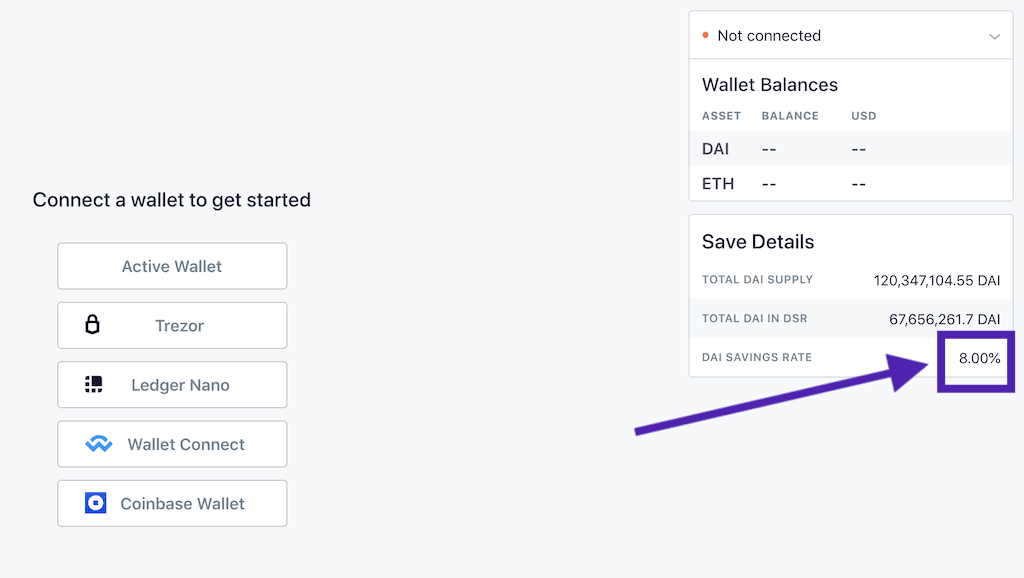 Second, you can lend any amount of DAI for the most competitive rates in a P2P mode on Tokpie exchange. This feature will appear soon.
The main difference between Oasis and Tokpie is in the way how interest rates are defined. Maker Comunity defines saving rates on Oasis, while only lenders and borrowers set interest rates on Tokpie.
Useful links