Meet another long-working cryptocurrency tracker that can list your Token for free. Discover the Blockspot. It's a blockchain data platform that works since 2018. Thanks to the honestly generated traffic, it contains 12000 coins from 1100 exchanges. Moreover, it constantly adds new wallets, altcoins, and crypto companies. So, find all the details below for adding your asset to Blockspot's list of cryptocurrencies.
Also, get many other guides to increase your Token's awareness at no cost. For instance, attract potential buyers by pushing the currency to the Metamask, TrustWallet, MEW, Trezor, Ledger wallets for free. Also, make your altcoin visible on the CoinMarketCap (CMC), CoinGecko, Coincodex, LiveCoinWatch, CoinCheckup, Coindataflow, DigitalCoinPrice, Coincost, TokenInsight, CoinLore, Coindar, BitDegree, Coinopy, and Coinpaprika trackers. In addition, push the asset to the best token-voting sites. And list a currency on Binance for free as well as on Coinbase. Furthermore, improve the coin's cap and rank by updating the circulation supply on Coingecko and getting CS on CoinMarketCap. In addition, turn on the price and market cap on BscScan and Etherscan. Besides, integrate Bank Cards and Apple Pay with your project's web. And boost your currency liquidity on DEX for free. Finally, use an ultimate guide on how to make the best coin.
What's the Blockspot?
The Blockspot is an informative platform dedicated to blockchain technology and companies. Moreover, the developers founded it in 2018 and constantly released improvements. So, as for now, this tracker has become one of the biggest Blockchain Data Platforms. Why? Because it attracts 80-130K visitors monthly. Also, its data is available to retail and institutional investors via a user-friendly interface. As a result, the website supports over 12000 coins, 1100 exchanges, 150 wallets, and 50 Blockchain companies.
Traffic
Also, due to the Similarweb, the Blockspot's had 76.5K to 122.1K visitors for the last three months. Is it good traffic? Yes. That's a high organic traffic.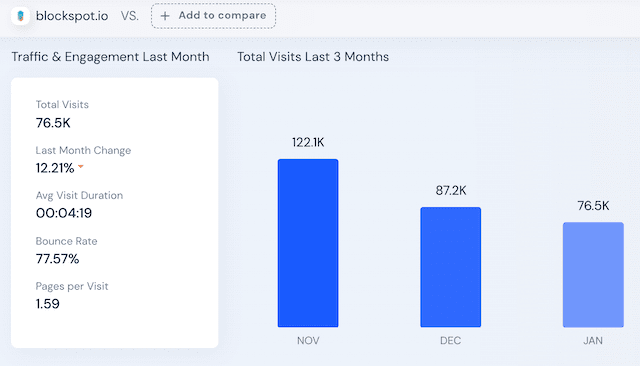 Advantages
The primary advantage of Blockspot is scalability. Firstly, it shows cryptocurrencies and exchanges. Secondly, the platform allows adding crypto wallets. Moreover, users can add non-tokenized blockchain companies. As a result, this tracking portal can gain more traffic in the long run. So, appear on Blockspot's list of crypto-assets. Therefore, all markets for your altcoin will be visible in one table (see an example below).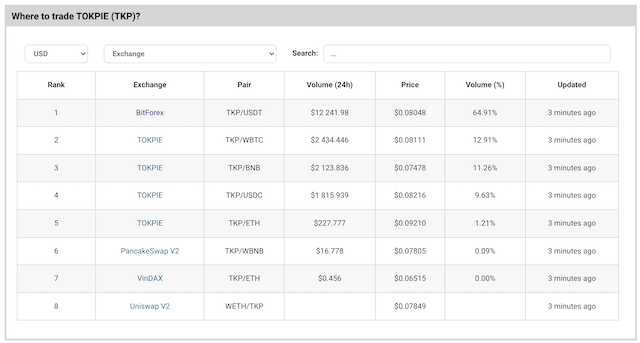 How to add Token?
To add the currency to Blockspot's list, perform two actions. Firstly, ensure that Blockspot supports an exchange where your Token is tradable. Secondly, submit a request, as explained below.
1. Check exchanges
Use the search bar here to check exchange as shown on the screenshot. So, type the name of the crypto exchange where your Token is available for trading now.

2. Submit the form
If you found a cryptocurrency exchange that supports your Token in the searching bar, submit the form as explained below. Also, you can list Token on Tokpie exchange to appear on Blockspot and other trackers. Find the replies' examples in this table.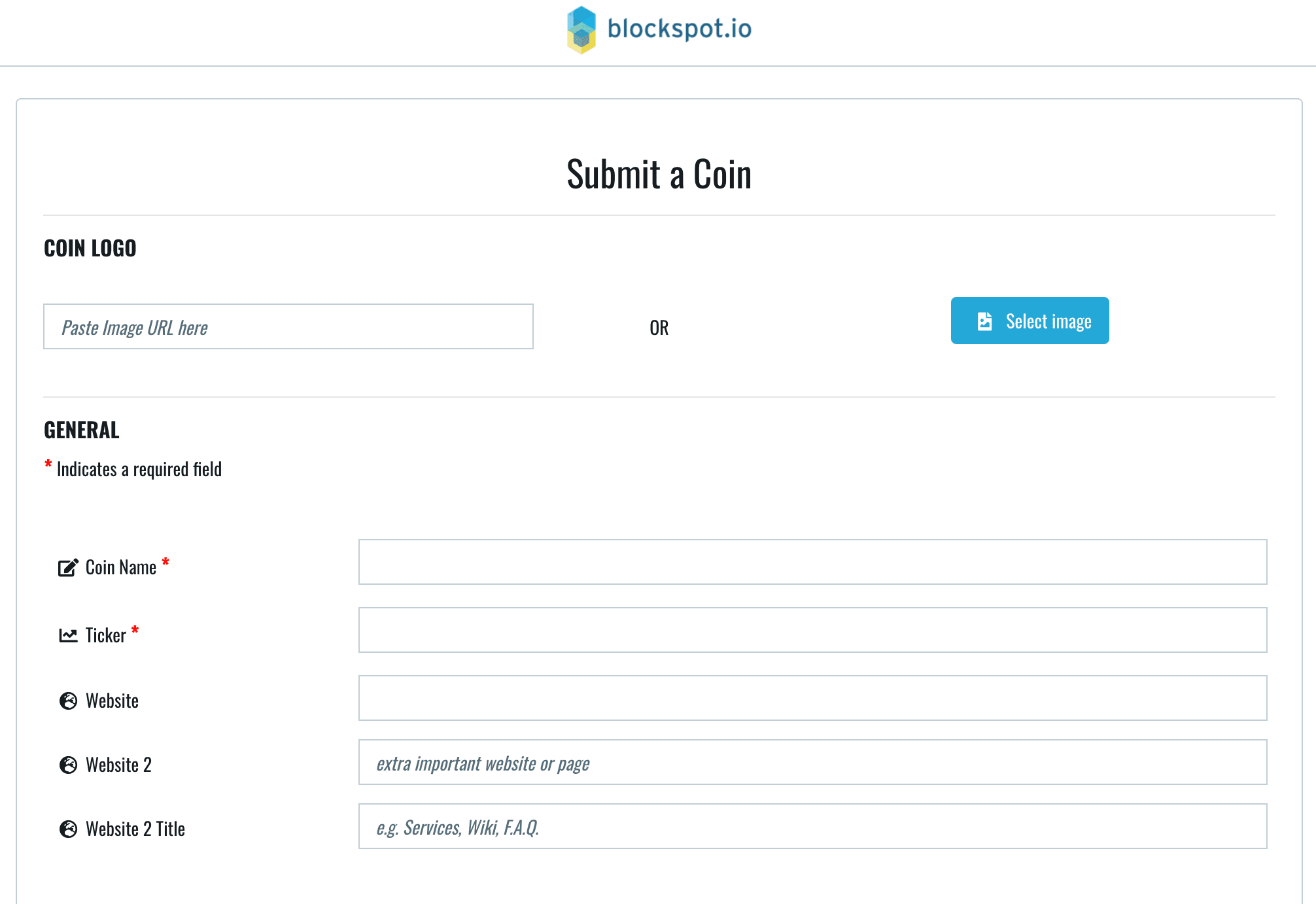 How to update information?
To update information about your token (like new social links or new markets on new exchanges), do the following:
1. Open your token page
2. Click on "Submit circulation supply"
3. Re-enter new data into the lines that you want to change in the opened form. But, if you want to add a new exchange's market(s), scroll down the form to the bottom. You'll see "Any comment or question for us?" section. So, write a text (with links to your markets) as shown in the example below. Once done, press the "Update" button.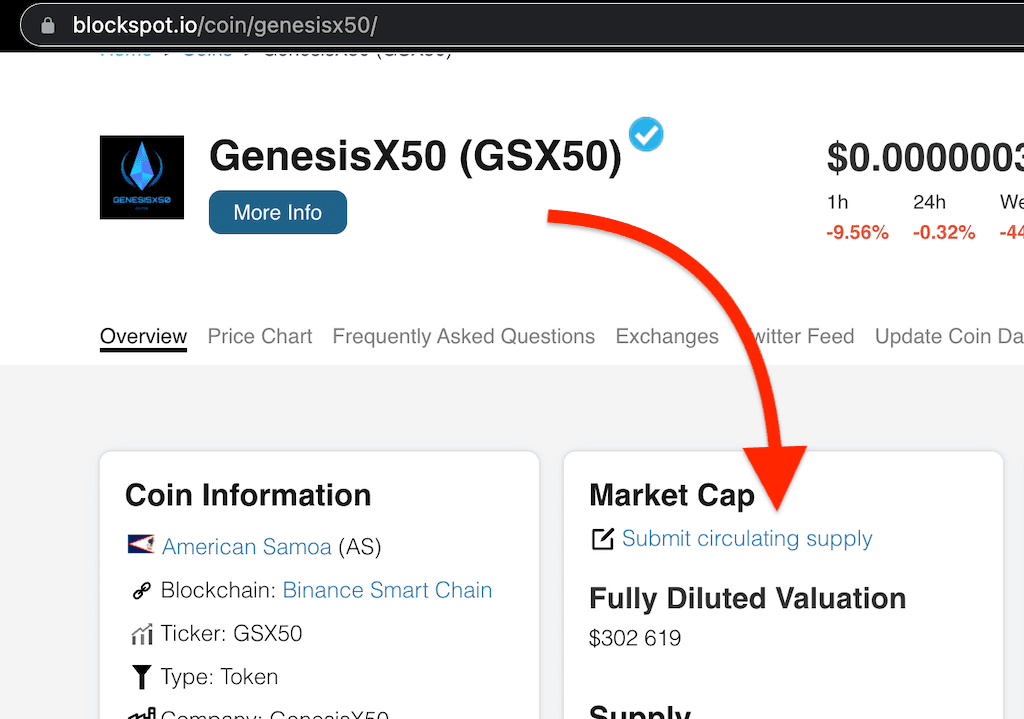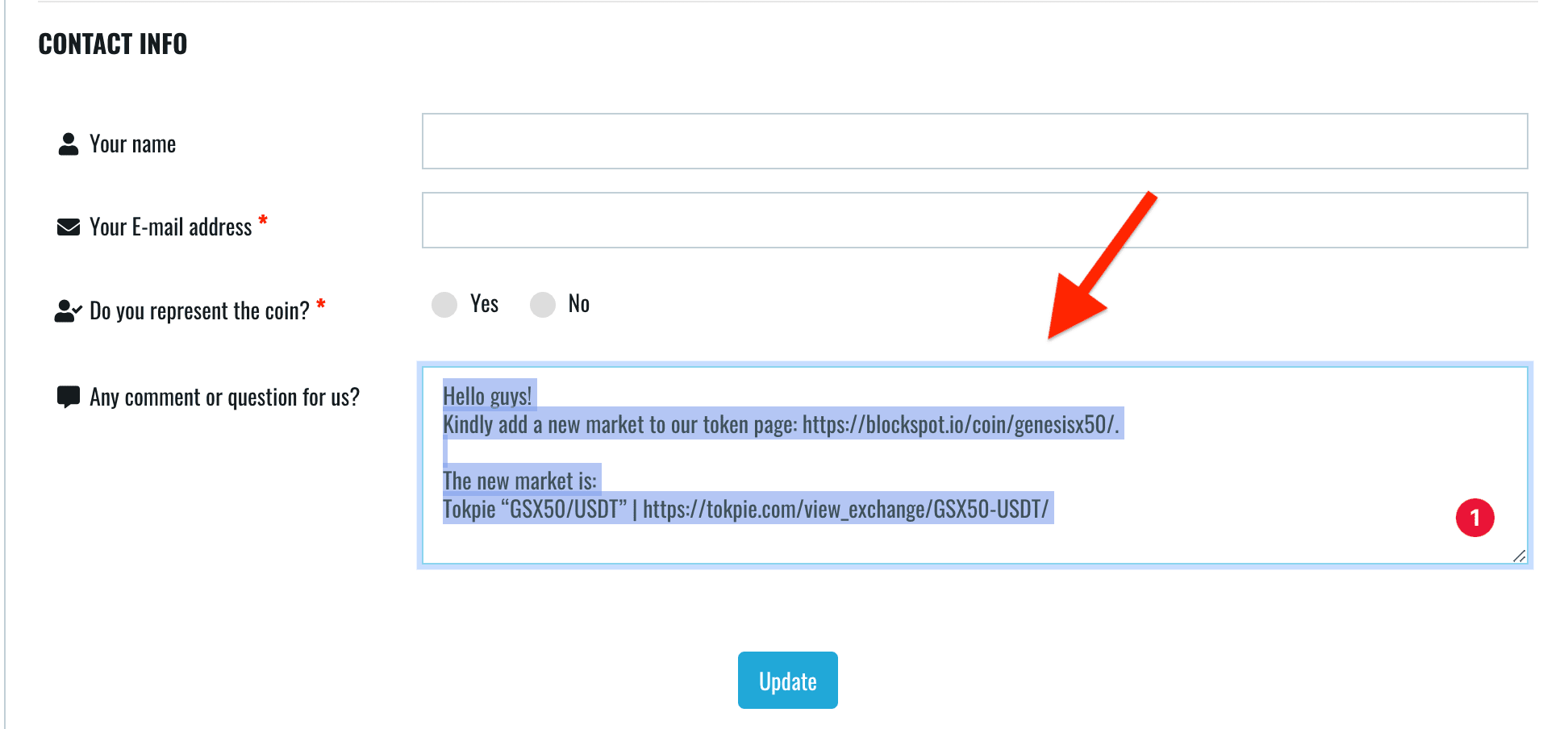 More options to boost altcoin for free