If you're regularly asking yourself, "How can I improve my token for free?" or "How can I grow my crypto business today?" then this is the article for you. Today, you'll learn about the Livecoinwatch's advantages and how it helps to grow your token awareness for free. Also, you'll get insights on how to add the token to Livecoinwatch at no cost. Spoiler: adding a coin to Livecoinwatch's list of crypto assets is very fast and straightforward.
In addition, use these guides to grow your coin for free:
What's the Livecoinwatch?
The Livecoinwatch is a coin tracker that shows live coin prices, charts, and crypto market capitalizations for over 10703 cryptocurrencies tradable on 338 exchanges (including Tokpie exchange). Moreover, it has valuable features and good Traffic, as explained below.
Features
Also, the tracker's API can output over eight years of price history, while other leading trackers show only two years of history for ordinary altcoins. Also, users can sort crypto-assets by Trending Coins, Newest Cryptocurrencies, and Biggest Winners/Losers.
Traffic
Besides, the tracker has substantial Traffic due to Alexa. So, it has over 5.5M visitors per month, and that number is growing due to the similar web (image below). Although it has 5-times lower Traffic than Coingecko has, having a token on Livecoinwatch makes sense because it's easy to appear there.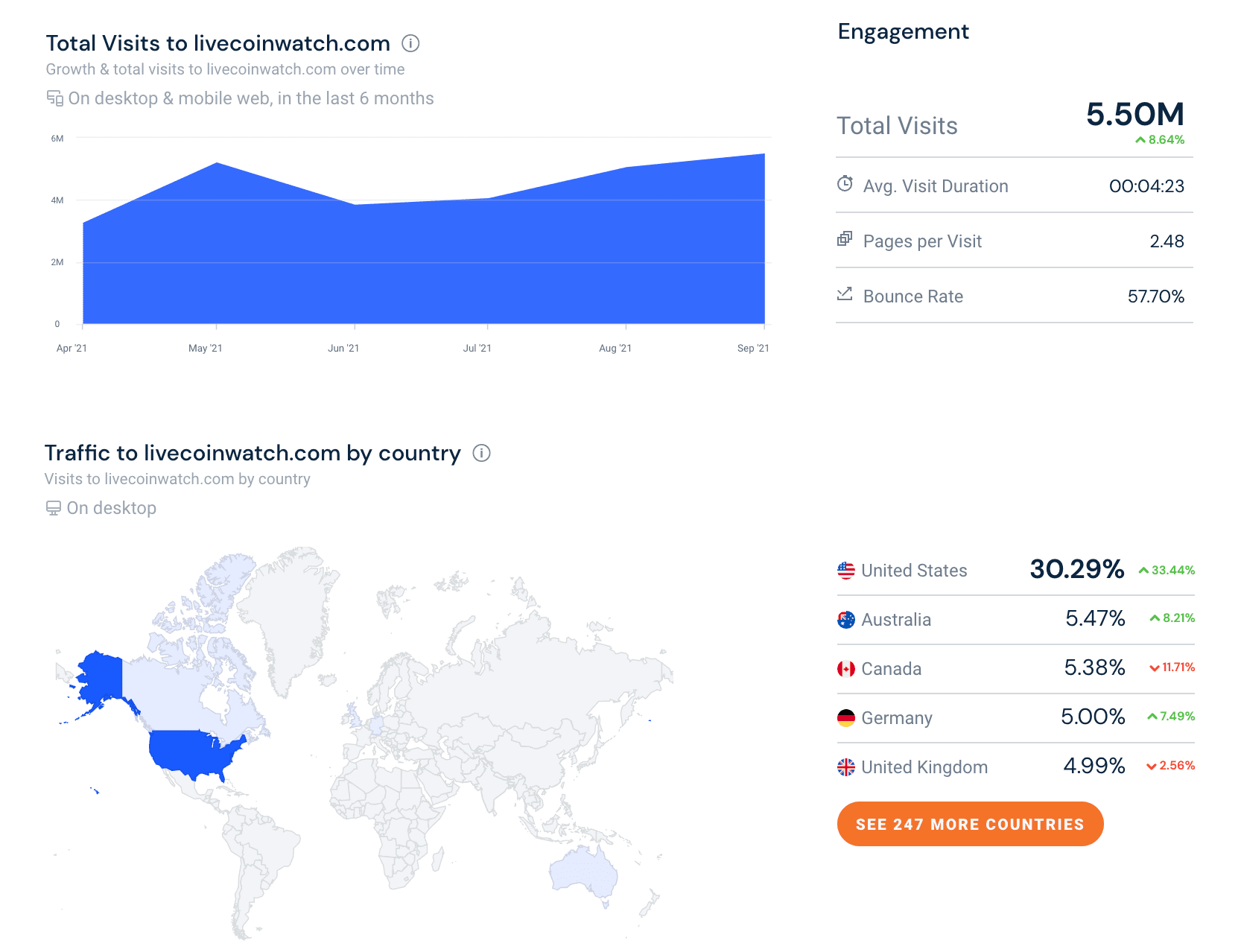 Rank
A token Rank on Livecoinwatch depends on the market capitalization of a cryptocurrency. The system calculates it by multiplying the volume-weighted average price by its circulating supply. Important to note that a crypto-asset must be tradable on two exchanges and have three markets to get the rank.
How to add a token to Livecoinwatch?
Listing a token on Livecoinwatch takes a few minutes. But before filling the form, check in the searching bar: it might be your coin is already there. If it's not, then follow the steps stated below:
1. Check exchanges.
Make sure that your token is available for trading and has trade volume on any of these exchanges. If your coin is not yet tradable, then list it on Tokpie exchange easily. Moreover, listing on Tokpie unlocks many other trackers for your project's cryptocurrency: Coingecko, CMC, Coinpaprika, Coincodex, Nomics, etc.
2. Open the request form
Scroll down to the footer here and click on the "Request a Coin" line to open the form.
3. Fill in the form
Then, please prepare the following data and enter it into the related fields on the form.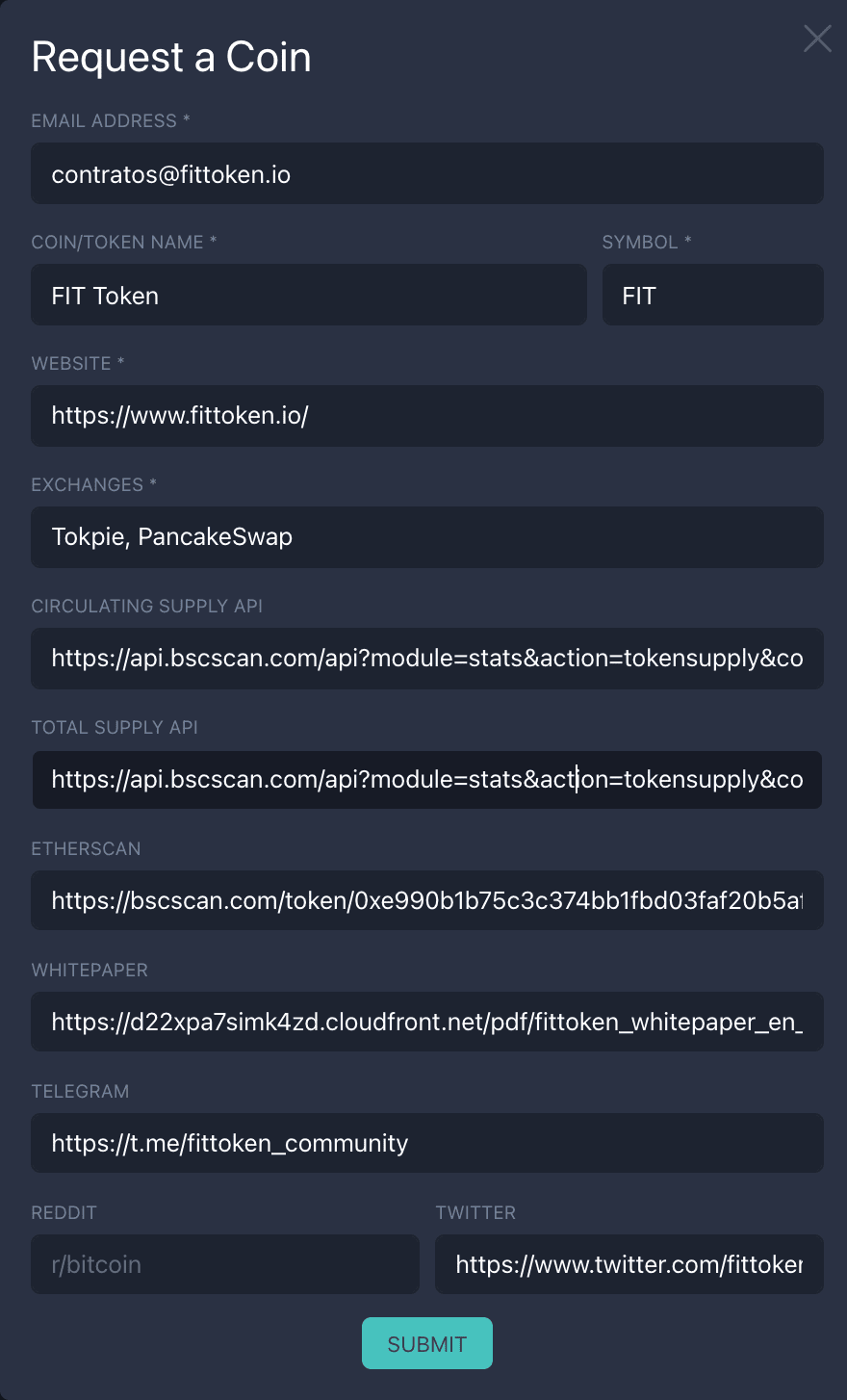 Email address. It's better to use an official domain email related to your crypto project website.
Coin/Token name. Just copy-paste it from your token page on Etherscan (ERC20) or BSCscan (BEP20).
Symbol. A short name of your token that is also visible on Etherscan or BSCscan.
Website. A web URL of your crypto startup
Exchanges. Enter just the names of crypto exchanges, which list your token. It must be at least one exchange where your coin is available for trading. Note that you don't have to enter links to your markets.
Circulating supply API. There is no requirement to enter this information. But if you want to get a rank, add it.
Total supply API. Also, this is not a requirement, but better to enter such a link.
Etherscan. Note that you need to fill in that field with the token contract address URL. It can be Etherscan or BSCscan, or any other scanner.
Whitepaper. Add a link to your project WP.
Telegram. Put in the link to your company's group chat in telegram.
Reddit. Important to note that you should write in the subreddit link here (not a user profile link).
Twitter. Write in the link to your project's official Twitter page.
After filling in all the required fields, click on the Submit button. That's it.
How to add additional market?
If your asset is already on Live Coin Watch and you want to add an additional market, do the following:
Open your token's page on Live Coin Watch and scroll down to the "Markets" section;
Click on the "Report a missing market" link.
Enter the name of the exchange in the popup window and select it.
Click on the "Submit" button. Good job!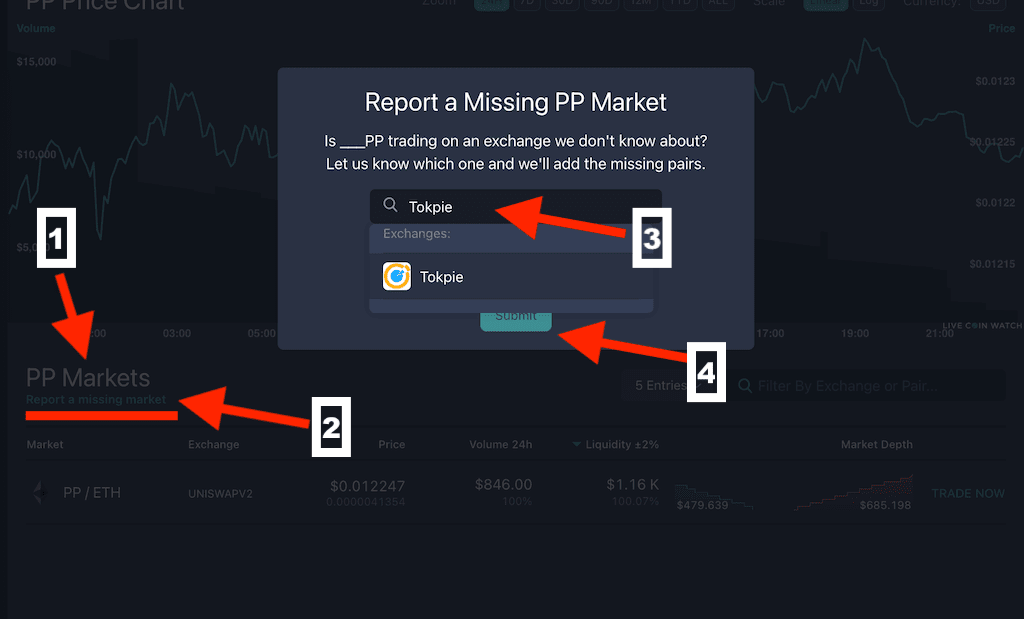 How long does it take to get the token listed on Livecoinwatch?
For testing purposes, we made a new BEP20 token submission on 1st November. Then, the Livecoinwatch added it in 3 days. So, usually, the listing takes 72 hours after the form submission. As a result, you get a page like that for your coin.
How to update Circulating Supply?
To update the circulation supply for your token, you need to enter the "CIRCULATING SUPPLY API" URL into the coin submission form. Also, note that the Circulating Supply is the number of coins circulating within the market and in people's hands. Simultaneously, the Livecoinwatch's tracker doesn't include locked, escrowed, reserved, or not tradable currencies in the circulating supply calculation. At the same time, Total Supply is the number of coins that have ever existed. This number excludes any burned tokens. Finally, the Max Supply is the maximum amount of cryptocurrency that will ever exist.
Useful links to grow the token
For any questions, contact Tokpie at https://t.me/tokpie.