Hundreds of crypto startups launch bounty campaigns every month to promote their Token Sale. But how to stand out from many bounties and get maximum attention from investors.
This is where TOKPIE exchange comes in
TOKPIE exchange platform offers the unique opportunity for a crypto start-up running a token sale (ICO), IEO, security token sale (STO) and bounty campaign to list its bounty stakes.
The result? Early investors and bounty hunters could trade the stakes, attracting new advocates for the start-up and creating a huge buzz about the project leading to a successful token sale.
ADVANTAGES
Boost Token Sale
Token Sale will be promoted better because many new hunters will join the campaign attracted by the possibility of selling 50% bounty stakes earned for ETH on TOKPIE exchange;
Grow Community
TOKPIE provides mutual social media announcements and airdrops to attract additional investors and grow your community;
Token Listing
TOKPIE exchange may list your token (altcoin) automatically after tokens distribution by converting stakes to tokens. Moreover, the huge growth of the number of bounty hunters, caused by Bounty Stake Trading, allows a start-up getting an enormous amount of token-holders, that in turn make its token much more demanded by any exchange in the future.
Avoid price dump when exchange
Thanks to the Bounty Stakes Trading the risk of price dump caused by hunters will be decreased by 50% because impatient hunters sell part of their bounty stakes before token distribution.
HOW IT WORKS
Check how Bounty Stake Trading works in real-life.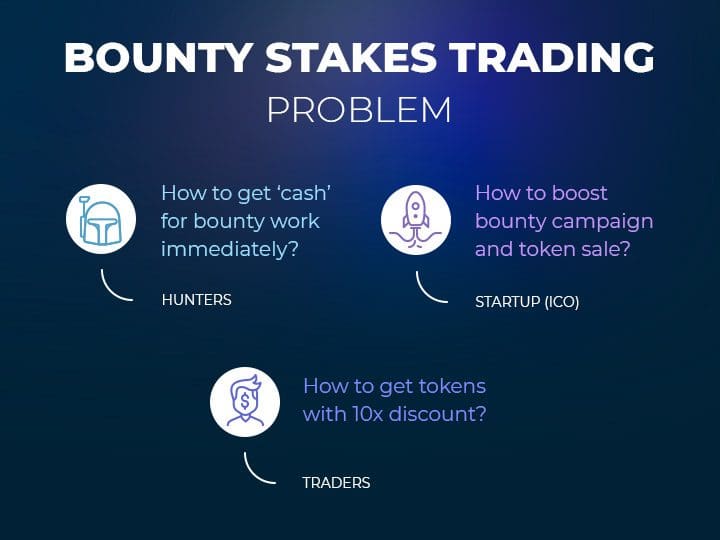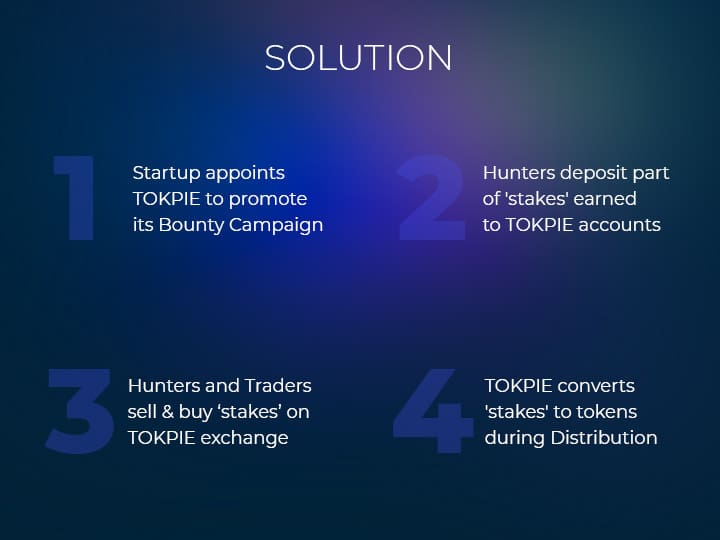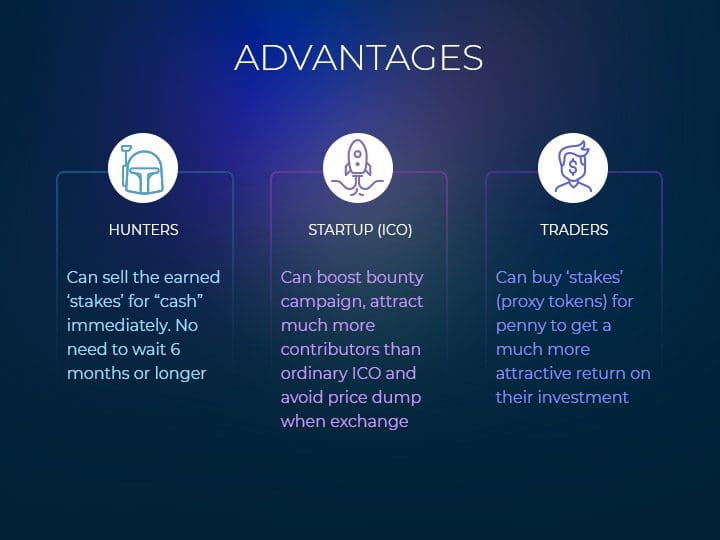 TOKPIE exchange makes a thorough audit of every project before listing its bounty stakes so we recommend applying in advance.
Want to grow with us? Stay in touch with TOKPIE.