Cryptocurrency is a dynamic and evolving realm that demands precise navigation. For those seeking to delve deeper into this vibrant landscape, Coindar emerges as a comprehensive and innovative platform. It seamlessly integrates the role of a cryptocurrency tracker and Calendar, thereby serving as an essential guide for both budding and seasoned crypto enthusiasts. This platform keeps track of an array of events related to various digital coins and tokens, presenting nearly 800 upcoming events. These events could bring about considerable changes in cryptocurrency prices by inducing halvings, hard forks, or airdrops. Coindar, therefore, is not just an information provider but a tool for effective investment decision-making. Stop waiting. Add token to Coindar for free and unlock your currency to over 100K userbase monthly.
The platform's usability extends beyond tracking and forecasting events. It offers cryptocurrency representatives a unique opportunity to manage their digital asset's events, thereby boosting the visibility and awareness of their altcoins. Beyond event tracking, Calendar provides insightful price traction and other features, reinforcing its stand as a valuable asset in the cryptocurrency industry. With a robust user base and promising traffic, Coindar invites you to list your cryptocurrency on their platform. This article further delves into how to add token to Coindar and its associated requirements and how to publish events to its Calendar.
What's the Coindar?
Coindar is an innovative, cost-free online platform designed to act as a comprehensive guide for crypto enthusiasts, helping them navigate the dynamic world of cryptocurrency. This digital calendar tool focuses on tracking and forecasting various events related to digital coins and tokens, providing crucial information that can significantly impact investment decisions. The platform presents nearly 800 forthcoming events, some of which can drastically influence cryptocurrency prices by causing periods of halvings, hard forks, and airdrops. Coindar allows users to filter and sort these events according to date, period, or popularity or based on tags like announcements, updates, meetups, and brands. Users can also select events from reliable sources or those that Coindar considers essential.
Moreover, the platform allows users to search for events related to a specific cryptocurrency. Alongside event tracking, Coindar hosts a Forecasts page and a Coins page, offering real-time market cap data for hundreds of digital currencies. By providing such multifaceted services, Coindar is a valuable tool for anyone invested in the cryptocurrency industry.
Dedicated Calendar for cryptocurrency
As a representative of a cryptocurrency project, leveraging the capabilities of Coindar offers a distinct advantage in managing your digital asset's events. This feature significantly augments your project's visibility and enriches your altcoin awareness. Your coin's profile can be substantially boosted by making the most of this calendar tool. As a result, this will allow it to stand out in the intensely crowded cryptocurrency market.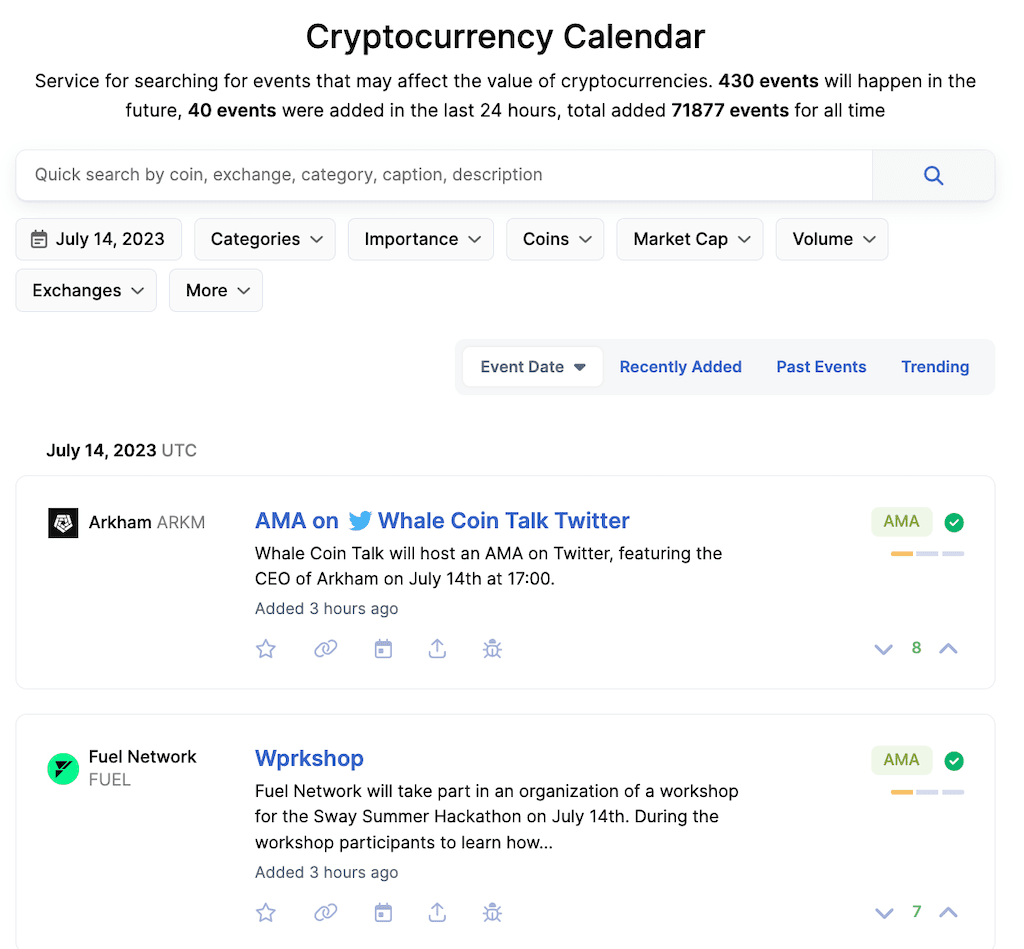 In addition to employing traditional marketing and communication platforms such as Twitter, Facebook, and Telegram, a crypto startup now has access to an exciting, popular instrument in the form of Coindar. This platform expands your project's outreach, connecting you directly with a dedicated audience of crypto enthusiasts who eagerly seek the latest developments in the cryptocurrency sphere.
We strongly recommend sharing each milestone, goal, and achievement your project attains with Coindar's user base. This active engagement will keep your current followers informed and attract potential investors by highlighting your project's progress and successes.
Furthermore, the process of sharing this information on Coindar is relatively straightforward. The platform's user-friendly interface ensures that adding a new event to your coin is a hassle-free experience. This ease of use amplifies the practicality of Coindar as a tool for boosting your cryptocurrency's profile.
So why wait? Discover today how to add a new event about your cryptocurrency on Coindar, free of charge, and take a definitive step in enhancing your project's visibility in the crypto world.
Insightful Price Traction
Beyond its compelling calendar feature, Coindar demonstrates an expansive scope. Additionally, it offers valuable price data and charting capabilities for any cryptocurrency listed on its platform. This data presentation forms a comprehensive overview of a token's performance. Furthermore, these insights are crucial for users when making investment decisions.
Moreover, Coindar sheds light on all exchanges where an altcoin is available for trade. This function enables users to identify platforms where they can buy or sell a particular crypto asset, ultimately expanding their trading opportunities. By highlighting this information, Coindar offers users an inclusive view of the altcoin's trading landscape.
However, Coindar's offerings are not confined to price fluctuations alone. The platform offers rich, descriptive content about each listed digital asset. Users can access information, including the asset's website URL, related social media accounts, and other pertinent details. This enriched information empowers users better to understand the crypto asset's underpinnings and organizational structure.
Therefore, Coindar rises above being merely an events-tracking platform. It exhibits the traits of an influential coins aggregator, resembling platforms like CoinMarketCap and Coingecko. This multifaceted approach solidifies Coindar's position as a comprehensive tool in cryptocurrency, providing valuable, in-depth data for novice and experienced crypto investors. Combining event monitoring, price tracking, exchange listing, and detailed asset information makes Coindar an invaluable resource in the dynamic world of digital currencies.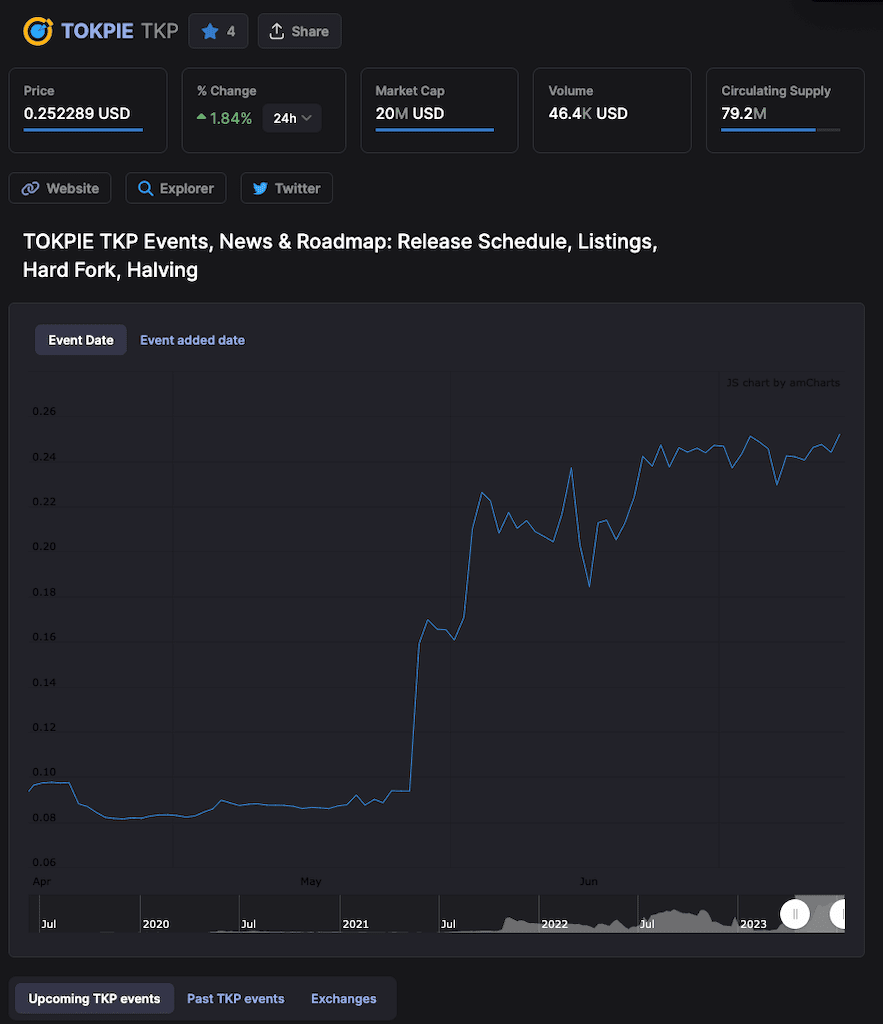 Other main features
Comprehensive Event Tracking: It monitors cryptocurrency events, from blockchain enhancements to platform launches. This feature offers users invaluable insights into the ever-evolving crypto industry.
Event Sorting and Filtering: It provides multiple filtering and sorting options. So, you can organize events based on date, time span, or popularity. Users can filter events based on various tags, including announcements, updates, meetups, and brands.
Reliable Source Tagging: The platform allows users to choose events that originate from what it determines as reliable sources. It helps users to trust the authenticity of the event information.
Event Personalization: It allows tracking events related to a user's preferred cryptocurrency. Users can find all relevant upcoming events by simply typing a coin's abbreviation into the search bar.
Forecasting Tools: Apart from event tracking, application maintains a Forecasts page. This feature helps users anticipate potential market changes and make informed investment decisions.
Market Cap Aggregator: It hosts a Coins page, which provides real-time market cap data for hundreds of digital currencies. This feature lets users stay updated on the latest trends in the cryptocurrency market.
Popularity and Importance Tagging: Users can choose to display only the most popular events or those that app deems essential, helping them focus on potentially impactful events in the crypto industry.
Traffic: Attracting a Robust User Base
According to data from Similarweb, Coindar boasts a noteworthy monthly visitor count between 70,000 and 106,000. While this may not match the towering numbers of platforms like CoinMarketCap (CMC) or CoinGecko (CG), the figure undeniably reflects a substantial and growing audience base. These numbers reveal that Coindar, as a platform, successfully draws the attention of a significant portion of the cryptocurrency community each month.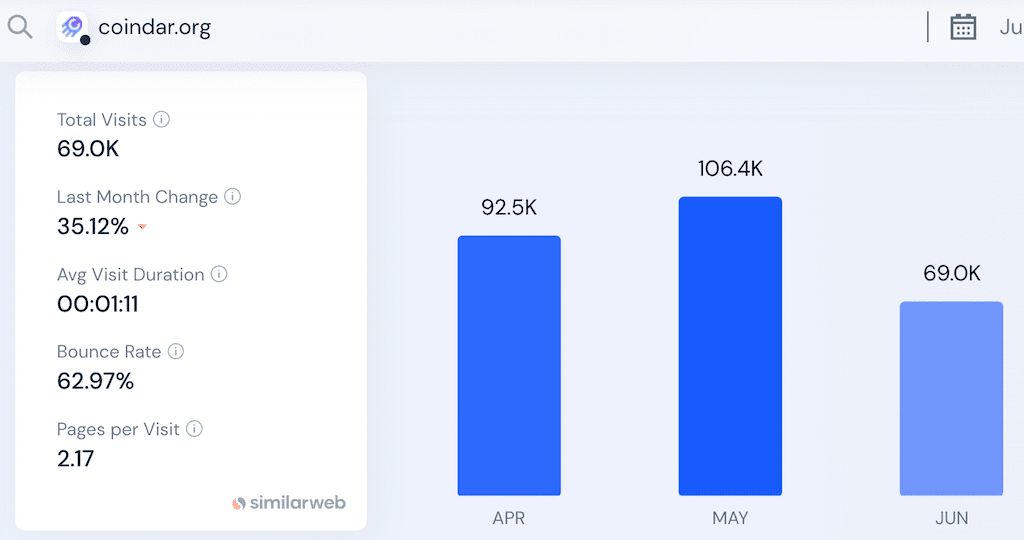 Another vital metric worth considering is the average visit duration, a measure of the platform's ability to engage visitors. On Coindar, each user spends roughly one minute and eleven seconds on average per visit. This might seem brief in absolute terms, but it indicates that users find enough value in the platform to stay engaged, likely browsing events, examining coin data, or utilizing other features on the site.
In light of these statistics, listing your cryptocurrency on Coindar's platform becomes an attractive proposition. After all, the platform allows you to present your currency in front of a solid and dedicated user base for free. By taking advantage of this offer, you can expand your digital asset's visibility, contributing to greater awareness and potentially attracting more investors. Therefore, leveraging Coindar's traffic could serve as a strategic move in elevating your cryptocurrency's presence in the vibrant digital currency market.
How to add a token?
Before adding a token to Coindar, check its requirements. If you have met all requirements, send the following data to info@coindar.org Coindar's manager:
Email Address registered on Coindar.
Full name of the coin (for example, Ethereum).
Token's Symbol (for example, ETH).
Links to exchanges where the currency is listed (for example, https://tokpie.com/view_exchange/ETH-USDT).
Logo in .png in 128×128, 64×64, 32×32 resolutions.
Important: you'll need to connect your official project's Twitter (or Facebook) account to your Coindar's profile after registration.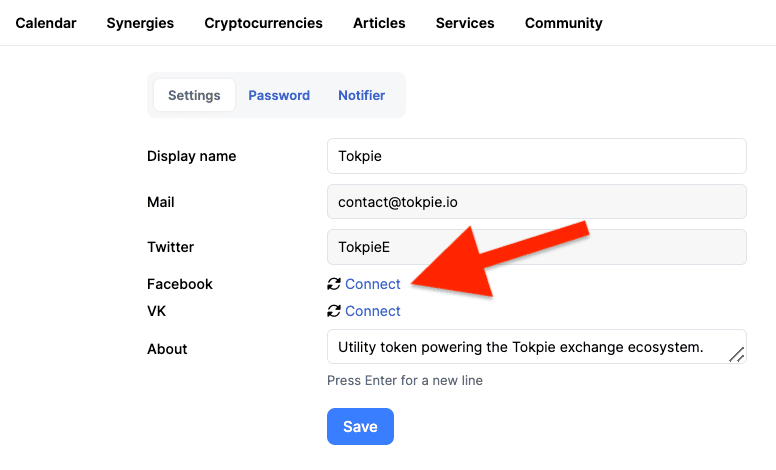 Requirements
Before adding a token to the Coindar, ensure that your coin satisfies the following requirements:
1. A token must be available for trading on a crypto exchange supported by Coindar. For example, the Tokpie exchange is one of the supported and eligible exchanges. Thanks to the Tokpie, over +120 tokens have already appeared on Coindar. Look at the complete list of such altcoins. Therefore, list cryptocurrency on Tokpie first. If your coin is already available for trading on Tokpie, check the following requirements below.
2. A coin must have a daily trading volume of over $10,000.
3. The coin's representative needs to sign up for an account on Coindar. So, sign up by using an official domain email address.
4. If all the above conditions have been met, start the process of adding a token.
How to publish events in the Calendar?
To be able to add events about cryptocurrency on the Coindar's Calendar, you must do the following:
1. Sign up for Coindar
2. Add cryptocurrency to Coindar. Learn how to do it.
3. Open this page to fill out all fields and press "Add Event" button as shown below.
After that, Coindar's team will review your event and publish it.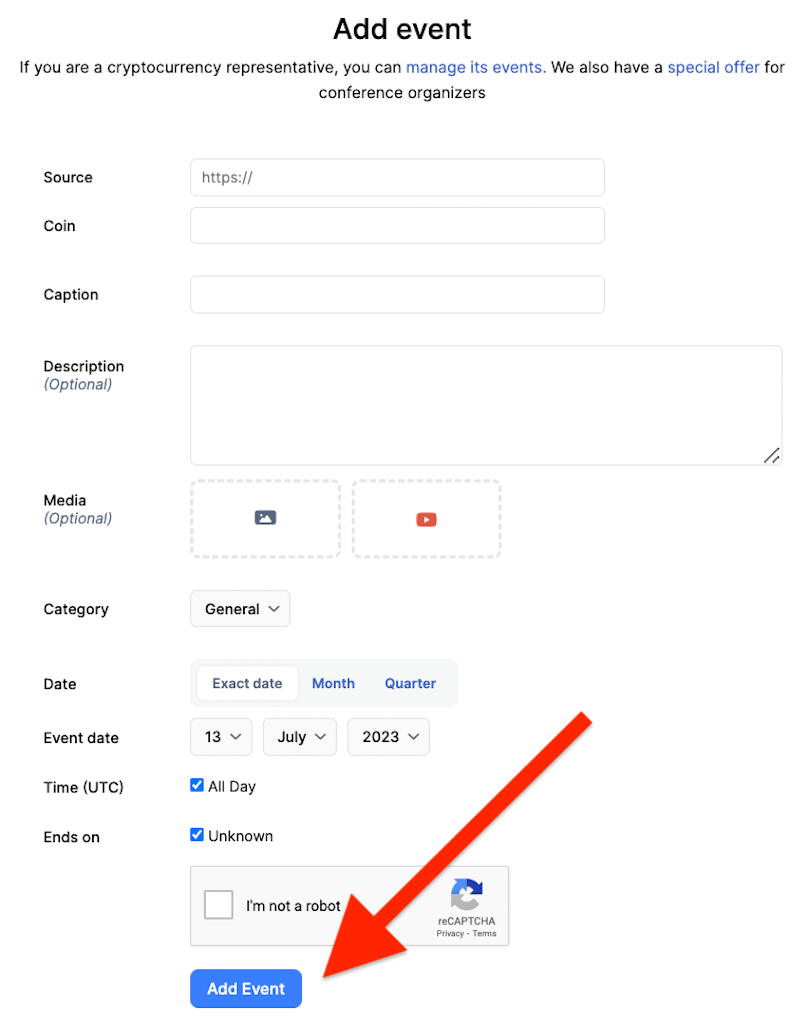 Alternative options to boost cryptocurrency at no cost
For any questions or cooperation, you can contact Tokpie at info@tokpie.com.