Get both: Ethereum NOW and valuable tokens later for videos, articles, signatures and app downloads. No need to wait 4–6 months to monetize your hard work!
NOTE: THIS CAMPAIGN HAD BEEN SUCCESSFULLY FINISHED.
Bounty revolution is successfully moving on!
Thanks to TOKPIE exchange, it's now possible to Get both: 'cash' (ethereum) INSTANTLY and valuable POVR tokens later for participating in bounty through three simple steps:
– earn bounty stakes,
– deposit half of stakes on TOKPIE and
– trade them for ETH IMMEDIATELY!
Join the discussions on Bitcointalk:
ENGLISH thread
RUSSIAN thread
TURKISH thread
SPANISH thread
VIETNAMESE thread
PHILIPPINES thread
HOW IT WORKS
1. Participate in one or all of the following Bounty campaigns running by the POVcoin (our partner) to earn some stakes:
Video campaign
Article campaign
Signature campaign
App Download campaign
NOTE: POVcoin Bounty Campaign supports the unlimited number of participants, but is limited in time until February 15, 2019 (day may change). You can check the current number of participants and stakes earned by clicking on the following spreadsheets: Video campaign, Article campaign, Signature campaign, App Download campaign.
2. Register or login TOKPIE platform. Then click on [Deposit] button to place 50% of earned POVcoin bounty stakes into your TOKPIE account balance.
NOTE: Don't click on "Deposit" until you earn some stakes and strictly follow the instructions when depositing to speed up the processing.
3. Sell your stakes on the following order books (markets) to get ETHEREUM (ETH) instantly!
POVR_Stake_Video_35pc / ETH
POVR_Stake_Article_15pc / ETH
POVR_Stake_Signature_25pc / ETH
POVR_Stake_APP_Download_25pc / ETH
NOTE:
– By clicking on the links above you can place your trade orders, check market depths, current bids, asks, last matched prices and price charts.
– You may sell and buy POVcoin stakes until the end of the POVcoin Bounty campaign that is planned to be done on February 15, 2019.
– All holders of POVcoin bounty stakes will automatically get POVR tokens on their Tokpie account balances within 3 weeks after February 15, 2019, in accordance with the conversion's proportion revealed as the results of the Bounty Campaign.
– You can check current stakes prices without registration.
– The following trade fees are applied.

FAQ
Q: May I see some feedbacks for how it works?
A: Sure, this is not our first campaign. Check our ANN thread dedicated to the Bounty Stakes Trading and previous campaigns.
Q: How can you prove that it's not a scam?
A: Check official bounty campaign and TOKPIE contracting with POVcoin.
Q: What is the TOKPIE?
A: TOKPIE is the new crypto exchange that penetrates the market by providing a unique Bounty Stake Trading service to hunters and early investors.
Q: I have questions. Where can I ask them?
A: You can post your questions here or ask them on TOKPIE telegram group.
Q: I didn't understand anything. Can you explain more?
A: Yes, here is the infographic for you: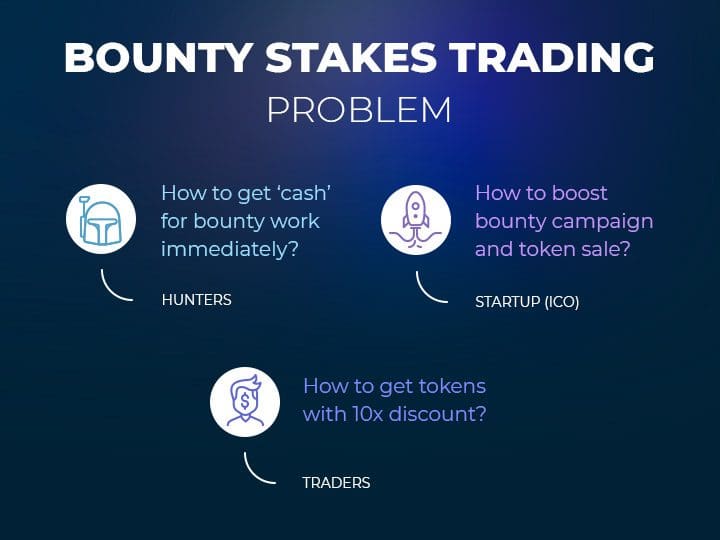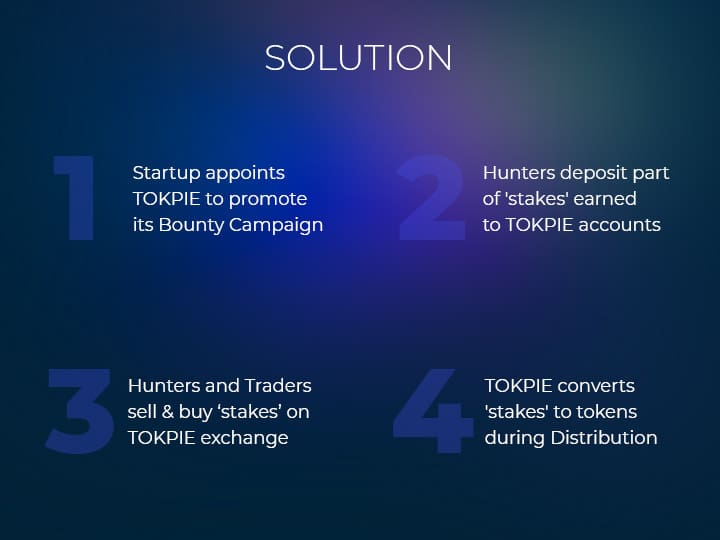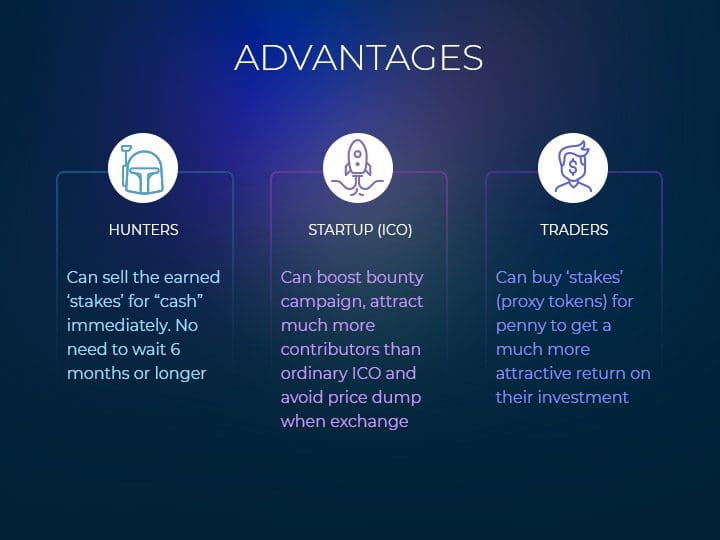 USEFUL LINKS:
POVcoin Bounty thread on Bitcointalk
Telegram POVcoin Bounty Chat
Telegram TOKPIE Chat for Bounty Stakes Trading questions
Want to grow with us? Stay in touch with TOKPIE.