Thanks to our previous guide for updating Circulation Supply on Coingecko, many altcoins have already increased their ranking and visibility on CG. Today, you'll learn how to get a Circulating Supply for your token on CMC. As a result, your coin gets a dynamic Market Capitalization, improves its Rank on CoinMarketCap, and obtains other advantages. So, let's do it.
What's Circulating Supply?
According to the CMC's FAQ the Circulating Supply is the best assumption of the number of assets circulating in the market (existing in the general public's hands). Also, CMC believes that Circulating Supply is a much better metric than Total Token Supply for determining an asset's market capitalization. Such a method of using the Circulating Supply is similar to using public float to determine the market cap of traditional companies on stock exchanges.
Advantages
An updated CS (Circulating Supply) provides a coin with many competitive advantages. Some of the core benefits include dynamic market capitalization, ranking, and additional demand from investors/traders.

Market capitalization
So, the first unbeatable advantage of getting CS (Circulating Supply) is the visibility of the Market Capitalization of a coin on CoinMarketCap. Due to CMC's guidance, the Market Cap is the number of tokens (in circulation) multiplied by the token's price. Thus, a coin automatically obtains dynamic Market Cap stats after updating a circulation supply. Moreover, market capitalization (as well as CS) is updating in real-time because CMC's tracker uses a supply module that references all wallet balances and uses relevant block explorer APIs.
Rank
Another great benefit of having CS on CoinmarketCap is the Rank. What's that? The Rank is the positioning of an altcoin in CMC's list of crypto-assets. For example, Bitcoin has a Rank of #1. So, the higher the ranking, the better visibility of a coin. Also, CMC sorts all coins by market cap. So, having a high circulating supply and token price is reasonable. Furthermore, the bigger the number of markets and exchanges where a coin is available for trading, the better coin's ranking.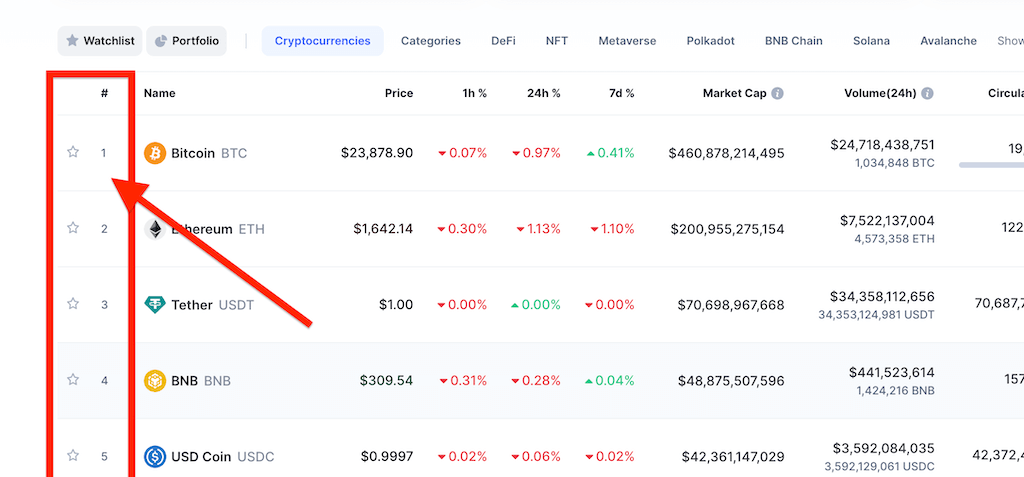 Additional buyers
An additional advantage of having a dynamic circulation supply, market cap, and ranking is bringing more buyers for a token. Why? The answer is obvious. First, much more potential buyers could notice a cryptocurrency that has a rank on CMC. Second, these traders and investors would have more reasons to purchase a cryptocurrency with a circulating supply's data and market cap traction on CoinMarketCap.
How to update Circulating Supply on CMC?
After checking the requirements and having a token visible on CMC, you can update its Circulating Supply on CoinMarketCap. The process consists of two main steps: submitting the form/request and filling out the spreadsheet.
Step 1. Fill out and submit the form
Only after listing a token on CoinMarketCap, open a Request Form and select "Update supply figures." Also, remember to check the requirements. Otherwise, you waste time if your token's parameters don't satisfy the criteria.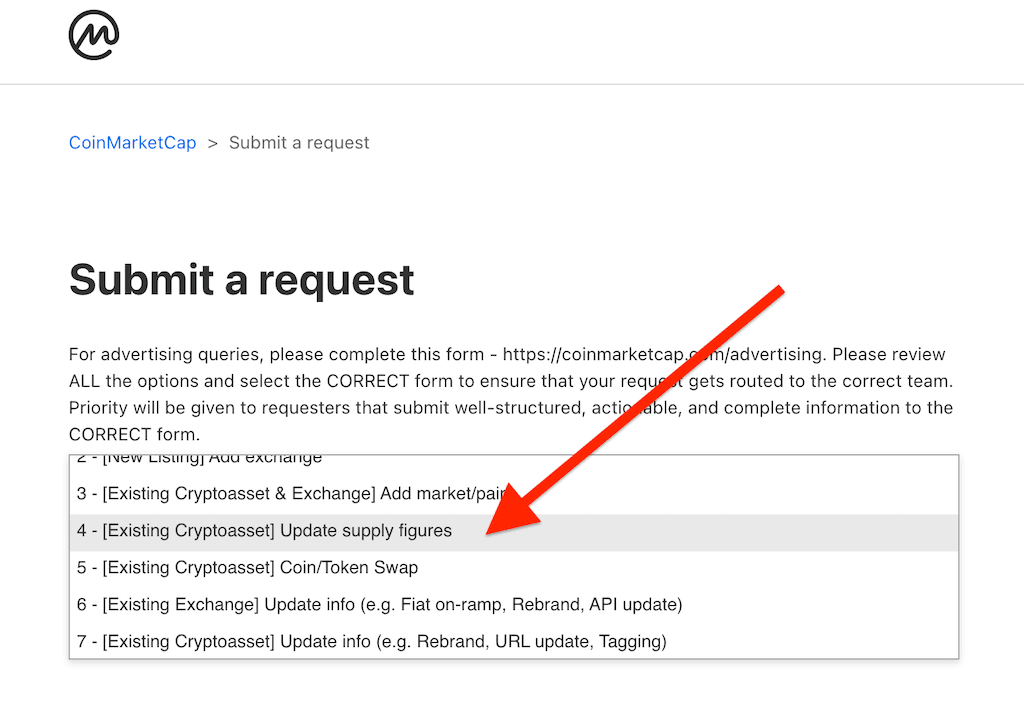 Then, enter the official email address of your project. It should have the same domain as your project's website domain. Also, enter the subject in a format like "[Project's full name] – [Token Symbol] – [Update supply]" Don't forget to check all boxes.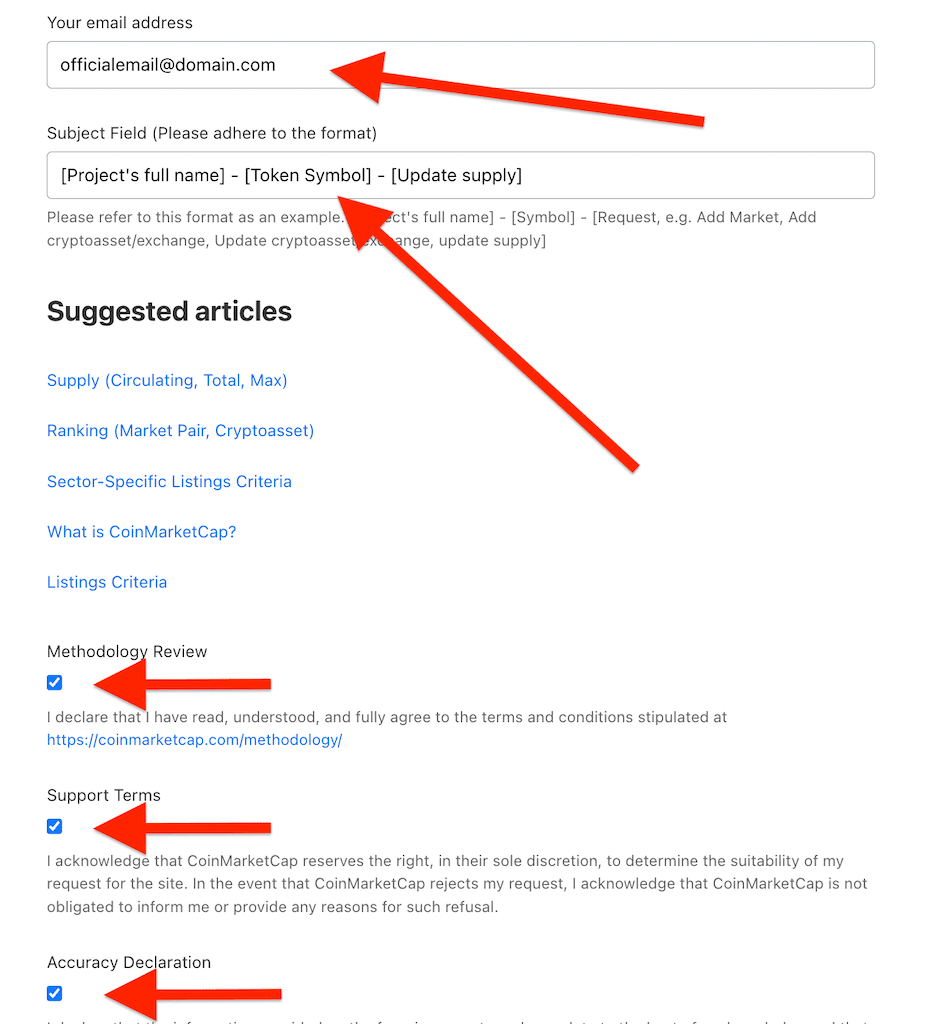 After that, open a spreadsheet's template, and make a copy. Correspondingly, name it "[Token name] – CMC Form Public."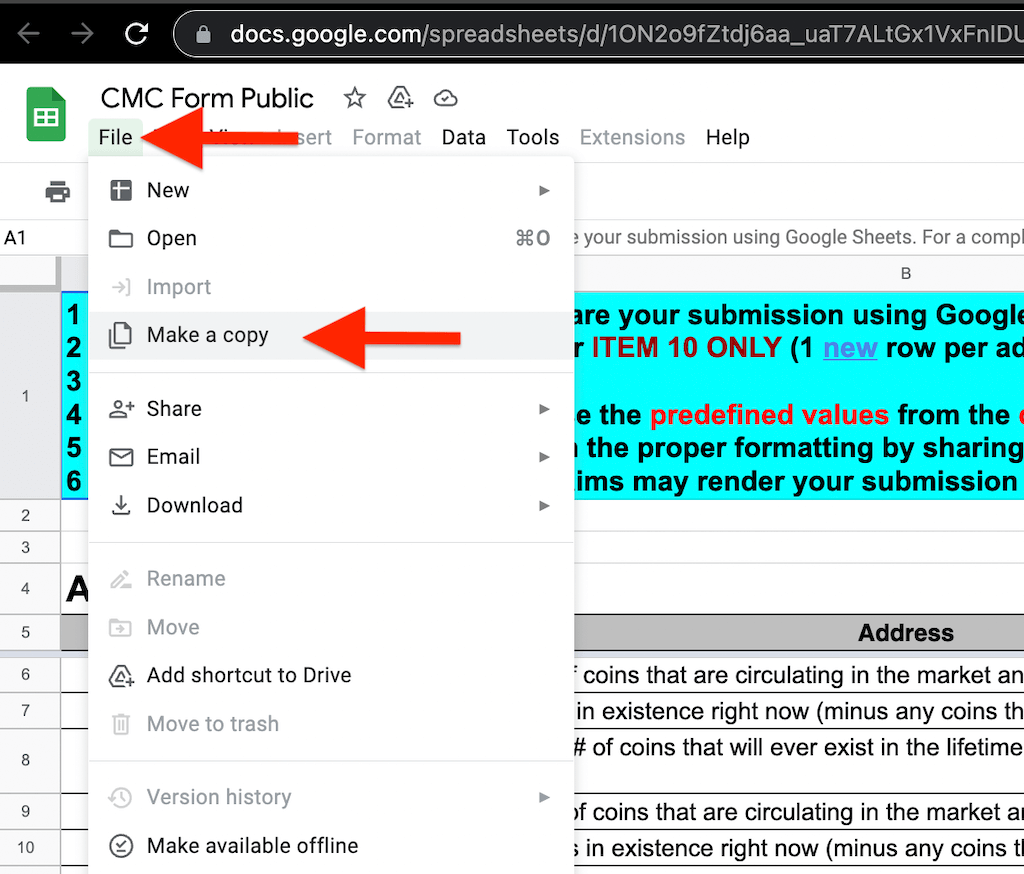 Then, press a "Share" button to make your spreadsheet public.

After that, copy a public link to your spreadsheet and enter it into the form.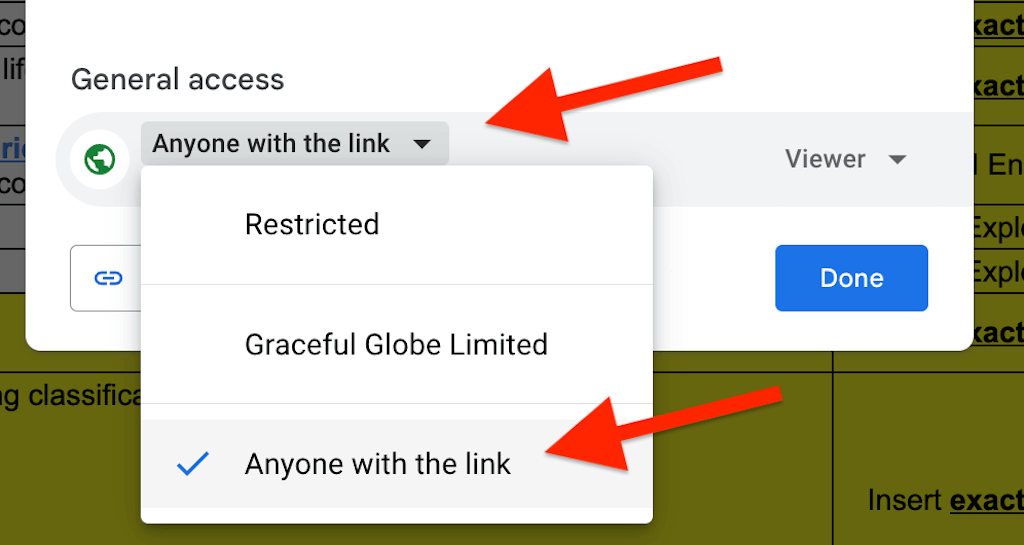 Now, open your project's official Twitter account and post with the following text: "Great news, we have just submitted a token supply data to the @CoinMarketCap!" Then, copy the link to your Tweet and enter it into the form like, "This is the link to the Twitter post showing that this request is authentic: [LINK TO THE TWEETER POST]."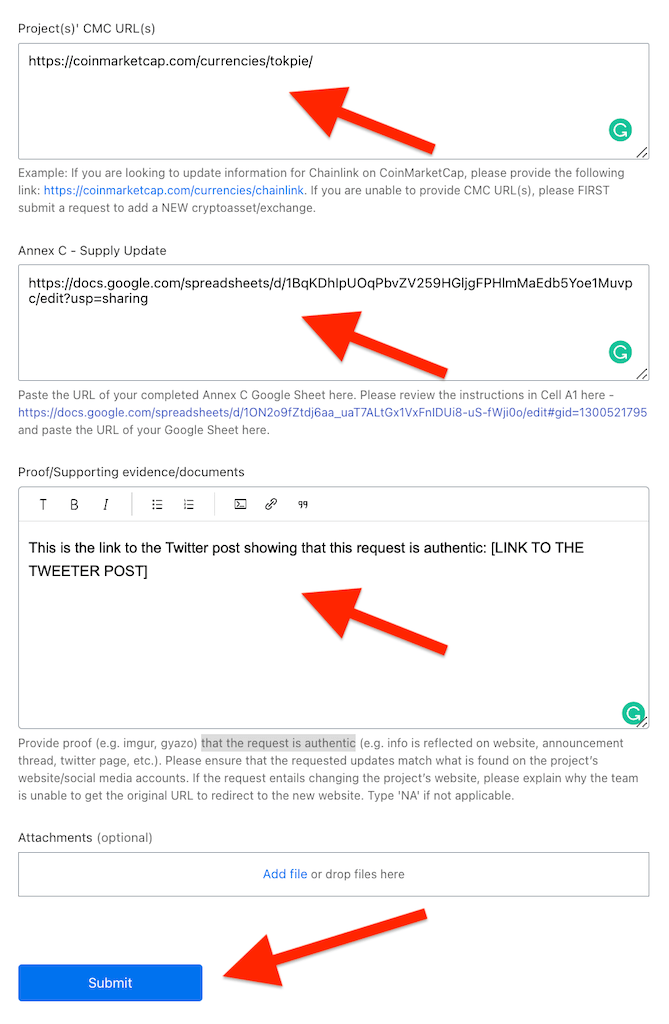 Also, enter the link to the CoinMarketCap page of your token (example: https://coinmarketcap.com/currencies/tokpie/) in the "Project(s)' CMC URL(s)" field.
Finally, click on the Submit button.
Step 2. Fill in spreadsheet
To finalize the process, fill in the spreadsheet with relevant data about a token supply. A good example you can find is in the "A-Sample" list.
If you don't have the time or experience, ask Tokpie's team for help via email at info@tokpie.com.
Requirements
Despite the data in your spreadsheet, CMC's team has the following requirements for updating the CS:
A token must be available for trading on three exchanges (from the CEX or/and DEX lists). So, if don't have enough exchanges (where your coin is available for trading) apply to list token on Tokpie – a CEX exchange supported by CMC.
Reasonable liquidity. For instance, a token's market (on CEX) must have at least $500-$1500 worth of BIDs and $500-$1500 worth of ASKs inside the 2% spread. A decentralized exchange market (like PancakeSwap or Uniswap) should contain around $300k-$400k in the liquidity pool. Learn more about liquidity.
A market(s) must have Reasonable order depth. For example, the market should have 30 BIDs and 30 ASKs on a centralized exchange.
A reasonable number of executed trades. For example, having 1-2 trades/transactions every 15-30 minutes will be enough. Volume should be around $100k/daily in each market.
Minimal spread on markets/exchanges. Spread is the difference between the highest BID (order to buy) and the lowest ASK (order to sell) inside the CEX's market. The best spread should be around 0.25%-0.5% but at most 2%. Fortunately, you don't have to care about the spreads on the DEX because it has an AMM (Automated market making).
Minimal outliers on market pairs. It means a token's price should be the same on all your markets/exchanges.
Decent confidence scores. Each of your markets has a confidence score representing all the above conditions. For example, the higher a market's liquidity and volume, the bigger its confidence score.
How long does it take?
Although CMC states 72 hours, the CS updating can take a week. Why? Because CMC's team usually wants to clarify some data in the submitted spreadsheet. So, you must use a working (official domain) email address to submit the circulation supply form. Also, you should regularly check incoming messages to avoid missed letters from CoinMarketCap.
Recommendations
Some recommendations exist for the spreadsheet's filling and updating circulating supply (CS) on CoinMarketCap. First, always be honest with CMC, and communicate with their managers via your official email. In addition, try to update CS as fast as possible after listing on CMC.
Provide real data
First, provide accurate data. For example, if you locked a considerable part of your tokens, mark all such locking wallets as "locked." Later, after unlocking, the CMC automatically detects unlocking events and increases a token circulating supply accordingly. Besides, if a project attempts to manipulate or artificially inflate its supply figures, CoinMarketCap's manager permanently disqualifies a currency from the rankings.
Be in contact with CMC
It's a common situation when CMC enables CS, but the circulating amount differs from the data in your spreadsheet. Why does it happen? It happens because CoinMarketCap's manager uses an approximation of what is freely circulating in the market based on the information that you have provided in the spreadsheet. Don't worry about that. Write to CMC and ask a clarification to understand what wallets they marked as "out of circulation." Then, transfer tokens from such wallets to any new wallets.
Enable CS after listing on CMC
Every new token that appears on the CoinMarketCap becomes visible in the "recently listed" list first. So, to stand out from other coins in that list, update the Circulating as fast as possible. As a result, CMC's visitors will see attractive figures. Therefore, more people will visit your website and buy your cryptocurrency.
Other ways to boost altcoin
For any questions or cooperation, you can contact Tokpie at info@tokpie.com