CoinGecko is a cryptocurrency ranking and tracking website providing valuable information about cryptocurrencies. Getting your altcoin listed on CoinGecko is essential to establishing its legitimacy and visibility in the crypto industry. So, this article provides a step-by-step guide on how to list token on the CoinGecko. Also, you'll learn about the advantages of CoinGecko listing, requirements to meet, and solutions to potential reasons for refusal. Following the steps outlined here will increase the chances of successfully listing your token on this major cryptocurrency data aggregator.
What's the CoinGecko (CG)?
So, Coingecko is a popular cryptocurrency ranking and information website that tracks thousands of cryptocurrencies and provides essential data on each coin, such as market capitalization, volume, price, listings, team, and community. It aims to provide cryptocurrency users with a comprehensive overview of the crypto market. Many crypto enthusiasts and investors trust the site to research different coins and find new investment opportunities.
Advantages
CoinGecko is undoubtedly a powerful coin-tracking platform: its daily traffic is second only to CoinMarketCap. For example, CG's monthly visits were around 40M at the beginning of 2023, according to SimilarWeb (image below). Additional vital advantages of being listed on Coingecko include the following:
High visibility and exposure to crypto investors and the wider crypto community.
Credibility and legitimacy as Coingecko only lists established coins traded on reputable exchanges.
Ranking due to critical metrics, which can attract investors looking to invest in top-ranked coins.
Regular updates on crucial stats, news, and events to keep the community informed.
Easy to compare your currency with competitors using Coingecko's comprehensive data and rankings.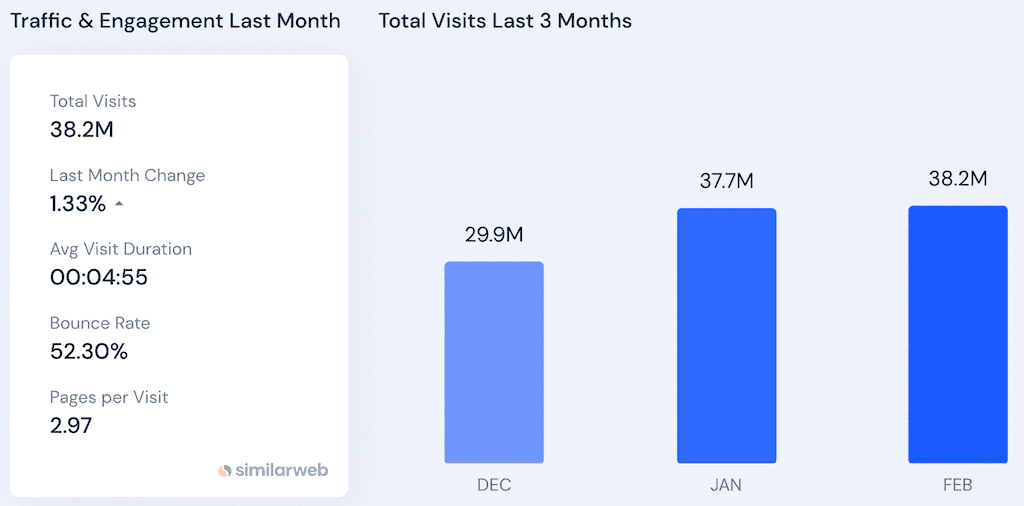 Steps for adding a coin to Coingecko
The process of adding a coin to Coingecko includes four primary steps:
You should list a token on at least one exchange.
A blockchain startup's representative should take the cake of the coin's liquidity and trading volume.
A token issuer shall create an account on Coingecko.com.
You must fill in the CG's form correctly and submit it.
So, to succeed with listing your currency on Coingecko, use the detailed descriptions of all steps below:
Step 1. Get listed on Exchanges
First, you must list your altcoin on at least one exchange from the CG's list of supported exchanges. However, having a coin available for trading on 2-3 decent exchanges is also a positive factor for Coingecko's team. Why? Because during a review, the CG's managers prioritize coins by the number of markets/exchanges. In the process of choosing an exchange, give preference to those exchanges that are supported by Coingecko and CMC simultaneously. For example, Tokpie cryptocurrency exchange supported by both trackers. So, you can always list your token on Tokpie by filling short form. As a result, your currency will appear on Coingecko, CMC and +10 other popular coin-trackers.
Step 2. Improve Trade Volume, Liquidity, Spread, and Market Depth
Trade volume, liquidity, spread, and market depth are other vital factors for pushing an asset to the Coingecko. For example, listing a coin on the most reputable exchange is useless if your market lacks BIDs, ASKs (liquidity), and trade vol. So, to pass verification smoothly, keep the following metrics for your coin's market:
Trade Volume: $50,000 daily.
Spread – the difference between the highest BID and lowest ASK: should be below 1%.
Liquidity – the worth of BIDs and ASKs inside the 2% spread: should be $500-$1500 each.
Market depth – the number of BIDs and ASKs in your order book: should be around 25 BIDs and 25 ASKs.
So, remember, Coingecko wants to list coins that attract traffic. It means that CG tries to list assets that are popular among traders. That's why CG's managers review trade volume, liquidity, spread, and market depth. Also, find more information about liquidity. Besides, some MM software solutions help to automate the process.
Step 3. Register on CG
The next step is registration. Sign up at the CG registration page using your official email address. It's good to use your website domain email address. For example, instead of xxx@gmail.com, use official email address like info@yourwebsitedomain address.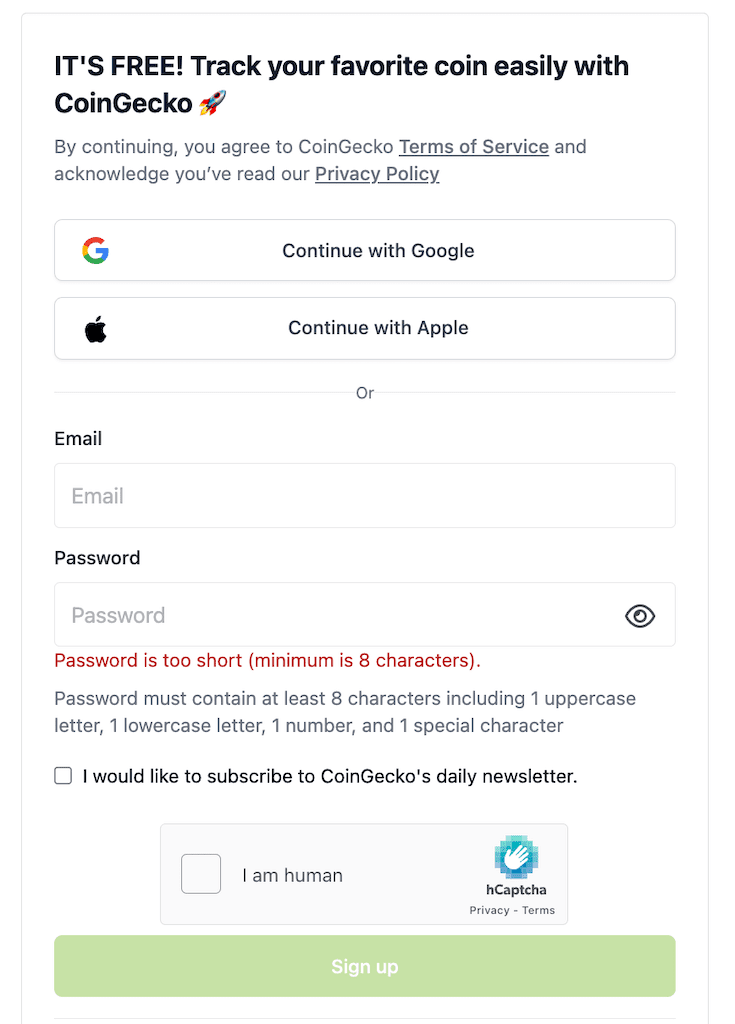 Step 4. Fill out and submit the form
Now, it's time to carefully fill out Coingecko's listing application form and submit it for review. The CG team will review the application manually and verify the coin details before approving the listing. So, do the following:
Log in CG (after registration, explained in step #3 above).
Open the request-dedicated page and press the "Token" tab.
Fill out the form with details on the altcoin, including the contract address, website, social media links, and all the information. If you need to learn how to fill in the form correctly, ask for professional help here: info@tokpie.com.
After the form's filling, press the "Submit" button.
Also, you can use CG's instructions.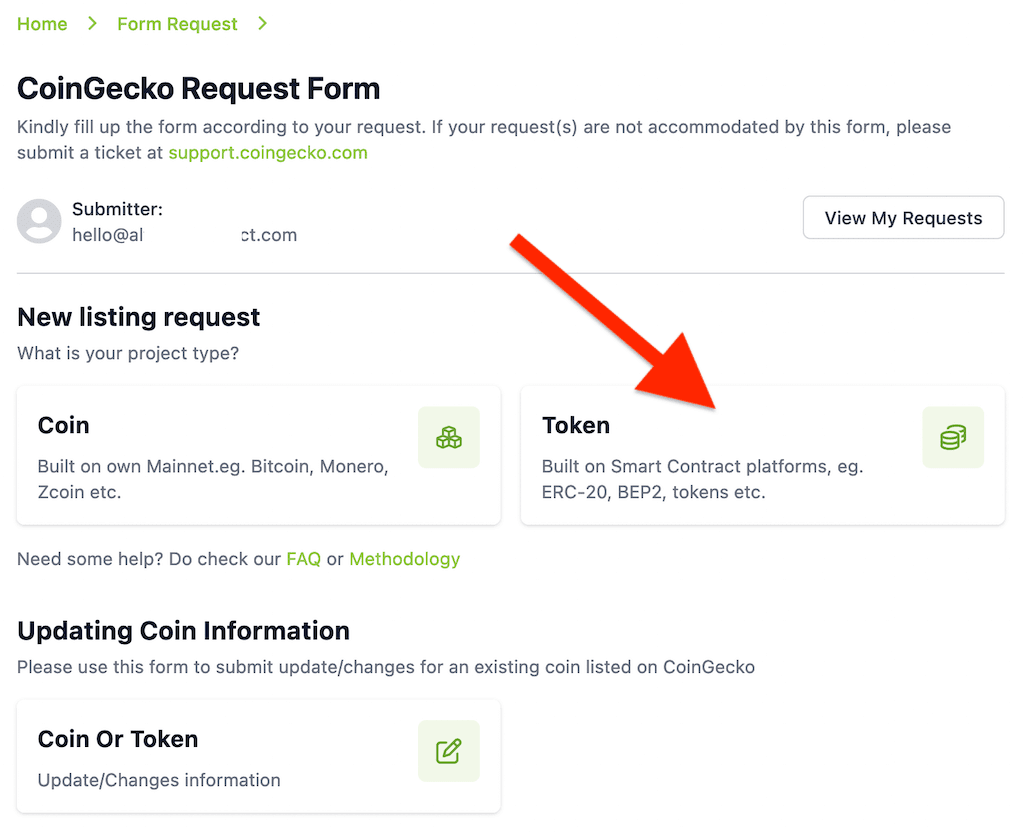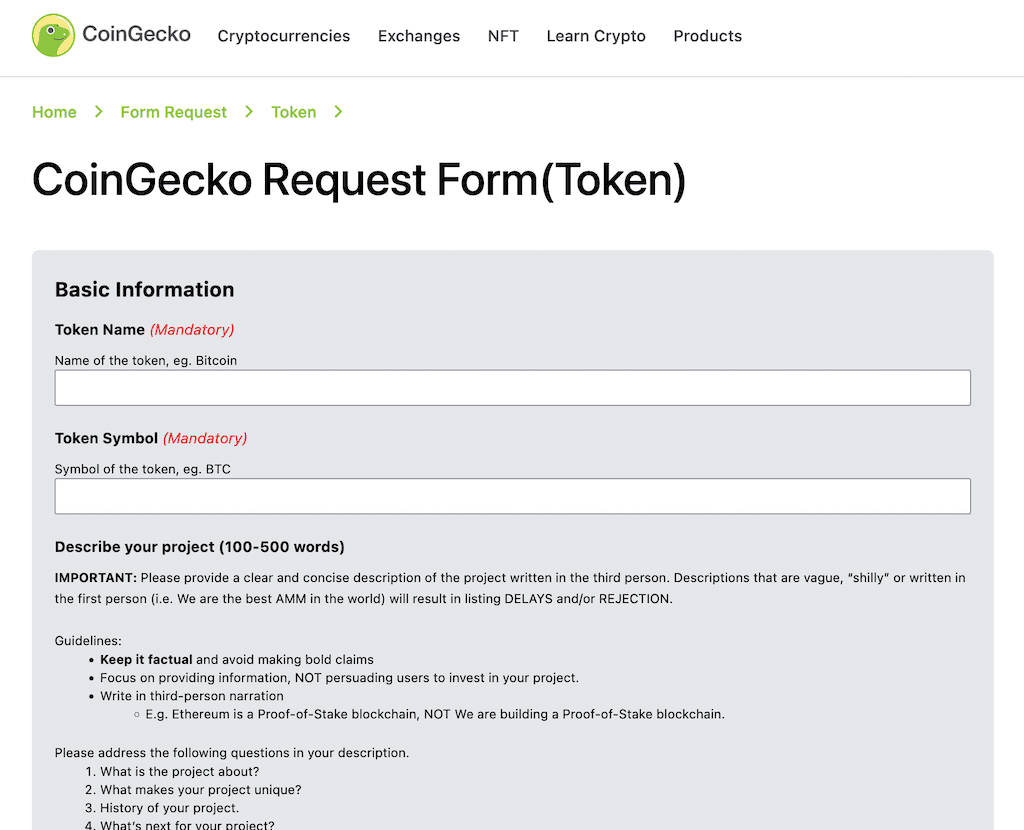 How to check the status?
After the form's submission, watch the status of your application at any time by doing the following:
How long does it take to get listed?
The listing process can take from a few days to a few weeks depending on Coingecko's workload and the quality/completeness of your application. Providing all necessary details and documentation upfront will speed up the review and approval process. Coingecko aims to review applications within 2 to 14 business days under normal circumstances.
Reasons for being Rejected and solutions
Some common reasons for Coingecko to refuse a coin listing application include lack of vol., liquidity, or community support. So, don't be surprised to see a red "Rejected" remark on the status page in few days after the form's submission. Read the following paragraphs with the explanations on overcoming different rejections from Coingecko.
TIP
Send another listing request to Coingecko only after two weeks. Don't send another request before the 2-week cooldown period. Otherwise, CG tags your application as spam. So, it will cause further delays to your listing request.
Project's volume is too low
If you see the reason for rejection, like "Project's volume is too low, " increase trading vol. Do it by getting listed on more exchanges and enabling auto-trading software. Also, read again step #2 above. Besides, remember to re-submit the Coingecko's form 14 days after getting a rejection.

Project's liquidity is too low
If you see the reason for rejection, like "Project's liquidity is too low" then increase the size of your pool on DEX (for tokens traded only on PancakeSwap, Uniswap, and other DEXs). If your coin is tradable on CEX, increase the size of the BIDs and ASKs to $1500 (or higher) inside the 2% spread. Also, you can do it by hand or by activating market-making software. In addition, read again step #2 above. Besides, don't forget that CG's managers hate over-submissions. Therefore, after improving your token's liquidity, re-submit the form only fourteen days after the last submission.
A low number of followers
Sometimes, projects try to list coins on CoinGecko but have just 10-50 followers on their social accounts. That's not enough. So, such a project gets a rejection "Project has bad sentiment on their social media (Low social media engagement/ presence/ adoption/ audience growth rate.)" or "Unable to detect sufficient organic attention around the project".
How to solve.
Build up the community by increasing social media followers, engagement, and visibility. A robust and active community signals that a coin is established and reputable. Also, delete social channels with miserable number of followers from the project's website.

Not original project
Another common reason of rejections is "Project infringes other's trademark or consists inappropriate content". That's one of the most serious reasons of rejection.
How to solve.
Avoid any plagiat on your website and white paper. Also, don't try to imitate other reputable projects that are already exist on the market. Other words, build your own "original" blockchain project.
I still can not get a verification
If you still can not get verification on Coingecko (after fixing all rejections and after several re-submissions), do the following:
Improve your website. Build a project's web without using Wix, WordPress, and similar themes.
Decrease taxation to around 3-5% if your token has enormous taxes.
Re-create a token and try to submit a form again.
Use a turn-key outsource solution.
How to add additional market
Listing an asset on Coingecko is not the "end of the game". Sooner or later your coin will start trading on new exchanges or a new pair appears. So, follow the steps below to add additional exchange(s) or market(s):
Open the status page and click on "Coin Or Token" tab in the "Updating Coin Information" section.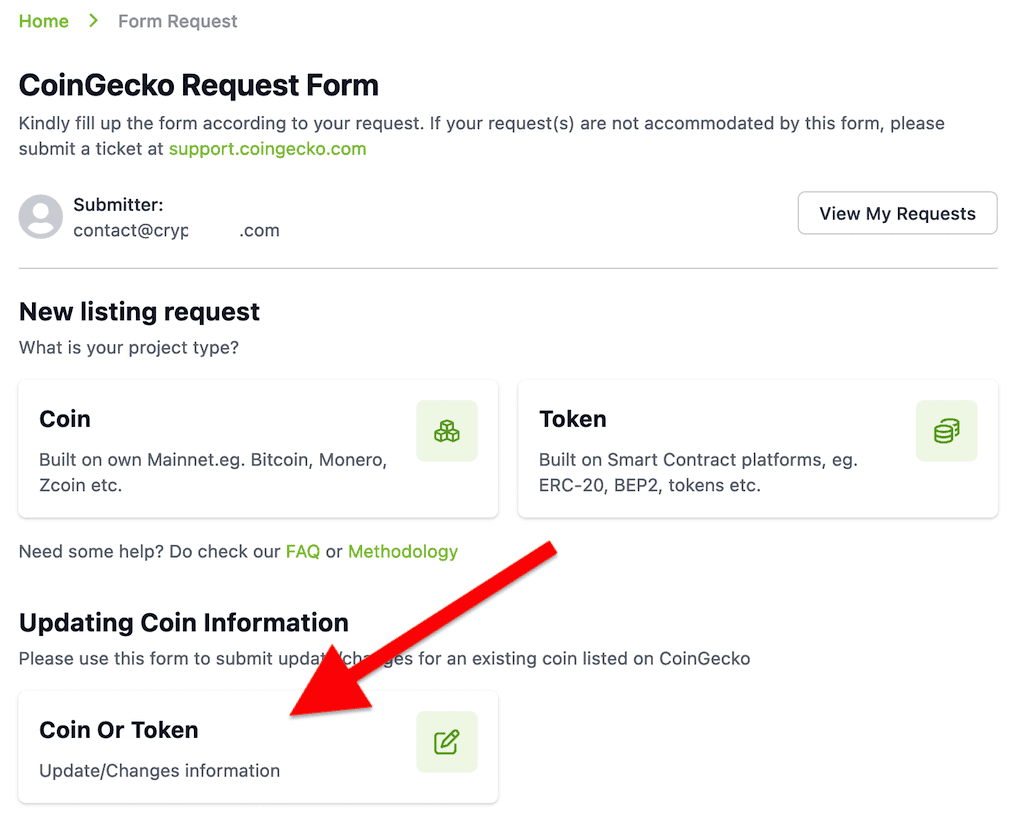 Then, select "New Listings on Exchange/New Market Addition".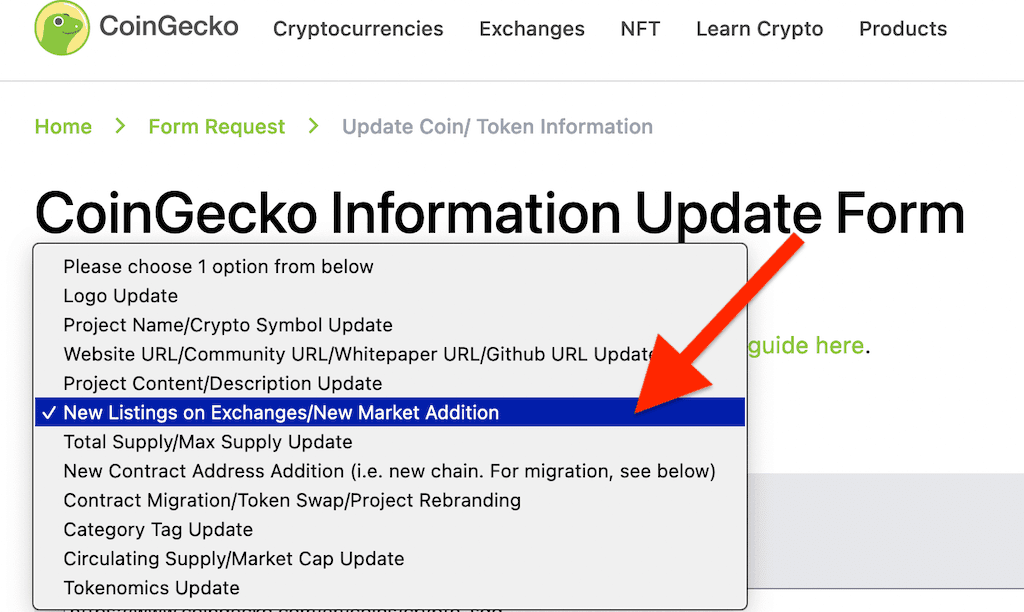 After that, fill in just several fields in the form as shown in the images below. Don't forget to enter the right link to your new market(s). If you don't know that link, ask an exchange's manager who sold you the listing.
Press the Submit button.
Now, wait for around 24-72 hours. If you did everything correctly your new marker appears on your coin's Coingecko page.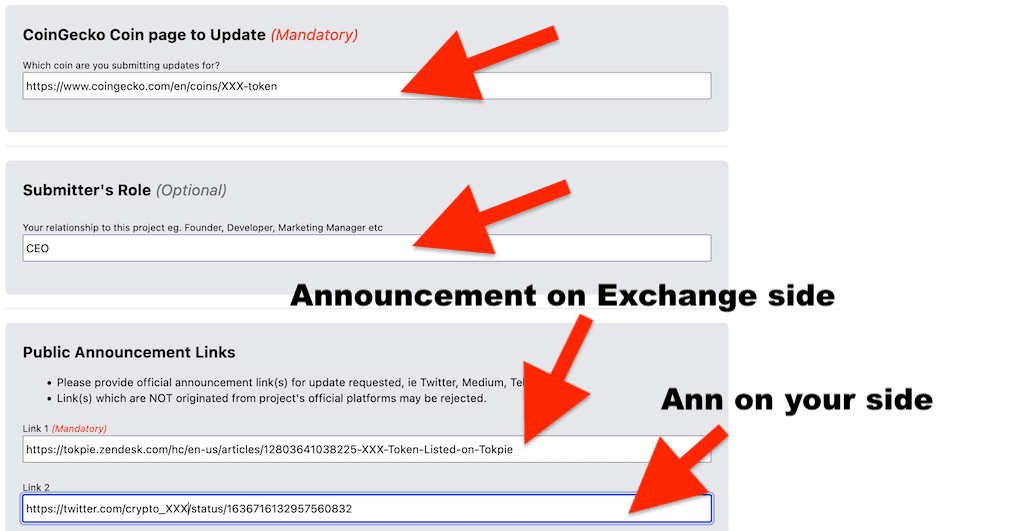 Important to note, you must keep your coin's price the same on all your markets/exchange. Otherwise, Coingecko will reject your application.
Update Circulating Supply: Market Cap and Rank
After two or three different exchanges appears on your coin coingecko's page (example in the image below), you could update a Circulation Supply. As a result, your asset will get a dynamic Market Cap and Ranking on CG. So, use an ultimate guide on how to enable Circulation Supply on Coingecko.

Additional options to grow a coin
For any questions or cooperation, you can contact Tokpie at info@tokpie.com