Wouldn't it be a wrong idea to list your Token on as many coin trackers as possible? Of course not. Every blockchain startup needs to bring in new visitors, users, and investors. And the most efficient way to attract people is to list your Token on every tracker. It doesn't cost a penny.
Apart from CMC and CoinGecko, there are many other popular tracking recourses such as Coincodex, LiveCoinWatch, CoincheckUp, Coindataflow, DigitalCoinPrice, Blockspot, TokenInsight, CoinLore, Coindar, BitDegree, and Coinopy as well as on Binance / Coinbase. So, today, we're happy to introduce one more platform that shows cryptocurrencies' prices in real-time. Meet the Coincost, a light, and high-traffic cryptocurrency tracker. Also, learn how to add your Token to the Coincost's list. 
Besides, gain more attention to your crypto project for free by adding the coin to:
What's the Coincost?
The Coincost is a crypto-tracker that shows the live prices of over 12,754 crypto assets. Also, it supports +540 exchanges and their markets. Its users can sort top cryptocurrencies by market cap and volume. Furthermore, visitors can spot the most viewed coins for the last 24 hours and seven days. Important to note that the tracker's domain has been active since 2017. So, there is no reason to think that its website could stop working.
Traffic
According to Similarweb, Coincost's traffic was around 613.1K in December 2021. However, sometimes the number of visitors reaches one million (check the image below).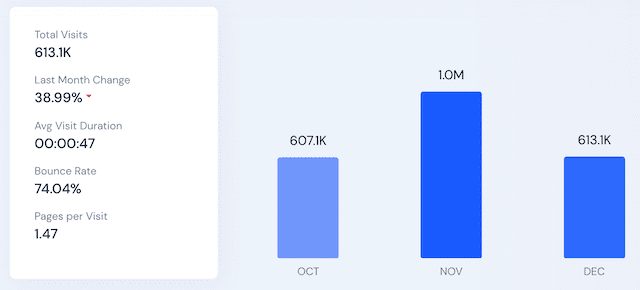 Advantages
Also, the portal supports 24 languages and has a light and very responsive interface. After being listed on Coincost, your Token gets a separate page (example) with a price chart, brief information about your project, and social links.
How to add Token?
Do two simple steps if you want to add Token to the Coin Cost. First, make sure that your coin is already tradable on any exchange from this list. The second step is to submit a short contact form on the tracker's website. Find a detailed explanation below.
1. Check crypto exchange
As said in the beginning, Coincost supports over 540 exchanges, so make sure that your altcoin has a trading volume on any one of them. For instance, the Tokpie exchange is already in the Coincost's list of exchangers. So, list your currency on Tokpie to make it visible on Coincost. Besides, having a coin tradable on Tokpie unlocks many other trackers for you.
2. Submit the form
After checking exchanges, fill out and submit a short form. How to do it? Click on "Contact us" in the Coincost's website footer. Fill in your name and email address. Finally, enter the message and press the "Submit" button. Find a template of the message's text below.
Hello, Kindly add our [Token's symbol].
Please find all details below.
Token's name:
Token's symbol:
Website:
Token's address URL:
Link to the Token's logo:
Exchanges/markets where the asset is listed and traded: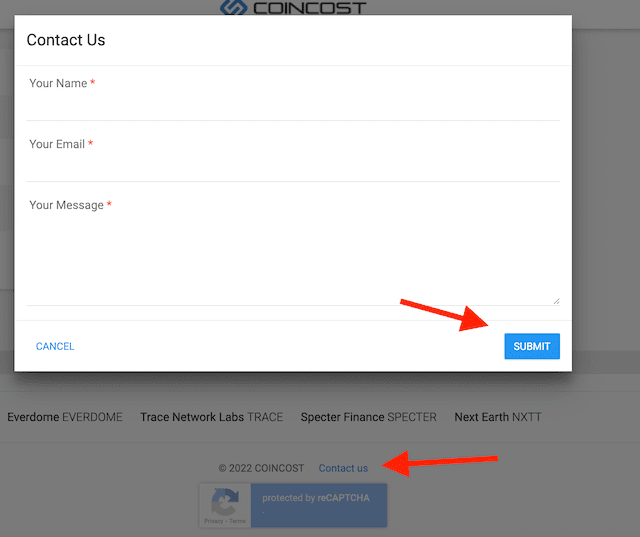 Additional ways to promote your Token for free