Thanks to our instructions to add a coin to Coingecko, hundreds of projects successfully appeared on CG. But, if you're the owner or CEO of a blockchain startup, you should take care of your token circulation supply. But what is the token circulating supply? Why is it so important? How to change the circulation supply of your cryptocurrency on Coingecko? This article explains everything. Besides, discover the guide on how to update circulating supply on CoinMarketCap.
Also, make your cryptocurrency more attractive by adding it for free on the top Token Voting platforms, Metamask, TrustWallet, MEW, Trezor, Ledger, CMC, CG, Coincodex, LiveCoinWatch, CoinCheckup, Coindataflow, DigitalCoin, Coincost, Blockspot, CoinLore, and TokenInsight. Moreover, integrate Bank Cards and Apple Pay to sell more tokens and list an asset on Binance at no cost as well as on Coinbase. Besides, enable price and market cap traction on BscScan and Etherscan. And increase your coin liquidity on PancakeSwap or Uniswap at no charge. Finally, discover a step-by-step guide to making the best altcoin.
What is the circulation supply?
In simple words, a Circulating supply is the free float of your project's cryptocurrency. Another definition is the number of your project's tokens that people can buy and sell on exchanges' spot markets right now.
What is the circulation supply formula?
Simultaneously, the Circulating supply formula can vary depending on the tokenomics of a project. In general, there are two types of tokenomics. The first is when a company creates a fixed amount of tokens. The second one is when a company issues coins whose total supply can vary in the future.
Fixed total supply of tokens
90% of projects issue a strict amount of tokens without any possibility to generate new coins in the future. In that case, the Circulation supply formula is as follow:
Circulating supply = Total Supply - Team & foundres' tokens - Treasury tokens - Locked tokens
Important to note that potential token-buyers prefer to have coins whose price will not be affected by additional token supply.
Flexible total supply of tokens
The second type is when a project creates mintable cryptocurrency. So, the total supply might be increasing or decreasing in the future due to the smart contract conditions. In this case, the Circulation supply formula is quite simple:
Circulating supply = Total Supply
Why is circulation supply so important?
It's hard to overestimate the importance of the circulation supply. It affects the market capitalization of your project and rank on coin trackers. A high rank on trackers, in turn, automatically attracts potential buyers, users, and partners into your project. Moreover, a high circulation supply inspires current and future token-holders to keep your cryptocurrency.
It's important to note that the circulating supply only works when trackers display it. So it doesn't matter what you state on your project website about total and circulation supply.
How to improve market cap with circulating supply?
Obviously, to increase your cryptocurrency market capitalization, you should increase its circulating supply reported by trackers if your token price is stable then, the higher your token's circulating supply, the bigger its market capitalization.
How to increase the rank of my cryptocurrency?
There are many ways to increase the rank of your cryptocurrency. But, the most efficient way is to increase your circulation supply. Look at the list of coins on Coingecko. As you see, the higher the market cap (token circulating supply x price), the higher the rank of a coin. Therefore, to move up your token's position, first, you should take care of its circulating supply.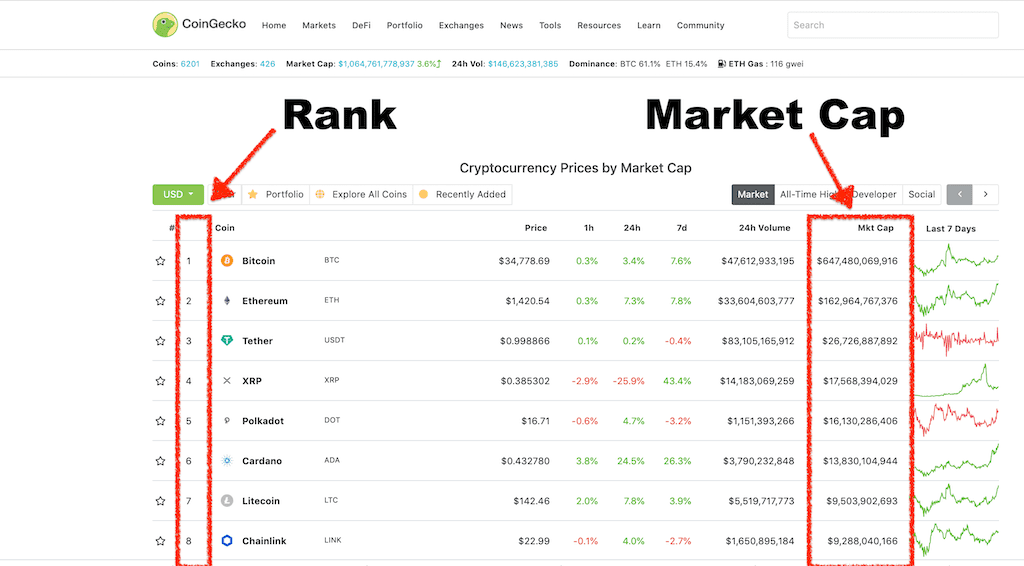 Moreover, with your coin's rank increasing, more and more people will be noticing your project. It will increase your website's organic traffic, the number of new token buyers and users.
Does circulation supply inspire token buyers?
In addition to the above, a high circulation supply inspires token holders and potential buyers. Why? It's straightforward. Investors prefer to have cryptocurrency which price will not be affected by a suddenly increased supply. So, a priory, cryptocurrencies with a high percentage of circulating emissions are more attractive for buyers.
If you have just added your token on Coingecko, then it appears in the Recently Added Coins List. Now, imagine you're an investor and ask yourself: "what line would I click to learn more about the project – a line with a question mark or a line that states a market cap"? The answer is obvious. So, don't lose a chance to get free traffic and buyers – update your token's circulation supply (CS) as soon as possible. Read the next paragraph to know how to update CS for your cryptocurrency.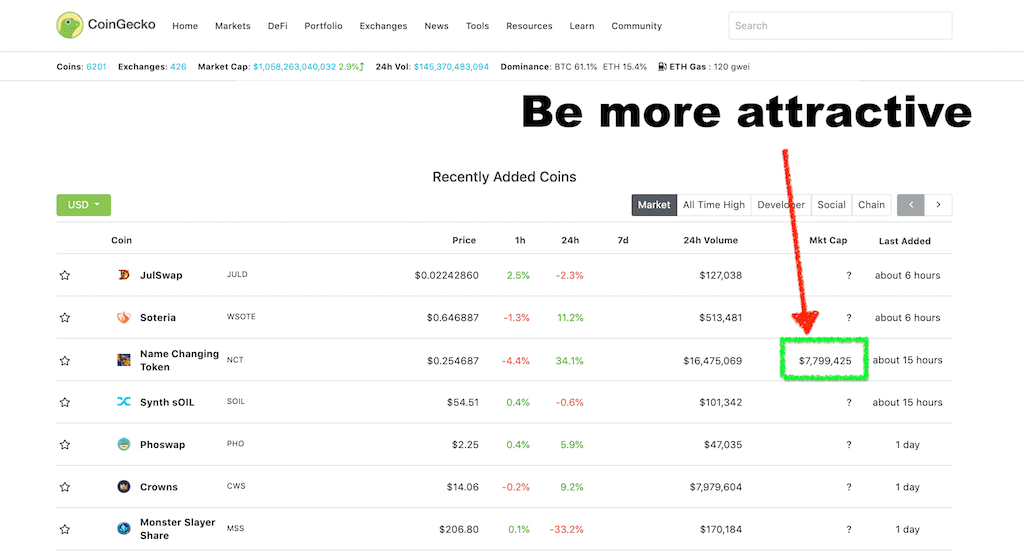 How can I change the token circulating supply on CoinGecko?
The process of updating your token's circulation supply has three stages and can be very time consuming, especially if you don't know how to fill the form (step 1). So if you don't have time or enough experience, reach our team at info@tokpie.com so that we could help. Otherwise, perform the following steps by yourself.
1st Step: Preparing Token Distribution Details
Remember that this is an essential step. So, if you don't know how to fill it correctly, ask for help here info@tokpie.com. During this stage, you need to create the table in a required format, fill it with information and get a sharable (public) link.
Creating a table
By using your project's official email address, create a copy of this template in google docs.
Filling in the table with token distribution details
After creating a table from a template, fill it with the information about your token distribution. Remember that this is a crucial step. So, if you don't know how to fill it correctly, ask for help here info@tokpie.com.
Getting a public link to the spreadsheet
After filling the table, get a public link on it in your google docs interface. You will need this link ready to complete the 4th Step later.
2nd Step: Filling the request form
Fill the GoinGecko's form as shown below.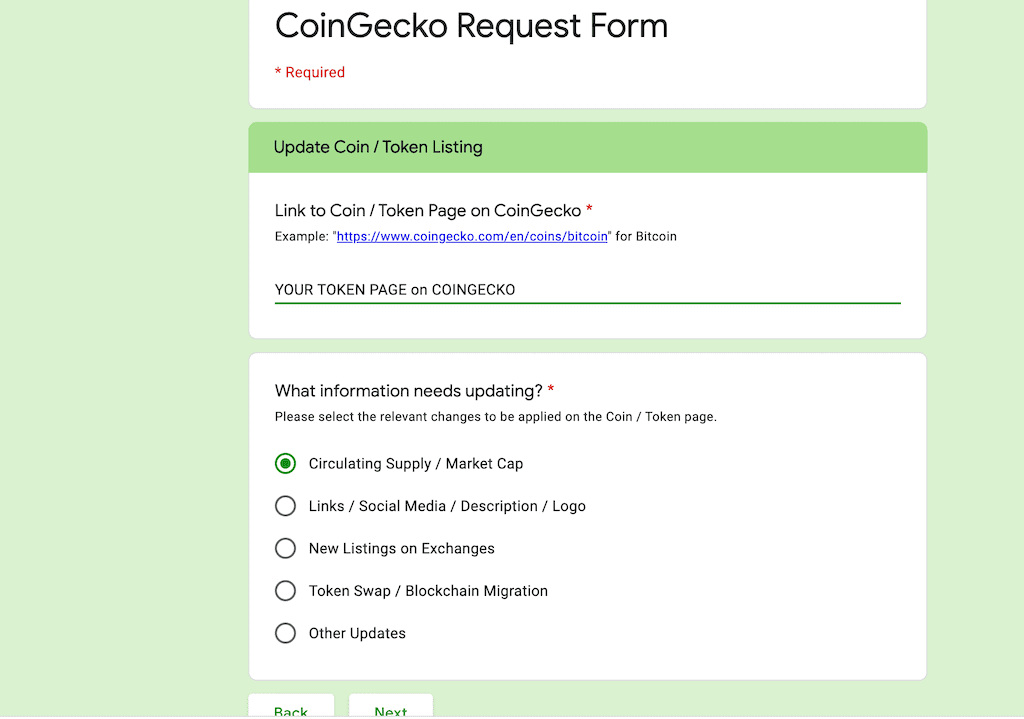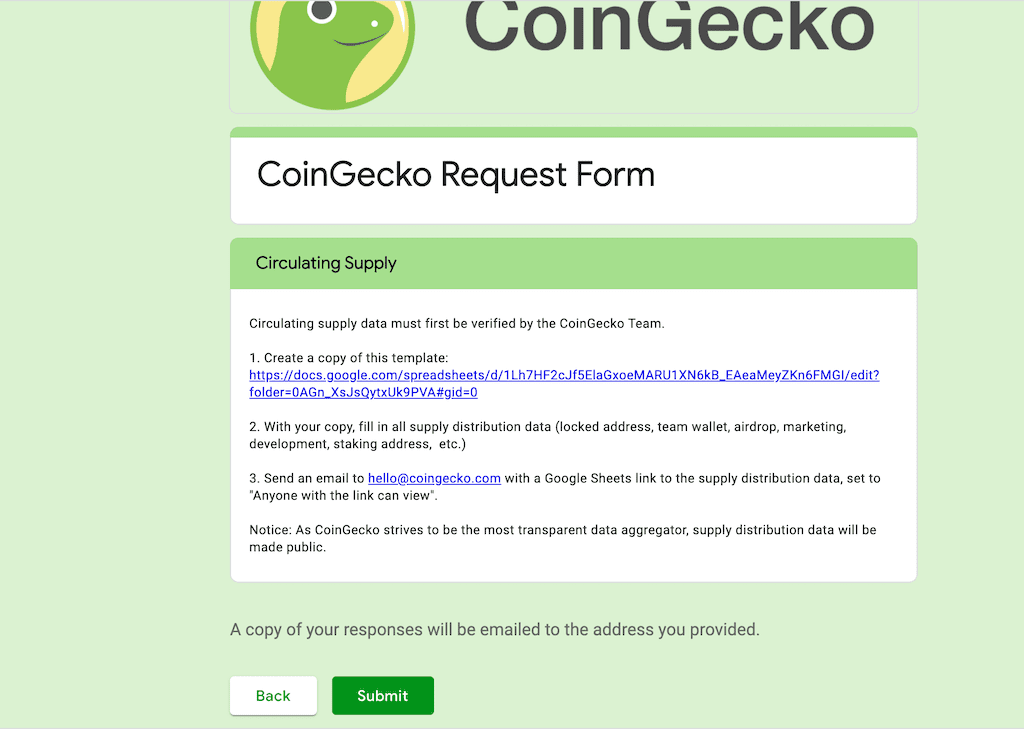 3rd Step: Sending request to the Coingecko team
Also, by using your project's official email address, send a request message to CoinGecko. Find the message template below:
"Hello, kindly update our circulation supply on the [your token symbol] token page: [link to your token page on Coingecko].
Here is the Google Sheet link to the supply distribution data: [public link to the table you prepared in the 1st Step above]."
4th Step: Waiting and replying to CoinGecko's questions
After you complete steps 1-3, wait for a reply from CoinGecko. In most cases, they ask you to clarify some information about your token supply. So, to pass this stage smoothly, make sure that you fill the distribution spreadsheet correctly. Coingecko will update your token circulation supply, market capitalization, and rank within 48-72 hours if everything is fine.
The bottom line
It's hard to see when blockchain startups' owners and directors ignore the circulation supply factor — such a vital aspect of the cryptocurrency business. The increase of token circulating supply opens the unlimited, straightforward, and forever free road to new token buyers and users' flow. So, don't wait; use this guide to stand out your cryptocurrency from the coins of lazy owners.
Useful links to boost crypto-asset for free
For any questions or cooperation, you can contact Tokpie at https://t.me/tokpie