Thanks to our previous guides on adding a token to the Metamask, TrustWallet, Trezor, MEW, CMC, CG, LiveCoinWatch, CoinCheckup, Coindataflow, DigitalCoin, Coincost, Blockspot, TokenInsight, CoinLore, Coindar, BitDegree, Binance, Coinbase, Coinopy, and the best Coin Voting platforms, updating circulating supply, and enabling Bank Cards purchases, your crypto asset became more attractive. So, please don't stop making it better. Today, you'll learn how to add the token into Coincodex. Also, read below to learn more about Coincodex's advantages.  
Also, don't forget to Gain liquidity for free on PancakeSwap and Uniswap. And enable the dynamic price traction on the BscScan and Etherscan for your cryptocurrency. Finally, read a step-by-step guide to making best token.
How to add token into Coincodex?
Please find an ultimate guide on how to add a token to the Coincodex below. Note that adding crypto assets is free.
1. Check Exchange
To add the coin into the Coincodex, the first that you should do is to find an exchange. So, check that Coincodex supports the Exchange that lists your token. Enter the name of the Exchange into the searching bar (image below). If the exchange's name is there, proceed with the 2nd step. But, if you can not find it, then list your token on Tokpie exchange. Coincodex supports Tokpie. So if your altcoin is tradable on Tokpie, you can quickly get listed on the Coincodex tracker.

2. Fill in the Coincodex's form
Adding tokens to Coincodex's list of assets requires filling the form. So, open Coincodex's request form. Then fill it due to the step-by-step instructions.
Enter basic information
Enter your project's email.
Write your coin name.
Enter your coin's symbol (ticker).
Insert the link to your token's logo. Note that the logo must be 200×200 pixels and in png format. To get the link, upload the logo here.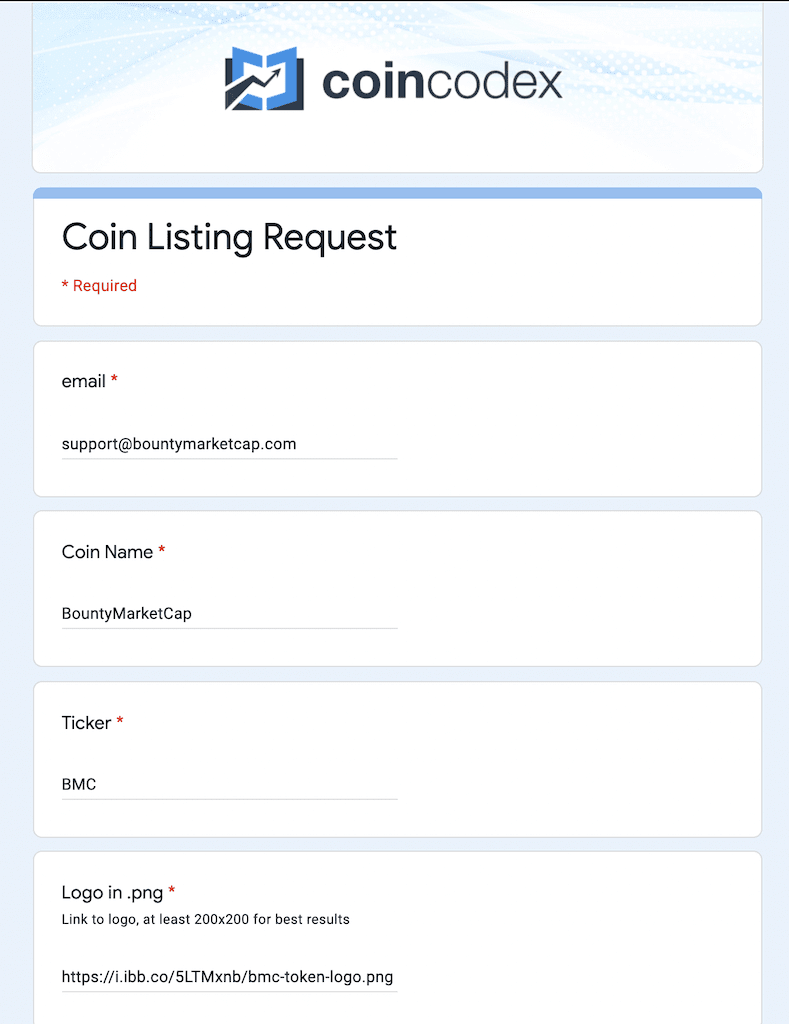 Project description and markets
Enter a short description of your project.
Place the link to your project's website.
Insert the whitepaper's link; if you don't have WP, then put a link to your project's FAQ section.
Enter your token's market pair(s). For example,
Tokpie (BMC/USDT): https://tokpie.com/view_exchange/BMC-USDT
Tokpie (BMC/ETH): https://tokpie.com/view_exchange/BMC-ETH.
Note that the Exchange (s) must be in Coincodex's list. Check it by searching an exchange on the search bar (screenshot above).
Insert the total token supply.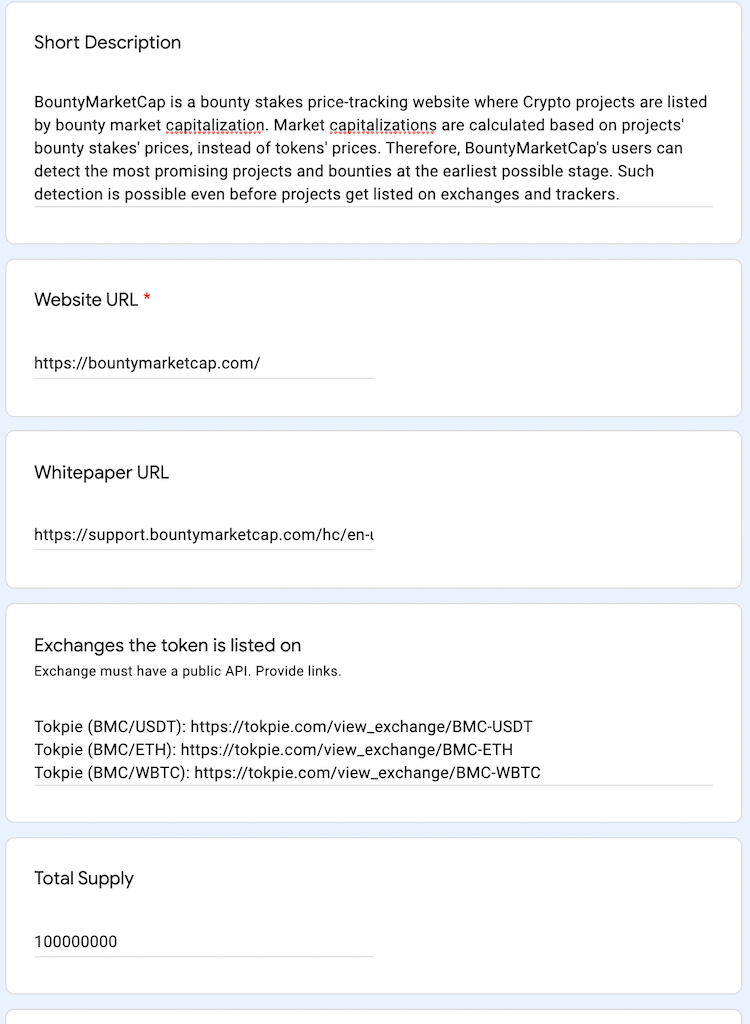 Token's Circulating supply and price
Enter the API URL that shows the total token supply in real-time. If your token runs on the Ethereum blockchain, replace the contract address with your token's address in that link: https://api.etherscan.io/api?module=stats&action=tokensupply&contractaddress=0xd945d2031b4c63c0e363304fb771f709b502dc0a&apikey=PTIF71ZQI6RWCQYP6HR5YQ4B6Y6JRKPPGJ.
Insert circulating supply. The best decision is to enter a 100% circulation supply that usually equals the total token supply.
In the "Circulating Supply API – enter URL" field, place the same link that you used in the Total Supply API field.
Enter your ICO price. If you did not make ICO/IEO, insert the initial token price you had on the listing date.
Select the release date that is the day when you made the first transaction with your crypto asset.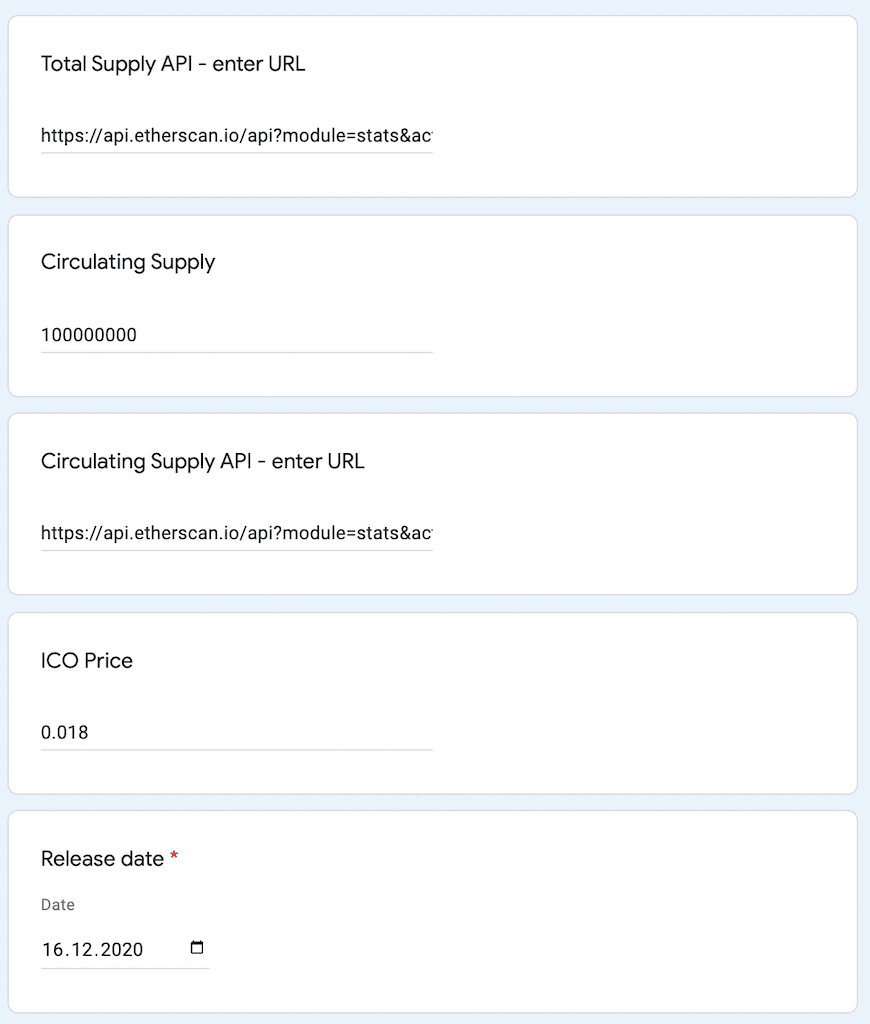 Enter the platform name. For example, it can be Etherscan.
Check the box (or boxes) with your token's standard. For instance, it can be ERC20. However, you can select more than one standard. It's beneficial when your token runs on both networks like BEP20 and ERC20.
Click on the Next button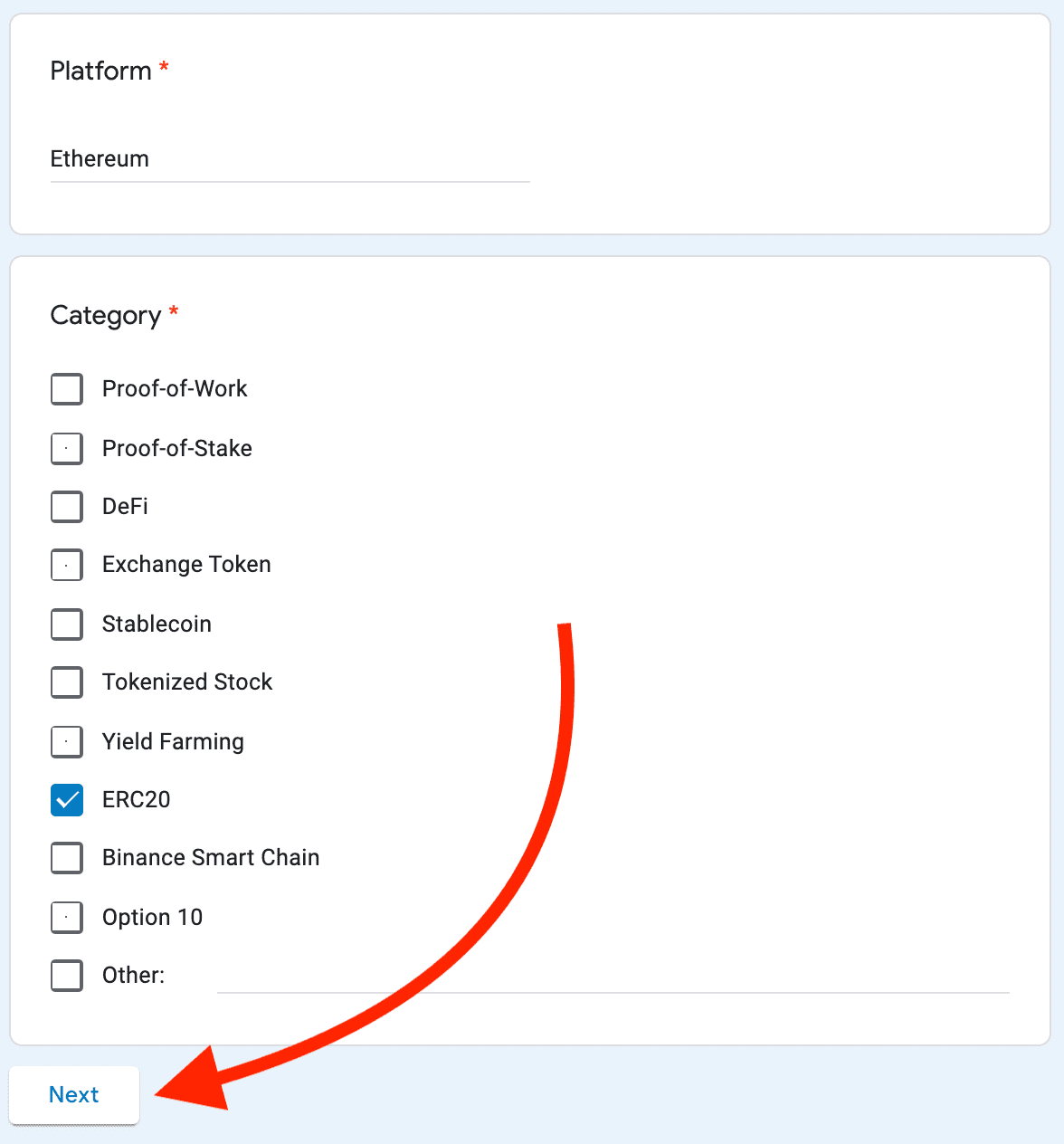 Social channels' links
On the next page, enter the links to the project's social channels. Although that is not a strict requirement, it's better to enter as many links as possible. For example, you may enter Facebook, Twitter, Reddit, Telegram, Bitcointalk, Github.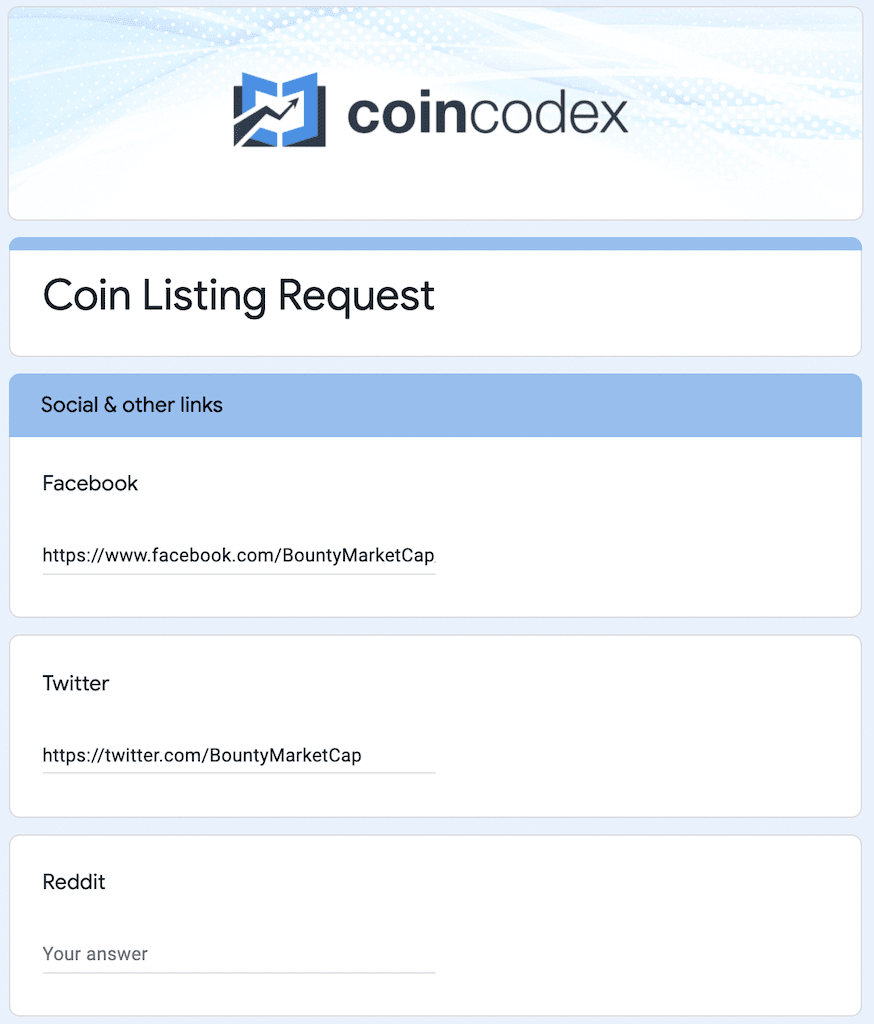 Enter the link to your token address in the Explorer field.
Fill in the last field – "Other." Enter the links to your project's social channels that you might have but could not include in previous steps.
Click on the Submit button. That's it.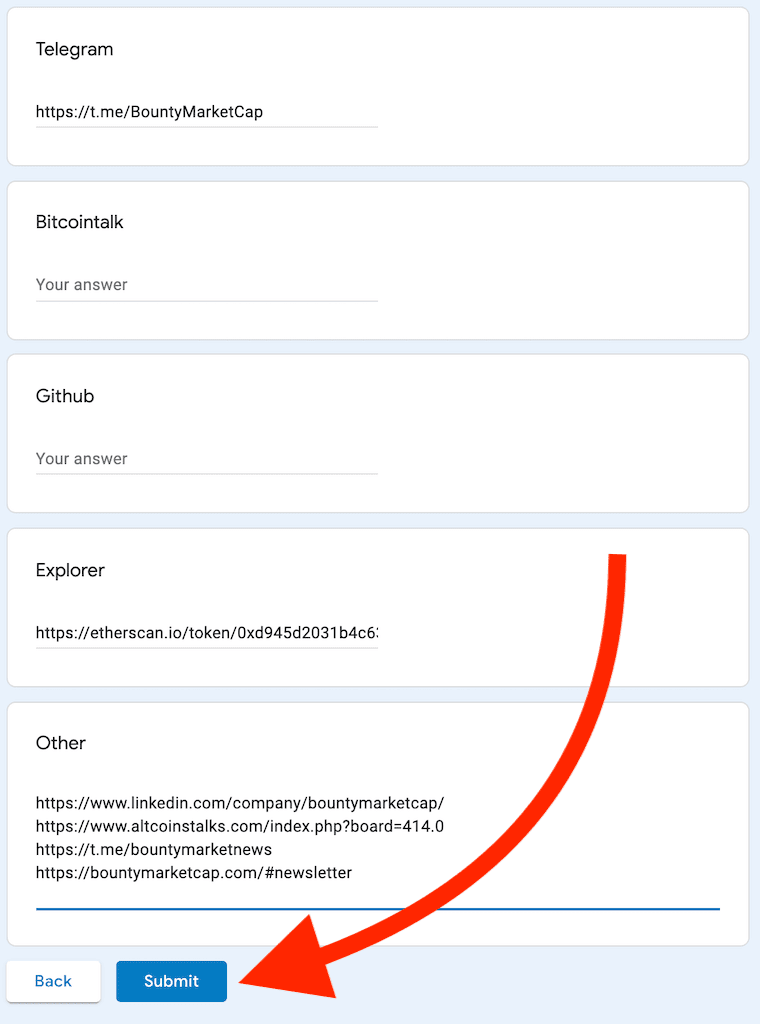 How to update market pairs on CoinCodex?
If you found that your token has already been listed on CoinCodex, but without all market pairs then update it. So, to update market pairs write an email message to info@coincodex.com by using your official email. Use the template text below.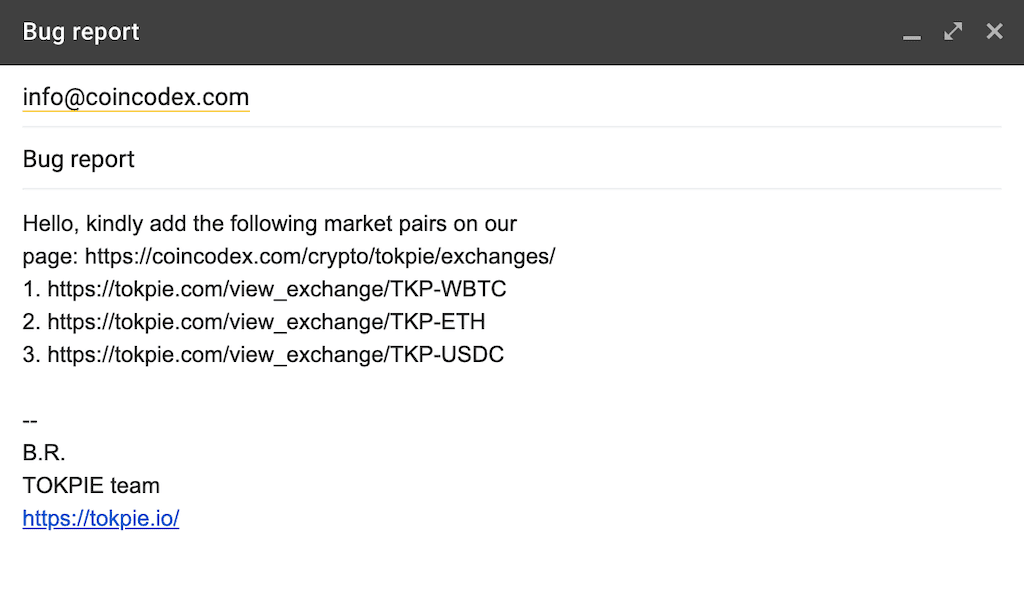 What's the Coincodex?
The CoinCodex is the cryptocurrency tracker that aims to be the window into the world of coins and tokens. Also, it's collecting real-time prices and historical charts from more than 300 exchanges and for over 7,000 coins. Moreover, users can create a watchlist for favorite crypto assets. Also, the tracker is mobile compatible and has app versions (for Android and iOs). Finally, thanks to the Portfolio feature, any person can make personalized traction.
Therefore, using a portfolio, a person can monitor which of his crypto investments performs the best in real-time and compare it with other crypto holdings. So, the crypto portfolio is a mighty instrument that allows users easy cryptocurrency tracking in one place.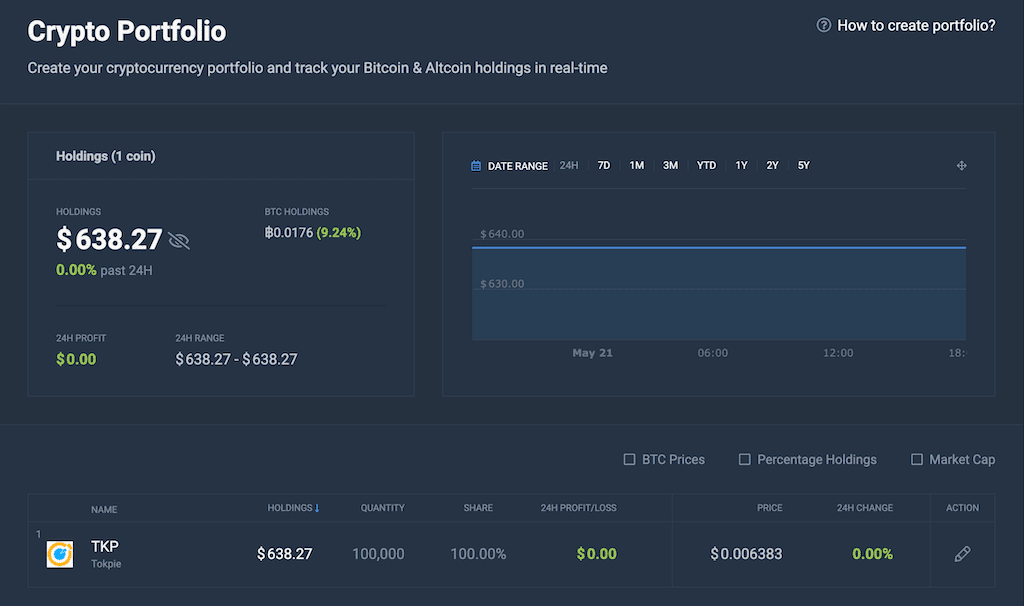 So, if you want to stay in the crypto business for a long time, use every option to promote your token. Do it, especially when that option is free of charge. Therefore, don't wait. Fill in Coincodex's form now. As a result, your altcoin appears in one more tracker. Always increase awareness. It's never too much.
Useful Links
For any questions or cooperation, you can contact Tokpie at https://t.me/tokpie.