As you undoubtedly know, cultivating demand for your tokens it's still a day-by-day process. Apart from developing the core project's product, you have to promote your cryptocurrency. Do it everywhere, every day, preferably in the most cost-efficient way. Today, you'll know how to add your token to Coindataflow coin-tracking portal for free. Also, you'll know how Coindataflow's list of markets outperforms CMC and CoinGecko in some way. So, let's rock your startup's altcoin!
Furthermore, improve your crypto asset without any charge by following these guides:
What's the Coindataflow?
The Coindataflow is a coin-tracking portal that aggregates all possible metrics in a straightforward interface and graphs. Its team aims to provide users with valuable instruments to help them understand the blockchain world. Even though this tracker started working in January 2020, its traffic stats are good. Besides, after successfully adding a token to Coindataflow, you can use a logo or icon on your crypto startup's website (the image below shows different options).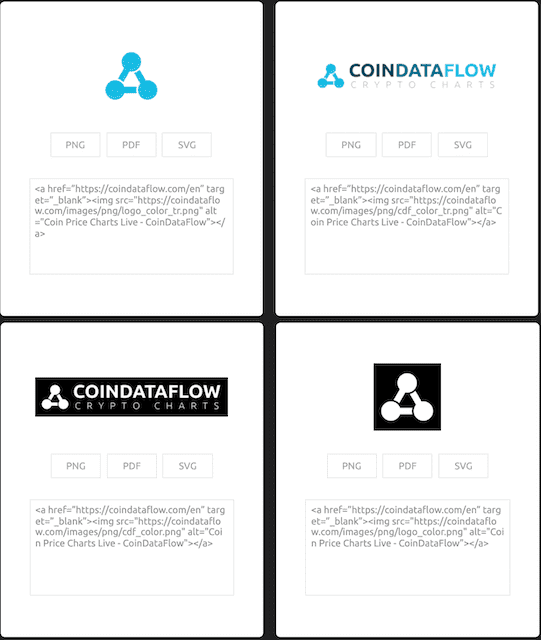 Unique Feature
You will be surprised to know that CMC and CoinGecko don't show each pool (pair) that your token has on PancakeSwap and Uniswap DEXs. Fortunately, the Coindataflow tracker does it. For example, if you have many small pools (pairs) with your token, Coindataflow shows them all. The leading trackers, in contrast, show only the three biggest pools for a single crypto-asset. Also, note that decentralized trackers like Poocoin and Dextools reflect a coin's price from only Pancake Swap and Uniswap markets because they cannot retrieve data from centralized exchanges. But, the Coindataflow shows all types of your coin-markets: CEX and DEX. For instance, we have never seen the complete list of markets for our token on any tracker before. Look at the image below. Apart from such an ultimate list of pairs, the portal displays the price chart and all other essential things about your cryptocurrency.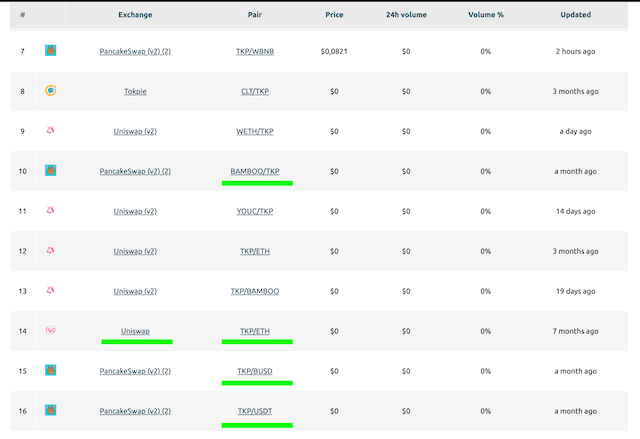 Traffic
Coindataflow's traffic is growing by 20-50% every month. So, it hits 2M visitors in November 2021 and continues growing. Check the screenshot from SimilarWeb.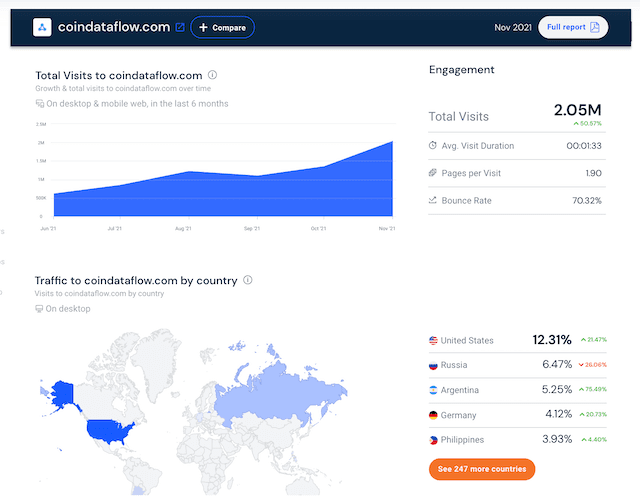 Besides, the Alexa Traffic rank is strong enough.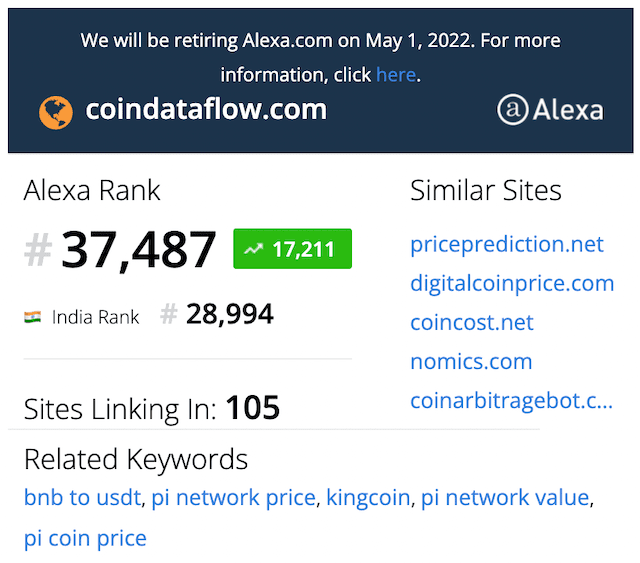 How to add the token to Coindataflow?
Follow the two steps below to add the token to Coindataflow easily. Due to the developers' reply, Coindataflow's team review each coin before adding it to the portal. So, you need to send them an email (use this template) to initiate such reviewing. But, before sending an email, make sure that your cryptocurrency is tradable on any of these exchanges.
1. Check cryptocurrency exchanges
Check that your currency has a trading volume on any crypto exchanging platform from this list. If it's not, then list token on Tokpie exchange. Having an asset tradable on Tokpie unlocks not only the Coindataflow portal but also many other cryptocurrency-trackers for you: Coingecko, CMC, Coinpaprika, Coincodex, Nomics, Livecoinwatch, CoinCheckup, etc.
Important: your coin's trading volume must be above $20,000/daily to satisfy Coindataflow's requirements.
2. Send an email
Using your project's official email address, send a letter to Coindataflow's inbox: contact@coindataflow.com. Find a detailed template for such a message below.
Subject:
[YourTokenName] – Add Token Request
Body text:
Hello team, kindly add our token to the Coindataflow.
Please find the details below:
Token name: [Your Token Name]
Token's symbol: [Your Token Symbol]
Token's contract address: [link to your token's address]
Project's website URL: [link to your web]
Name(s) of Exchanges where a token listed: [exchnages' names and link(s) to your market(s)]
Link to WP: [link to your whitepaper]
Brief description: [explain your project in 50-150 words]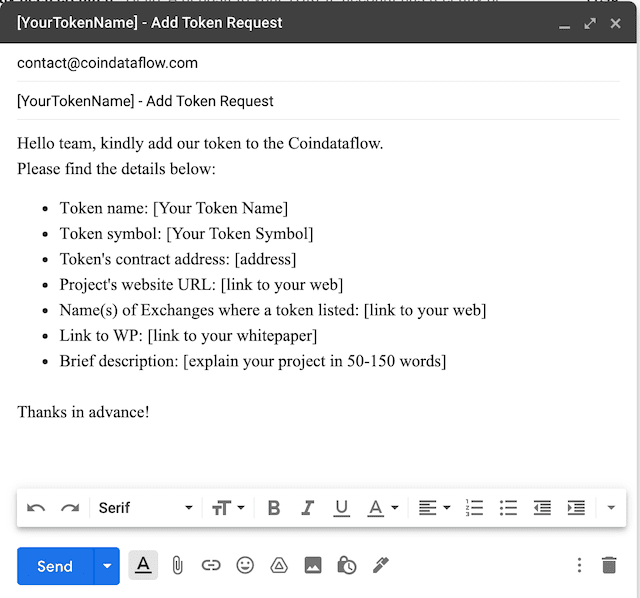 How fast will the coin get listed on Coindataflow?
Give tracker managers some time to work out your request. Usually, it takes three days to get listed on Coindataflow. Note that the team can deny your application because of poor startup quality or the provisioning of incorrect data.
Other options: Boost Altcoin for Free