It's always a pleasure to find additional valuable tools for crypto startups. Today, we'll teach you how to add a token to the CoinCheckup coin-tracker. Also, you'll learn about helpful features that the tracker can apply to your currency. Shortly, it puts an altcoin to the related catalog's section and enables fundamental analysis. Continue reading this guide to get more details.
Moreover, enhance the progress of your crypto project at no cost by using many other guides:
What's the Coincheckup?
The CoinCheckup is a coin-tracking website with fresh and helpful features. One of such innovations includes sorting crypto assets by different categories. Another valuable tool is fundamental analysis. An interesting fact is that the Nexibeo team of investors has founded this tracker. Initially, they were performing the coins' research process in an excel spreadsheet. But fortunately, these guys decided to automate and improve their investing approach with the help of Coincheckup's application.
Unique Features
The first Coincheckup feature that we found compelling is a classification of all coins. So, you can sort altcoins due to types such as DeFi coins, StableCoins, Exchange tokens, Privacy coins, POW, POS, Tokenized Stocks, NFT, Meme, Gaming, and Yield Farming. Also, visitors can filter by the network, such as Ethereum, Binance Smart Chain, and Tron.
Another unordinary feature is fundamental investigation. It allows potential investors to see many vital characteristics for each listed asset:
Team strength that includes public profiles, achievements, leadership, and diversification.
Product strength that includes but is not limited to activities on GitHub for the open-source startups.
The power of the asset consists of the type of blockchain and the utility of the coin.
The strength of the business contains web traffic and company incorporation.
Size of the community behind.
Activity on different social media channels.
Traffic
Although Coincheckup's traffic is lower than Livecoinwatch's number of visitors by approximately eight times, it's still substantial (612K per month).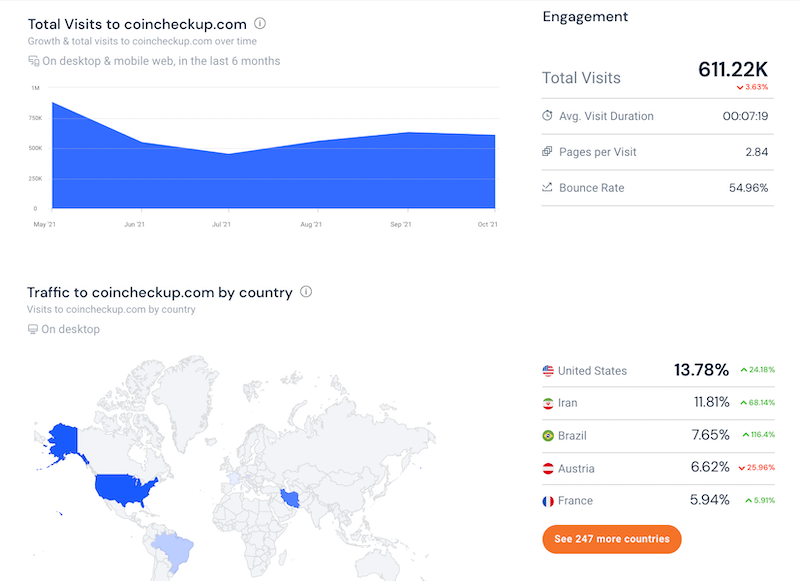 Moreover, the Alexa Rank of Coincheckup is good (23,000), with 258 crypto-related websites referring to it.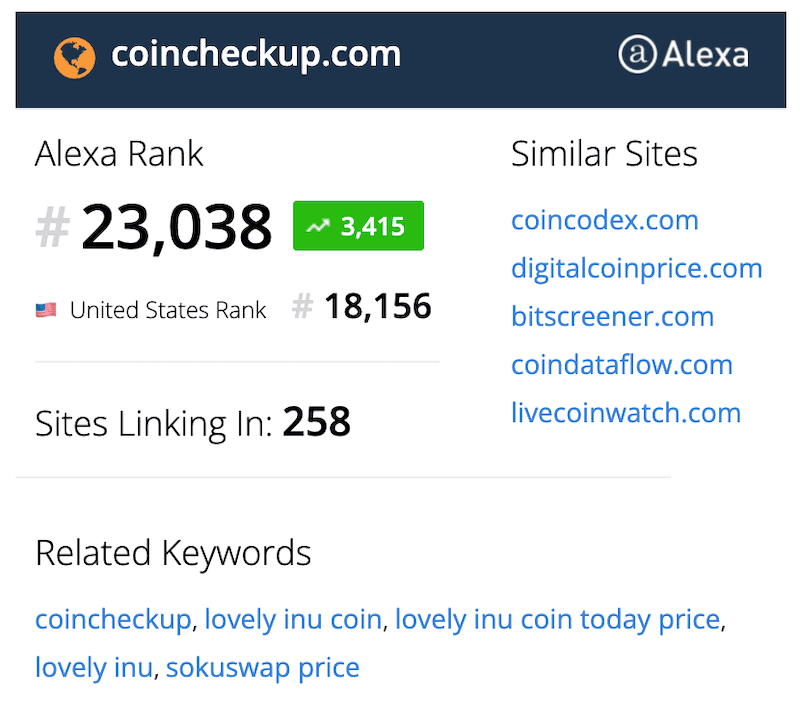 How to add a token to Coincheckup?
The most astonishing news is that you can add the token to Coincheckup by being listed on CoinCodex. Yes, these two companies collaborate, so you don't need to do anything if your coin is already on Coincodex. However, if Coincodex doesn't support your project yet, follow the two steps below.
Check exchanges
Ensure that your altcoin is available for trading and has trade volume on any exchange from this list. If it's not, then list token on Tokpie exchange. Besides, having an asset tradable on Tokpie unlocks many other coin-trackers for you: Coingecko, CMC, Coinpaprika, Coincodex, Nomics, Livecoinwatch, etc.
Submit the form
After assuring that your cryptocurrency is trading on any exchange from the list, fill in Coincodex's or Coincheckup's form (much easier).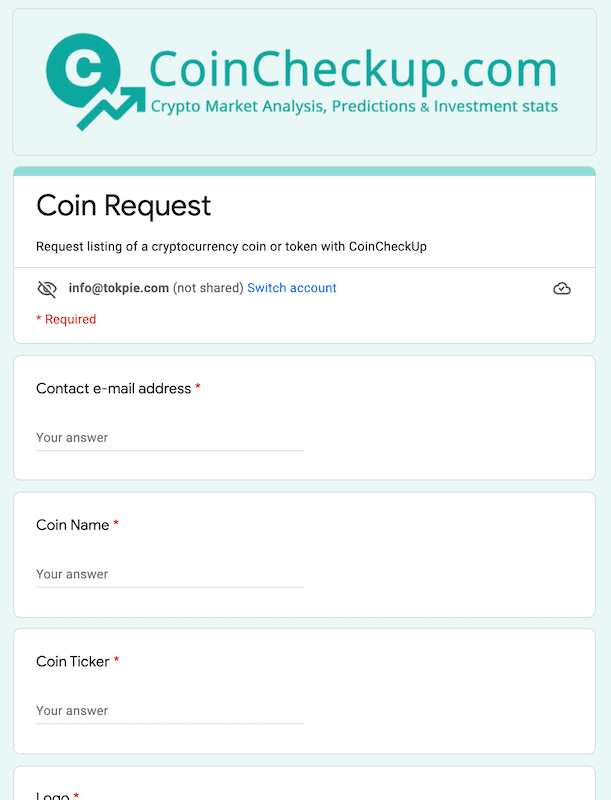 What's the waiting time to get the token listed on Coincheckup?
Of course, any crypto project wants to appear on coin trackers immediately. However, it's impossible. The dark side of crypto market growth is the staff overloading of tracking websites. So, after the form's filling, be ready to wait for 2-14 days until getting the token's page on the Coincheckup website.
Additional ways to boost cryptocurrency at no cost