Blockchain technology and cryptocurrencies are penetrating new sectors of the economy every day. So, the sports sector has not become the exception. Today, you will learn about the Myteamcoin project that creates a digital ecosystem for sports teams. With the help of its MYC token, Myteamcoin aims to maximize the economic gains of sports teams, sponsors, fans, and investors in the sports industry. Also, this article will expose you to the MYC tokens trading on the Tokpie exchange.
Update: the coin has migrated to Binance Smart Chain.
What's the Myteamcoin project?
The Myteamcoin is a crypto project that aims to serve the sport's industry. How? The project wants to create an application for sporting teams, their fan clubs, and vendors. For example, fans could easily find local stores with which their clubs have signed an agreement and get discounts by using the app. As a result, all fans, clubs, and trademarks included in the ecosystem will gain more from the interaction. Moreover, the voting system will be functioning in the application. So, fans could influence the decisions of their clubs.
What's the MYC token?
MYC is the BEP20 (BSC) token created for the Myteamcoin sports ecosystem. Also, this altcoin is an integral part of the MYC's token generator (image below). So, anyone can create tax-applied contracts with rewards, marketing, and liquidity generator without coding knowledge. Moreover, such contracts send $MYC as a reward and earn the marketing budget from buying $MYC automatically.
Token Name: MyTeamCoin Token
Symbol: MYC
Token total supply: 2.400,000,000.
BSC Smart contract address: 0xc99a0ad9fb77e74dda20ac805223b760ad3bdfd5.

Old ERC20 contract: 0xb8323CfAFb0E6CC60ce332f1181D56e91BA0D8BA (not active anymore).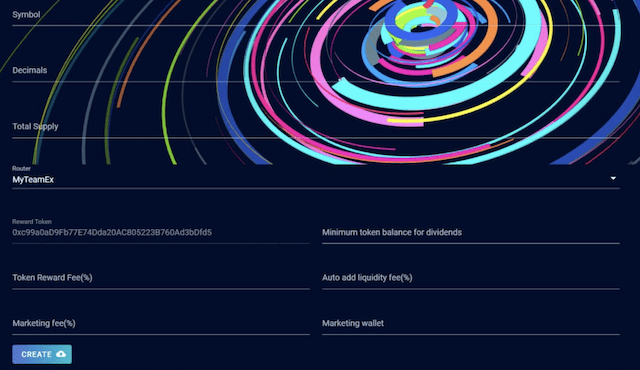 How to buy MYC tokens?
To purchase MYC tokens for USDT do three simple steps:
Fund your account with USDT. If you don't have crypto, you can purchase USDT with a bank card in a few minutes.
Open the MYC/USDT order book and place your trade order to buy. Use this instruction if you don't know how to place a trade order.
Withdraw MYC tokens to your personal BEP20 wallet or hold them on the account.
How to sell MYC tokens?
To sell MYC tokens for USDT follow three steps:
Deposit MYC tokens into your account.
Open the MYC/USDT order book, and place your trade order to sell. Read the instruction if you don't know how to place a trade order.
Withdraw USDT to your personal BEP20/ERC20 wallet or hold them on the account.
How to deposit MYC token?
To deposit MYC tokens on your Tokpie account, follow this guide. Also, make sure that you are going to deposit BEP20 tokens that relate to this smart contract address. If you deposit the wrong tokens or the wrong blockchain type, Tokpie could not identify your transfer.
Note: Tokpie doesn't charge any fees for depositing.
How to withdraw MYC token?
To withdraw MYC tokens from your Tokpie account, use this instruction. Besides, you must have a BEP20 compatible wallet address to be able to withdraw tokens. Also, check the withdrawal commission.
Disclaimer
In addition, please be aware that Tokpie charges a fee for the listing. Tokpie does not give any investment, legal, tax, financial advice, or warranty of token price performance or successful fundraising.
Useful links to trade MYC
For any questions or cooperation, you can contact Tokpie at https://t.me/tokpie.