How can you boost the visibility of your token without spending a dime? Well, let us introduce you to CoinLore – another cryptocurrency aggregator. It attracts around 150,000 to 250,000 visitors each month. Moreover, CoinLore offers various tools for analyzing altcoins and has mobile versions available on AppStore and Google Play. So, keep reading to learn how to add token to CoinLore for free. As a result, you'll ultimately enhance your cryptocurrency's visibility.
What's the CoinLore?
CoinLore is an independent cryptocurrency tracker that calculates coin prices by algorithm and other metrics. Such metrics include markets, volumes, historical prices, charts, coin market caps, blockchain info, API, widgets, and more. Also, the platform gathers information from different sources to cover all necessary data or events.
Reliability
Also, CoinLore is a reliable tool for investors who want to keep track of the latest cryptocurrency trends. It offers a comprehensive market overview, including real-time data and historical trends. Investors can view coin prices, market caps, and cryptocurrency trading volumes. They can also track the performance of specific coins and compare them with other currencies in the market.
Unique Features
One of the unique features of CoinLore is that it provides blockchain information for each coin. This information is crucial for investors who want to know more. For example, how a particular currency operates and what makes it unique. With blockchain data on the platform, investors can make informed decisions about which coins to invest in and which to avoid.
API
CoinLore also offers an API that allows developers to access real-time data about the cryptocurrency market. This API enables developers to create custom solutions to help investors make better investment decisions. Also, it provides widgets. So, you can embed such a widget on the website to display real-time cryptocurrency prices and other data.
Overall, CoinLore is a valuable tool for anyone who wants to stay up-to-date with the latest cryptocurrency trends. With its comprehensive data and user-friendly interface, CoinLore is an excellent choice for investors of all experience levels. So whether you are a seasoned cryptocurrency trader or a beginner, CoinLore has something to offer.
Traffic
Due to the Similarweb, CoinLore had around 157K-247.1K monthly visitors in February-April 2023. Admittedly, that's not as high as CoinMarketCap (CMC) or Coingecko (CG), but it's still high enough. So, wouldn't it be a good idea to list your currency on CoinLore for free?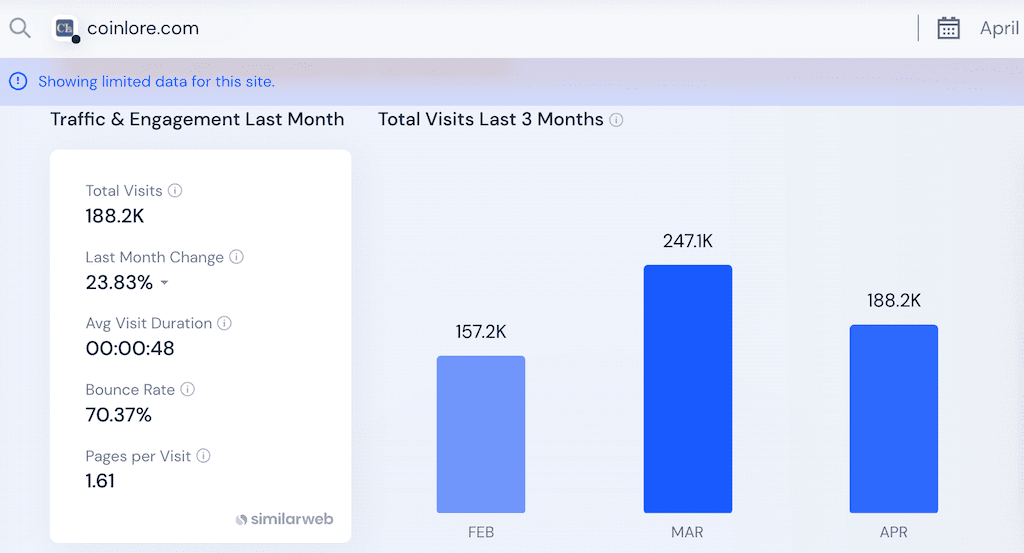 How to add a Token
To add a token to CoinLore, you must get your asset listed on CoinMarketCap. After that, your currency automatically appears on CoinLore's list of coins within 24 hours. So, list your cryptocurrency on CMC to automatically appear on CoinLore's aggregator. For example, you can list your cryptocurrency on the Tokpie exchange to add your token to CMC, CoinLore, and +10 other trackers without a hassle. Furthermore, CoinLore officially supports the Tokpie exchange.
Other ways to grow a coin for free
For any questions or cooperation, you can contact Tokpie at info@tokpie.com.