Bet you have never stake crypto in the way described below. So, forget about Ponzi schemes of staking that other projects usually utilize. The BambooDeFi team does not want to inflate BAMBOO tokens. They will not be gifting extra coins to people who hold. That's why when you stake BAMBOO tokens on Tokpie, you earn interest paid by other users for borrowing. You can call it peer-to-peer staking.
How to stake Bamboo tokens?
The staking of BAMBOO tokens is the same as giving (lending) your coins to other users. In the below example, Bob wants to stake 100 Bamboo tokens to get maximum return. So, follow five steps to know how to earn passive income in BambooDeFi cryptocurrency.
Step 1. Log in to Tokpie exchange
Bob signs up or logs in to Tokpie.
Step 2. Deposit Bamboo tokens
Bob tops up his account with 100 Bamboo tokens.
Alternatively, Bob can buy Bamboo tokens for crypto or with a bank card.
Step 3. Select the best APR
Bob opens the lending and borrowing section to define the best real-time Annual Percentage Rate (APR) for the BAMBOO tokens. Then, he clicks on the related line (as on the screenshot below) with the highest APR of 15.09%.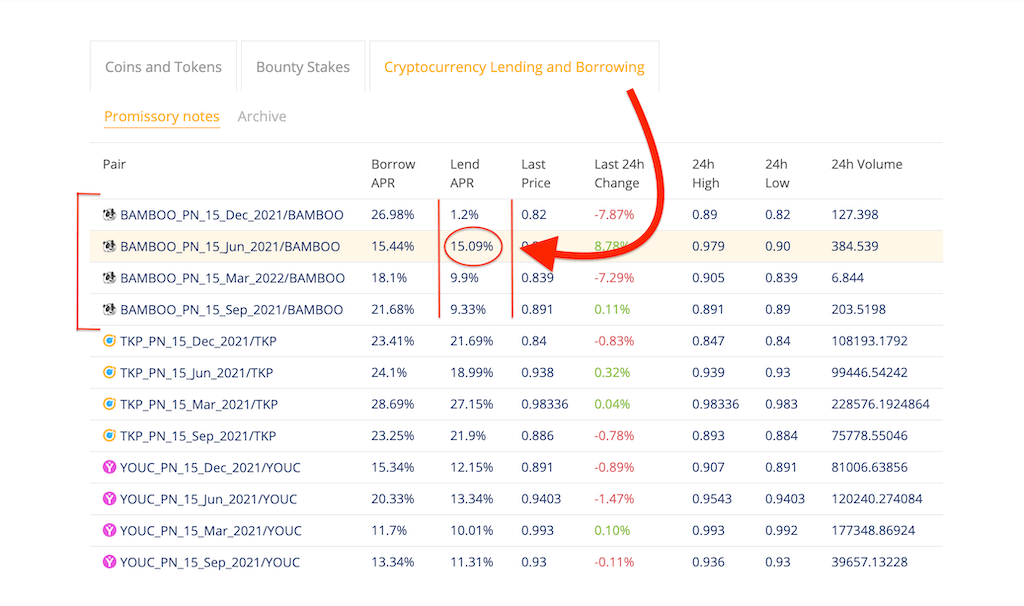 Step 4. Stake Bamboo. Obtain promissory notes
After step 3, Bob appears on the market page. He presses the BUY button and enters the quantity. To make the deal instantly, Bob clicks on the 'Fill price from the market'. Then, press the Submit button.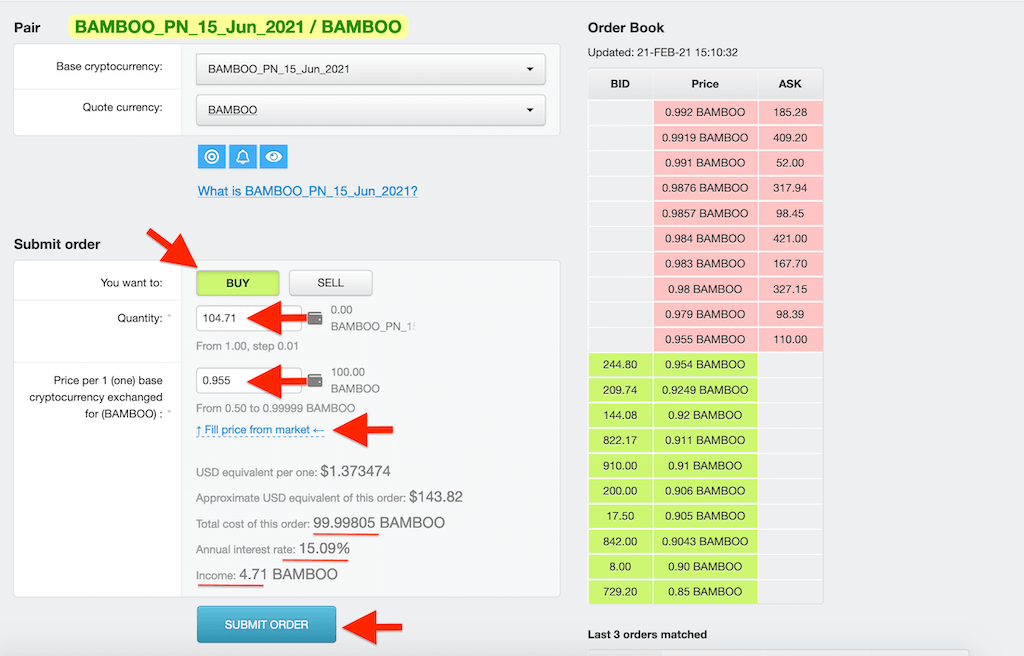 Consequently, 104.71 promissory notes appear on Bob's balance.

TIP:
Alternatively, Bob can bargain on price and try to buy BAMBOO's promissory notes at a lower price. Therefore, the resulting APR and profit will be higher: 20.44%.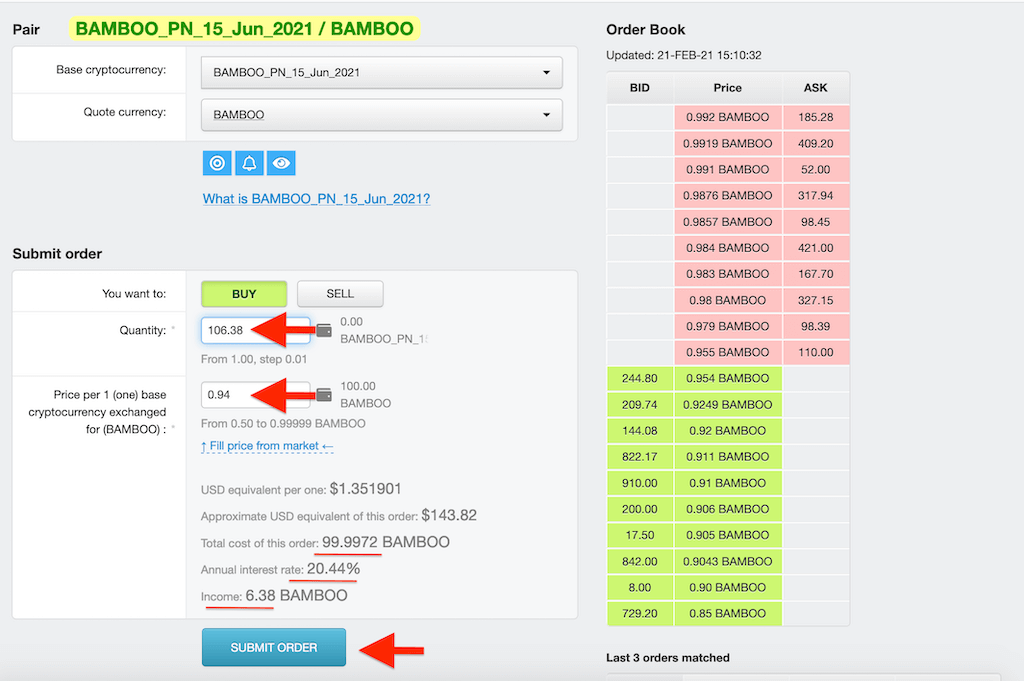 After pressing the Submit Order button, Bob's bid becomes visible on the order book for all counterparties.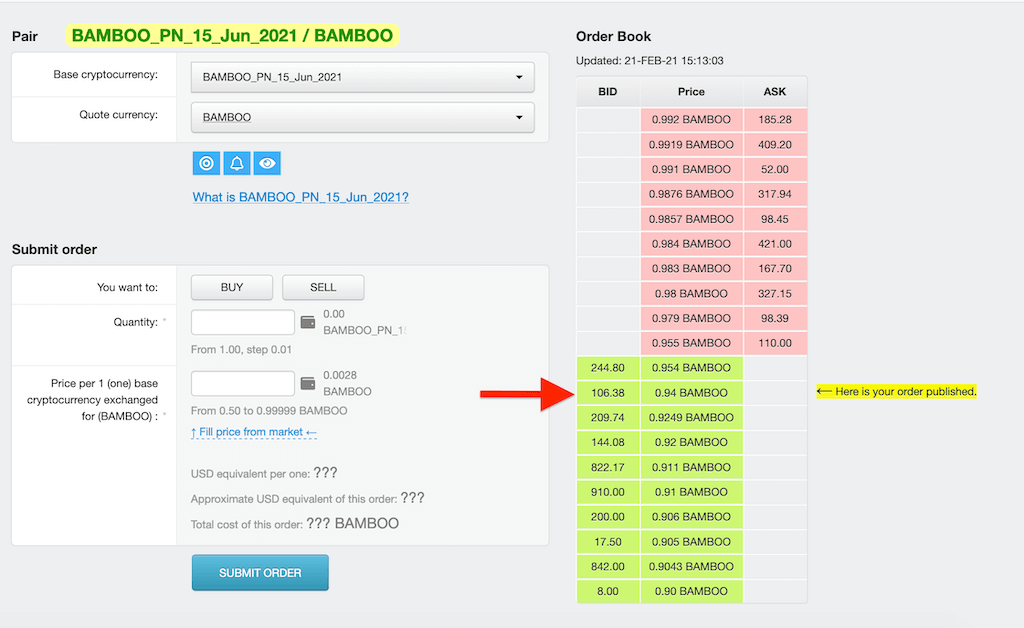 Step 5. Get income
In the above example, Bob purchased Promissory Notes with the June 15, 2021 maturity date. Let's imagine that now is June 16, 2021. Bob opens his balance page and sees that Promissory notes' balance becomes zero. At the same time, his BAMBOO tokens balance becomes 104.71 tokens.

Remember that Bob spent 100 tokens on buying 104.71 promissory notes. Therefore Bob has got 4.71 income (104.71-100) for 114 days. So, that is precisely the 15% APR that he expected to get in the beginning. Now Bob can withdraw, sell or repeat BAMBOO's tokens staking again.
Yes, that's so simple.
Video explanation of all the above steps will be available soon.
What is Bamboo Promissory Note?
The Bamboo Promissory Note is a digital asset that confirms the issuer's promise to pay 1 (one) BambooDeFi token to Tokpie at the specified maturity date. Tokpie, in turn, guarantees to pay 1 (one) BambooDeFi token to any holder of one Promissory Note at the maturity date.
Any user can issue Bamboo promissory notes and sell them to get a loan. Moreover, anyone can buy Bamboo promissory notes to stake (lend) BambooDeFi tokens and earn returns. Because of internal circulation, users can not withdraw Promissory Notes from the Tokpie exchange. Also, find the list of all promissory notes here.
What is the minimum staking amount?
The minimum amount of the BambooDeFi tokens that you need to have to start staking is one token.
How can I get a repayment at any time?
To get a repayment at any time, simply sell the promissory notes that you have on your balance. Moreover, You can sell them at any price. For example, you can bargain on price and sell promissory notes with a profit. Sometimes, that profit can be even higher than an income you could get by waiting for the maturity day.
What are the Annual Percentage Rates?
To know the Annual Percentage Rates for the Bamboo, regularly check the Lend APRs of Bamboo promissory notes. As a result, you can catch the best APR. The higher the APR, the more passive income you could get.
The lenders and borrowers are constantly bargaining on Bamboo promissory notes' prices. Therefore, only users define the fair-market annual interest rates (APRs).
The formula of APR (Annual Percentage Rate):
(1-price) / price / number of days until the promissory note maturity date x 365 x 100%.
What are the strategies I can use to maximize returns?
There are many ways to maximize returns by buying and selling BAMBOO's promissory notes. Here are the four more popular strategies
Buy BAMBOO's promissory notes when lending APRs are high.
Purchase BAMBOO's promissory notes when the BambooDeFi token's price starts to grow on the spot markets.
Buy long-term BAMBOO's promissory notes when the BambooDeFi token's price is on the spot markets' historical bottom.
Sell BAMBOO's promissory notes when the BambooDeFi token's price is too high (over-bought) on the spot markets.
So, stop idly keeping BambooDeFi coins. Let your BAMBOO tokens do the work. Earn passive income at competitive and fair-market rates. There are no KYC, no minimums, and no lock-ups. Start collecting profit in your pocket. Earn the income that you deserve.
Useful links
Watch the video guide (example) on how to stake BAMBOO.
For any questions or cooperation, you can contact Tokpie at https://t.me/tokpie.