Like many crypto entrepreneurs, you want to list a token on the crypto exchange for free. Why? Because this is the only way to make cryptocurrency visible on CMC, Coingecko, and other coin-trackers. Also, a free token listing allows a crypto startup to save much money. So, today, you'll learn how to win a free listing on the exchange. Besides, with the help of the Self-Listing and Fundraising DApp, your altcoin constantly attracts potential investors and increases awareness.
What's the Self-Listing-Fundraising DApp?
The Self-Listing-Fundraising DApp is a decentralized application that helps crypto projects to reach the following targets:
Get token listed on TOP60 cryptocurrency exchange at no charge.
Start getting funds through fundraising.
Constantly increase community, awareness, and recognition.
Free exchange listing
A token must win in the DApp to get listed on Tokpie exchange for free. For winning, your coin must have more upvotes than other altcoins at the end of Countdown. The Countdown, in turn, restarts on 1st and 14th day of each month. Moreover, upvotes don't disappear once collected. Therefore, the chances of winning are increasing over time.
Fundraising
After adding to the DApp, an asset gets a public profile (example). As a result, anyone can open it and upvote by liking, buying, or staking your altcoin. So, by buying and staking, investors bring funds to your project. Moreover, it increases the number of upvotes, which helps to win the free listing. In other words, while fundraising, you get a free listing.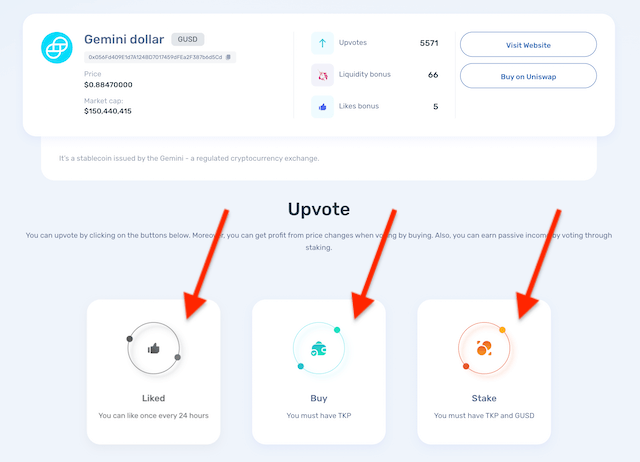 More awareness
Another advantage for any startup is the ability to increase community with the app's help. How? Every time your asset gets upvotes, your token moves higher in the List. So, it becomes more visible to the new investors and supporters.

Earning trading fees
In addition, when you add a coin to the Self-Listing-Fundraising DApp, you receive rewards in the form of trading fees from those who utilize your liquidity pool. So, each trade incurs a fee of 0.25%, and 0.17% of this fee goes into your Liquidity Pool.

For instance, your token has XXX symbol:
10 LP tokens exist, representing a balance of 10 XXX and 10 TKP tokens.
1 LP token corresponds to 1 XXX plus 1 TKP.
A trade takes place where 10 XXX are exchanged for 10 TKP.
Subsequently, another trade occurs where 10 TKP are swapped for 10 XXX.
As a result, the XXX/TKP liquidity pool now contains 10.017 XXX and 10.017 TKP.
Thus, every LP token's value has increased to 1.00017 XXX plus 1.00017 TKP.
How can I add my token?
For adding a token to the Self-Listing & Fundraising DApp, go to that page, and press the "Add a coin" button. Then, fill out a simple form there. For any questions, you can contact support at any time.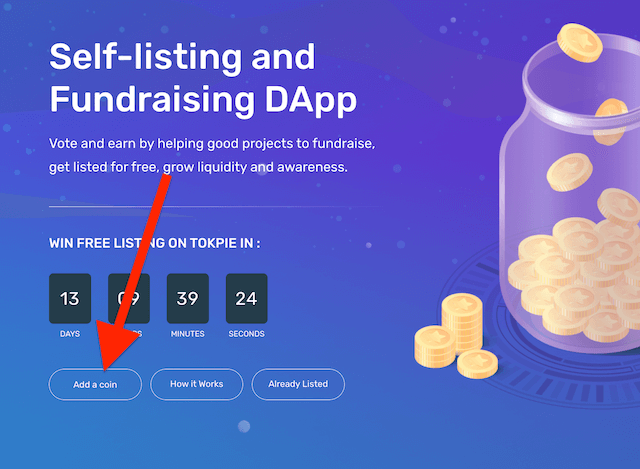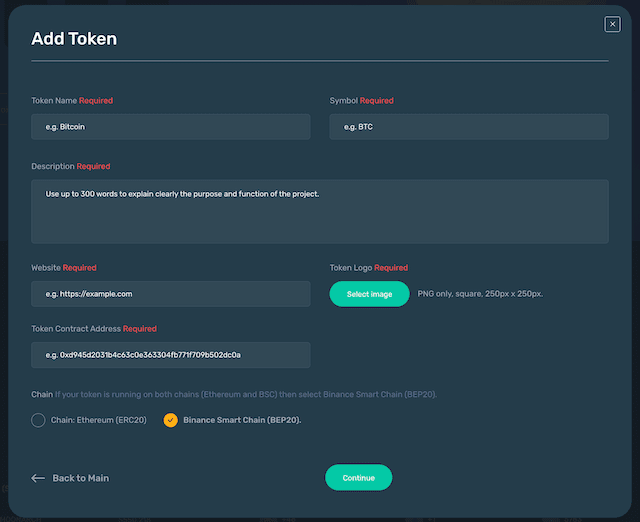 TIPs to win
Find valuable TIPs below that will help you to win:
Once added to the DApp, your currency gets a profile page (example). So, share the link to this Profile on your social accounts regularly. And ask your community to open it and press the "Like" button because every like increases the number of your upvotes.
Also, ask the community to buy your token and stake it through the Profile page on the app. As a result, your altcoin receives much more upvotes.
An alternative way to get listed on Tokpie fast is to fill out the form (it'll be a paid listing)
Other options to grow token for free