Would you like to earn by simply running a blockchain node on an average PC or router? If yes, meet the Decentralized Business Systems project that develops DBS Blockchain. Moreover, with the help of the DBS token, holders can vote and receive auto-rewards. In the following paragraphs, you'll find more details about this startup. Also, you'll learn how to trade DBS tokens on the Tokpie exchange.
Update: The project's token was hacked. So depositing, trading, and withdrawing is not available.
What's Decentralized Business Systems project?
The Decentralized Business Systems is a crypto project that builds a new Proof-of-Stake chain. It will be compatible with the ERC20, ERC223, ERC721, EIP1559 smart contracts' standards. Moreover, this blockchain allows users to stake without requiring a minimum number of coins or computing power. A person needs to make a one-click installation for running a node on an average household USB plugged into a computer or router. Furthermore, any developer, creator, and enterprise gets rewards each time their project has an interaction. Why? Because interaction brings valuable traffic to the network.
Voting
Also, $DBS coin-holders have voting power. Therefore, they influence many processes such as adding new admins, changing Gas rates, block size, burn rate, etc.
What's the DBS token?
BS is an ERC20 token that has a 3% taxation rate. As a result, the protocol deducts three percent prom each transaction and reallocates as follows. 1% goes to the developers. Another 1% goes to the burning wallet. Simultaneously, 0.5% goes to all existing token-holders. The rest, 0.5%, goes to the liquidity pool on Uniswap. Also, the team has locked $56K as liquidity. Due to the Unicrypt, the locking period will last until 1st January 2027.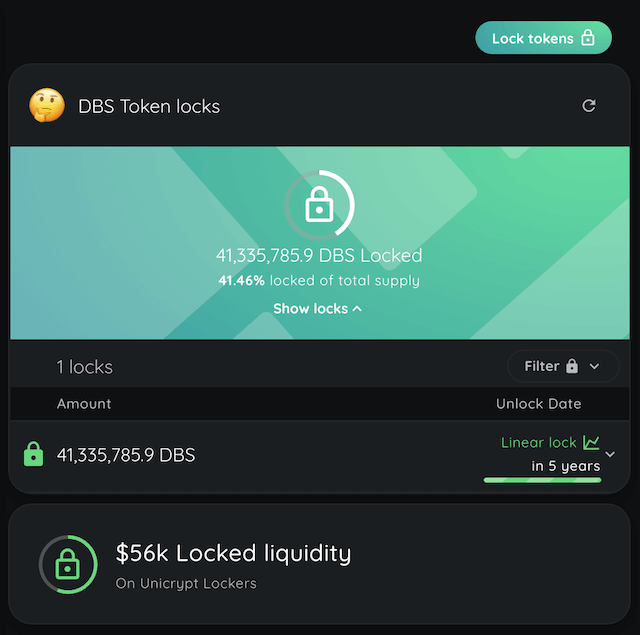 How to buy DBS tokens?
To purchase DBS tokens for ETH do three simple steps:
Fund your account with ETH. If you don't have crypto, you can purchase ETH with a bank card in a few minutes.
Open the DBS/ETH order book and place your trade order to buy. Use this instruction if you don't know how to place a trade order.
Withdraw DBS tokens to your personal Ethereum wallet or hold them on the account.
How to buy DBS with Bank Card or Apple Pay?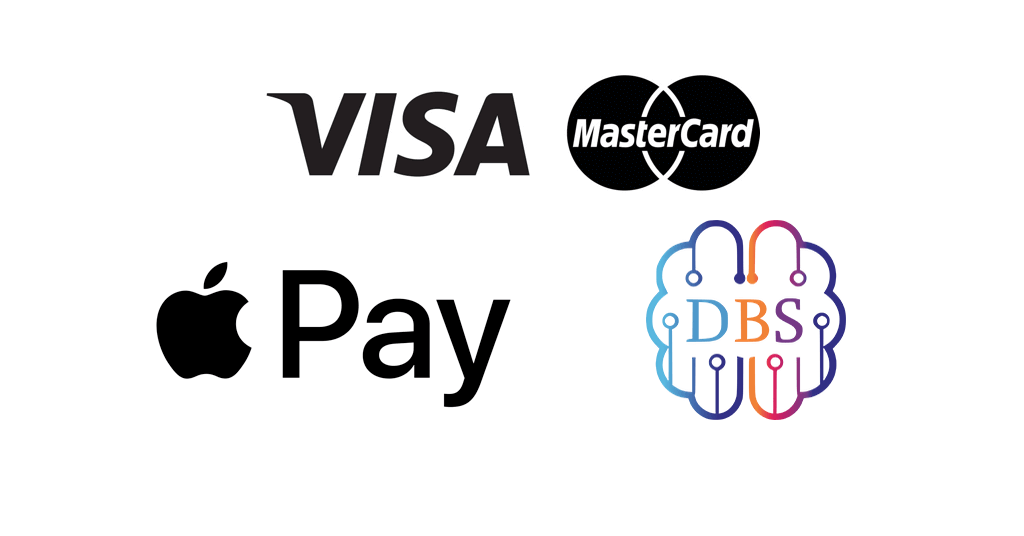 Use your bank card or Apple Pay to purchase DBS tokens for your local fiat currency.
Enter the generated ETH address on the bank card processing page. Also, enter the amount of ETH and click on the "Continue" button.
After getting a confirmation email, obtain $DBS tokens here.
How to sell DBS tokens?
To sell DBS tokens for ETH follow three steps:
Deposit DBS tokens into your account.
Open the DBS/ETH order book, and place your trade order to sell. Read the instruction if you don't know how to place a trade order.
Withdraw ETH to your personal Ethereum wallet or hold them on the account.
How to deposit DBS token?
To deposit a DBS token into your Tokpie account, follow this guide. Also, make sure that you are going to deposit ERC20 tokens that relate to this smart contract address. If you deposit the wrong tokens or the wrong blockchain type, Tokpie could not identify your transfer.
Note: Tokpie doesn't charge any fees for depositing.
How to withdraw DBS token?
To withdraw the DBS token from your Tokpie account, use this instruction. Besides, you must have an eth compatible wallet address to be able to withdraw tokens. Also, check the withdrawal commission.
Disclaimer
In addition, please be aware that Tokpie charges a fee for the listing. Tokpie does not give any investment, legal, tax, financial advice, or warranty of token price performance.
Useful links to trade DBS tokens
For any questions or cooperation, you can contact Tokpie at https://t.me/tokpie.