Do you belong to the Z generation – people born in 1990-2010? If no, then you care about privacy. Also, you know that Google, Apple, and Facebook control your data. Moreover, you are aware of constant data leaks from Big Tech. So, how to provide Identity without sharing your data with third parties? To solve that issue the Congruent Labs is developing the Identity Guard & Anonymity Framework (IdGAF) with the help of the SATA token. Continue reading to get a brief description of the Signata solution. In addition, get a guide on how to trade SATA tokens on the Tokpie exchange.
What's the Signata solution?
The Signata solution is a platform aiming to provide a bridge between individuals' identities and their digital content with the help of blockchains. Moreover, it works as the Identity Guard & Anonymity Framework (IdGAF). The Congruent Labs started the development of the solution and released the SATA token. Why? Own cryptocurrency helps to get back the control of identities from big tech. Hence, it leverages existing identity-management protocols. Besides, the IdGAF can provide a zero-trust payment, authentication, and authorization. As a result, online platforms can reduce the cost of compliance and payments. Also, the system can operate as a common standard by using smart contracts. Please find the project's road map below.
Advantages of the Signata
The main advantage of the Signata is the ability to deliver a hardware-based wallet for cryptocurrency storage. Moreover, with building the Identity and Access Marketplace, the platform can provide users with the following features:
Access and authorization on the Blockchain.
Hardware Key Protection to store cryptocurrency keys in hardware devices.
Decentralized Identity Authenticate and access to services.
Anonymous payments without sharing personal information.
Simplified Access Control: no more usernames and passwords.
Trusted Validation Oracles Prove the Identity and still maintain user's privacy.
Usage of Decentralized Rights Exchange for trusted identity brokerage.
Free and open-source smart contracts.
Public Key Infrastructure without additional expenses.
Default Anonymity. Users share exactly what they want.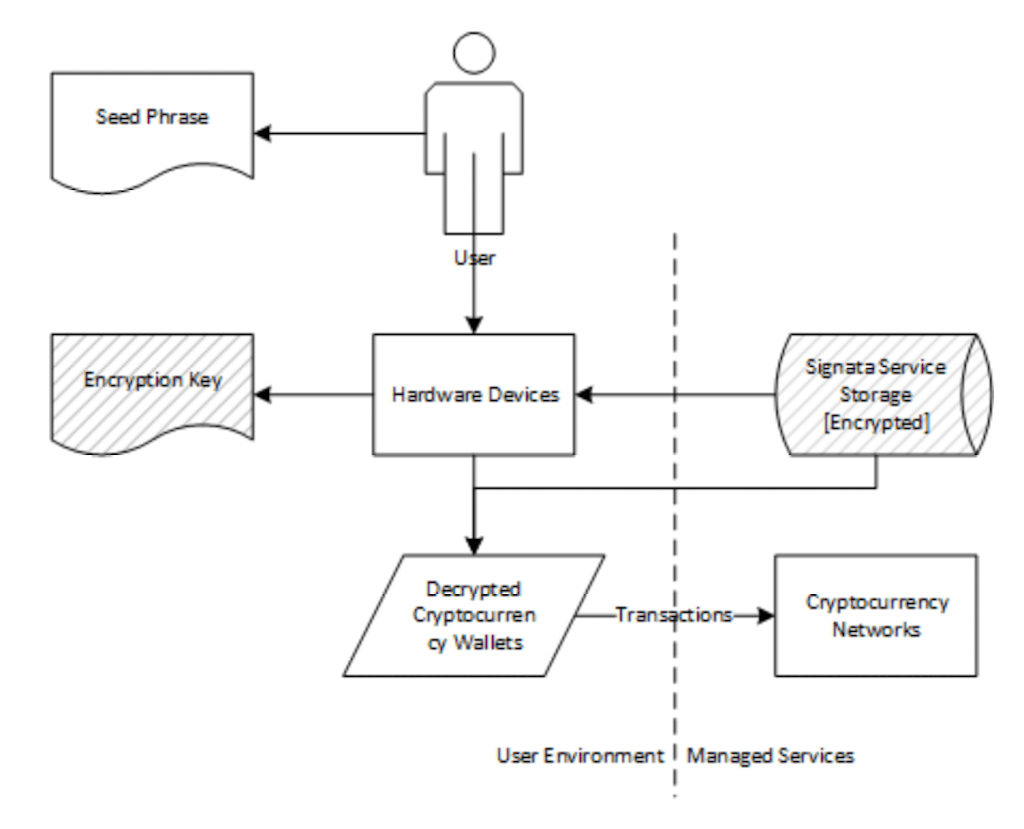 What's the SATA token?
SATA is an ERC20 token that has two utility values. First, this cryptocurrency allows interacting with Signata's platform. Second, people can use the altcoin in on-and-off-chain anonymity preserving systems. Such external applications can integrate and consume to build an identity ecosystem unbound by central authorities.
How to buy SATA tokens?
To purchase SATA tokens for ETH do three simple steps:
Fund your account with ETH. If you don't have crypto, you can purchase ETH with a bank card in a few minutes.
Open the SATA/ETH order book and place your trade order to buy. Use this instruction if you don't know how to place a trade order.
Withdraw SATA tokens to your personal Ethereum wallet or hold them on the account.
How to sell SATA tokens?
To sell SATA token for ETH follow three steps:
Deposit SATA tokens on your account.
Open the SATA/ETH order book, and place your trade order to sell. Read the instruction if you don't know how to place a trade order.
Withdraw ETH to your personal Ethereum wallet or hold them on the account.
How to deposit SATA token?
To deposit SATA tokens into your Tokpie account, follow this guide. Also, make sure that you are going to deposit ERC20 tokens that relate to this smart contract address. If you deposit the wrong tokens or the wrong blockchain type, Tokpie could not identify your transfer.
Note: Tokpie doesn't charge any fees for depositing.
How to withdraw SATA token?
To withdraw SATA tokens from your Tokpie account, use this instruction. Besides, you must have an eth compatible wallet address to be able to withdraw tokens. Also, check the withdrawal commission.
Disclaimer
In addition, please be aware that Tokpie charges a fee for the listing. Tokpie does not give any investment, legal, tax, financial advice, or warranty of token price performance or successful fundraising.
Useful links to trade SATA tokens
For any questions or cooperation, you can contact Tokpie at https://t.me/tokpie.