New tokens often struggle to navigate the vast crypto landscape. Coinpaprika is a robust platform helping crypto projects gain visibility and engage broad audiences. This guide is crucial if you aim to expand your token's reach. Gain insights and steps to list and succeed in the competitive market. Don't wait. Add token to Coinpaprika for free. It's the 3rd largest coin-aggregator after CMC and CG, attracting over a million monthly visitors.
What is Coinpaprika?
Coinpaprika provides a user-focused cryptocurrency platform with a comprehensive view of various coins. So, users gain insights into market dynamics and explore new projects quickly. Also, the platform shares key details such as technical aspects, historical prices, charts, and developer team information for each cryptocurrency. As a result, Coinpaprika stands out for its accurate and objective information, earning trust in the crypto community.
Important: The Coinpaprika's rate of applications redusals is miserable compare to CMC's and Coingecko's rates. Simultaneously, Coinpaprika's traffic is almost similar to CMC/CG. So, submiting a coin to Coinpaprika's list of assets is a must-to-do for every blockchain project.
Advantages
Listing a token on Coinpaprika can bring about multifaceted advantages. Coinpaprika offers an integrated TradingView charting platform, allowing users to engage in detailed technical analysis and leverage a range of charting options and indicators. In addition to this, the platform uniquely showcases market depth and consolidated order metrics, giving users an in-depth understanding of market quality. Furthermore, its impressive monthly traffic of over 1.1M visitors emphasizes its wide-reaching influence and trust in the cryptocurrency community.
Trading View price chart for a token
The most exciting tool inside Coinpaprika is a TradingView price chart. But what does that mean for your token? Any human can apply all of TradingView's features to your cryptocurrency. So, let's learn what these features are:
Enhanced Charting Capabilities: TradingView presents many chart options, such as candlesticks, Heikin Ashi, Renko, Kagi, and others, along with multiple time frames and aesthetic themes, facilitating a more straightforward analysis of price trends and pattern identification. The platform further supports comparing varied assets or time frames with its customizable multi-chart layouts.
Comprehensive Technical Indicators: With an impressive array of over 100 integrated technical indicators, including but not limited to Moving Averages (MA), Relative Strength Index (RSI), Moving Average Convergence/Divergence (MACD), and Bollinger Bands, TradingView empowers traders to scrutinize market states and directional trends meticulously.
Extensive Drawing Instrumentality: The platform provides a broad set of drawing tools, enabling users to mark up their charts for in-depth technical analysis. This suite of tools encompasses trend lines, Fibonacci retracements, and support/resistance levels, among others.
Customizable Trading Alerts: Users can establish personalized alerts based on price thresholds, technical indicators, or distinct events, ensuring they remain abreast of pivotal market shifts. These notifications can be conveyed to mobile devices via visual popups, auditory signals, email alerts, email-to-SMS alerts, and PUSH notifications.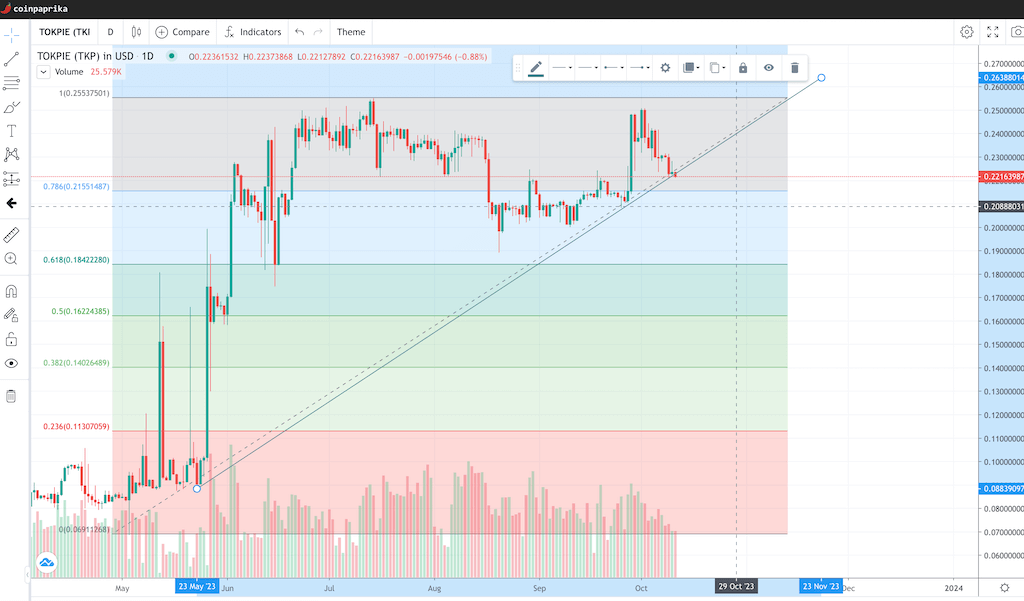 Also, look at the example of a token's TradingView price chart on Coinpaprika.
Market depth and Combined orders
Did you know that Coinpaprika is the only tracker that shows the deep quality of a market? So, a user can see the Market depth and Combined order metrics for a specific asset.

Therefore, after currency listing on Coinpaprika, go to the Exchanges/Market tab (example). Then, press the "By Liquidity" element as shown in the image above. As a result, a user sees a coin's Market Depth. It provides information about the liquidity of markets and depth for a given currency pair. It's a measure of open buy and sell orders within a 1% or 10% (default) span of the spot price.
Additionally, a user discovers a currency's Combines Orders stats. This column combines the depth of market orders into one convenient metric with summed-up liquidity for a given market.
Traffic: over 1.1M
Another Coinpaprika's competitive advantage is huge traffic. According to SimilarWeb, Coinpaprika's coin-tracking website attracts over 1.1M monthly visitors (see the image below). Since its inception in April 2018, the platform has catered to over two million users, evidencing its widespread appeal. Coinpaprika's emphasis on eliminating fake market data ensures users receive transparent and honest market information. This attracts diverse crypto enthusiasts, traders, and developers to the platform, assuring token creators of vast exposure. Furthermore, with a remarkable record of over 8,671 active coins, 41,096 markets, and collaboration with 311 active exchanges, Coinpaprika has established itself as a dominant figure in the crypto research arena. Consequently, adding a token to Coinpaprika guarantees it will be showcased to a large, engaged audience.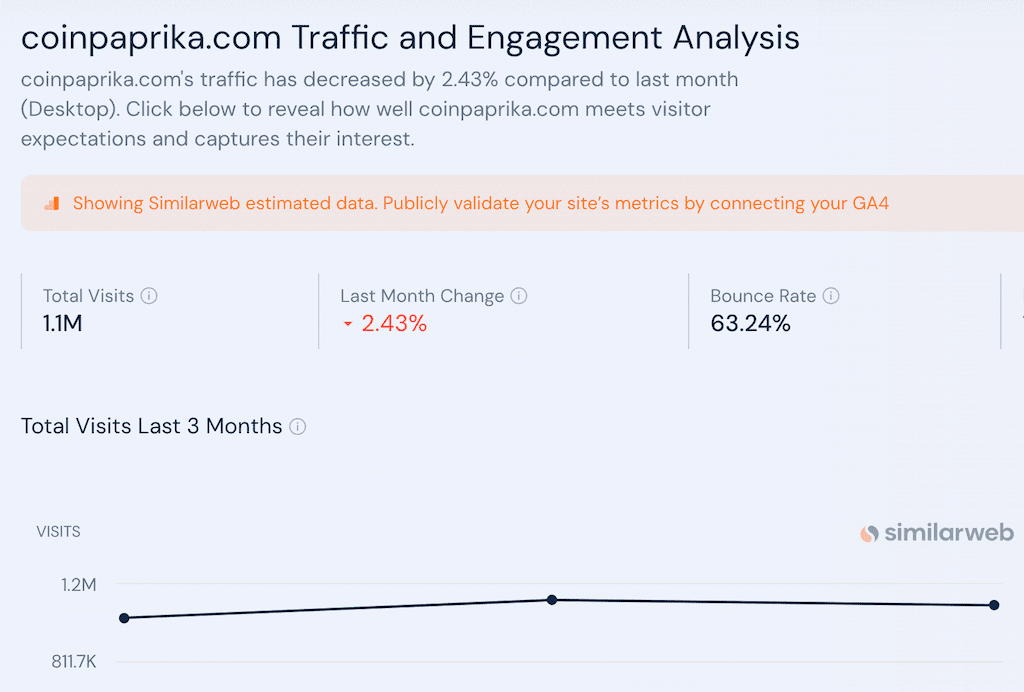 How to List a Token?
To have your token listed on Coinpaprika, several steps must be followed.
Firstly, ensure that your coin is tradable on at least one exchange that Coinpaprika supports. Check the list of eligible exchangers here. The great news is that the Tokpie exchange has already integrated with Coinpaprika (see an image below). Therefore, you can list a token on Tokpie to make it visible on Coinpaprika's. Besides, listing on Tokpie will make your currency visible on all famous coin-trackers such as CMC, CG, etc. – find a full list.
Then, ensure your asset adheres to the platform's stringent quality checks. Coinpaprika assesses factors such as data transparency, community size, and developer activity before adding a cryptocurrency. If your token meets these criteria, you can submit a request for its addition for free.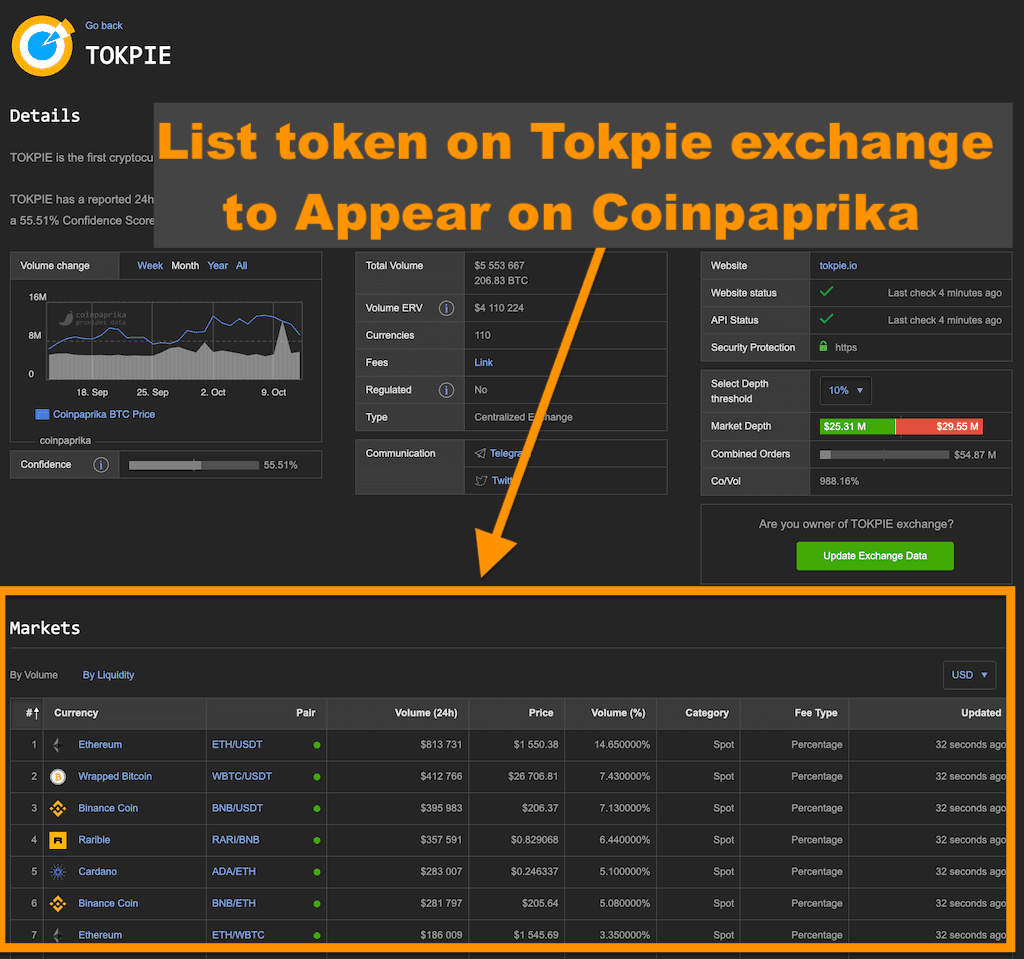 Filling out Coinpaprika's form?
After ensuring that your cryptocurrency is tradable on a supported exchange, fill out our Coinpaprika's form by performing the steps below:
Step 1
Start the Coinpaprika's form, select "Add a new project" and press the "Proceed" button.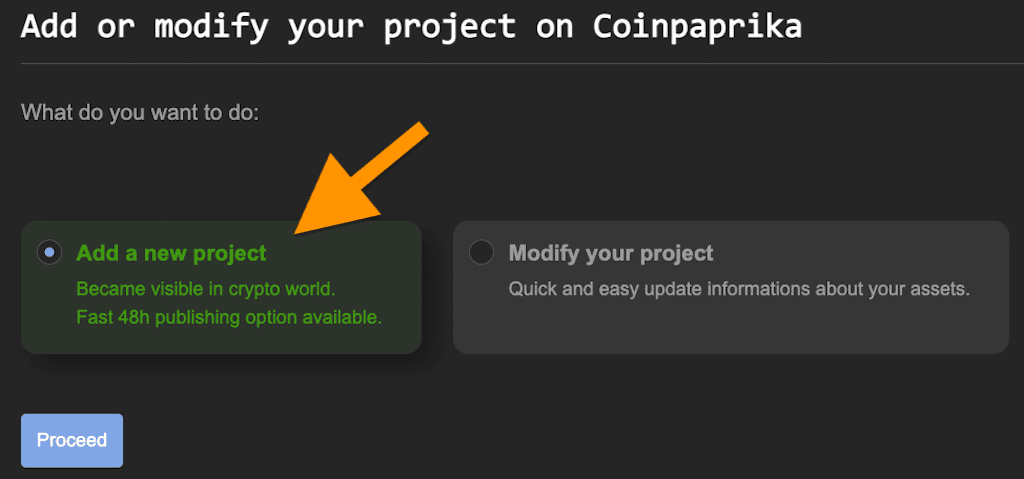 Then select "Normal Track" and click on the "Proceed".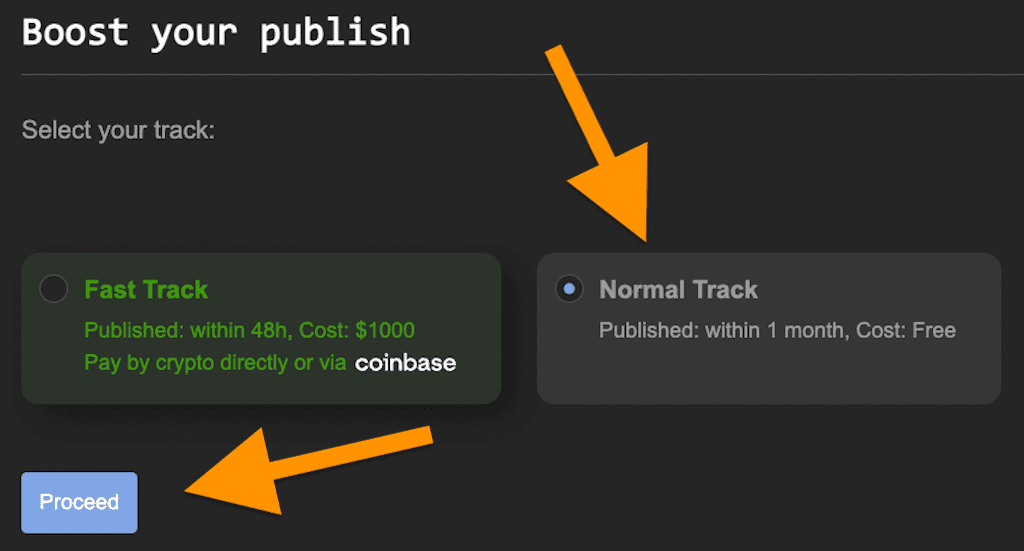 As a result, you will see a full form. So, you can start filling it as the example below shows:
Enter a project's official email address. We highly recommend you to use an official domain email.
Select "Add Cryptocurrency (coin or token).
Choose "Yes, it's listed" if your token is already available for trading and has a volume on an exchange that Coinpaprika supports.
Then, enter your token name. For example, Bitcoin.
Also, enter your token symbol. For example, BTC.
After that, select "Token" if your currency is a token. Otherwise, choose "Coin".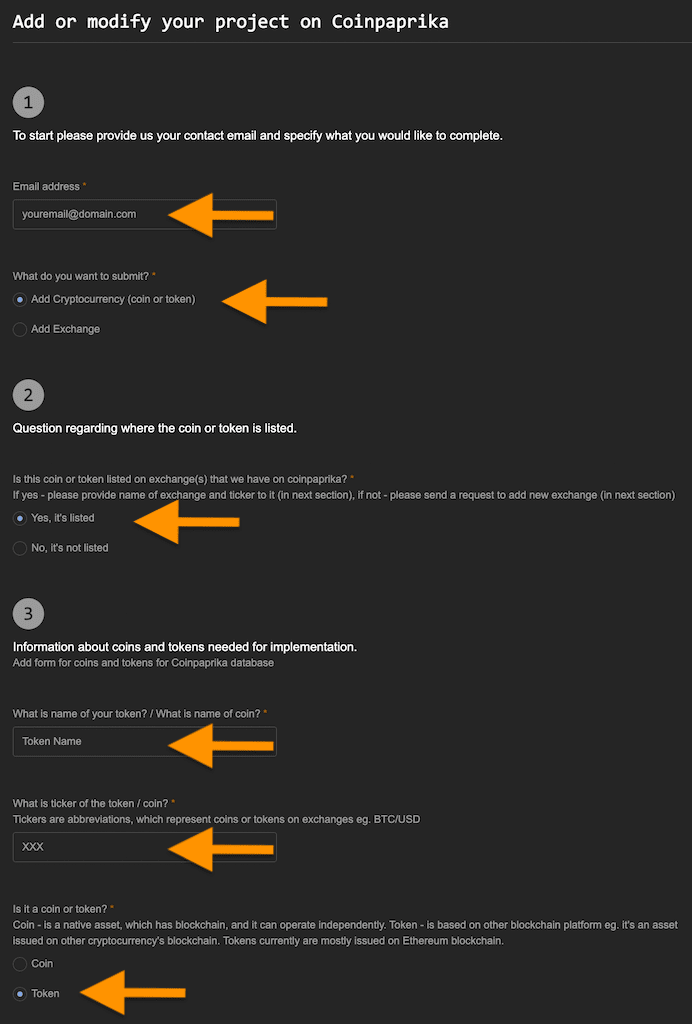 Step 2
Scroll down the form and continue filling it.
Provide a website for token/coin. Use https: format.
Enter the date of the first transaction with your token in the field: "When it was started?".
The next field: "Which exchanges have listed the coin or token? Please provide links to the markets. So, for instance, if your token symbol is WBTC, then enter the link to your market a format like this:
(Tokpie WBTC-USDT): https://tokpie.com/view_exchange/WBTC-USDT

Important – if an exchange that listed your coin doesn't provide a ticker of the asset in their public API endpoint, Coinpaprika can't list it. Besides, there should be any volume (24H) at the market to map it properly.
Is it based on another public blockchain (Ethereum, NEO, Stellar, etc.), or is it a standalone blockchain? Select an appropriate blockchain in this question field. However, if you are trying to list BEP20 tokens running on BSC, then select "Other" and enter "BNB Smart Chain".
What is the current development status? For the just-started crypto startup, select "Alpha version."
Step 3
Then, scroll down the form again and continue filling it.
What is the organization structure? You can reply like "Semi-centralized".
Please provide an image of token/coin in size 200×200 px (*webp, *jpg, *png format). So, use this tool to upload your token's logo and get a public link to it.
Do you have an announcement for token/coin? Please provide a link to it. Usually, a project passes the link to their Twitter post with the contract address.
Do you have a chat for the token/coin? Enter the link to your project's Telegram group chat.
How would you describe it? Enter a description of your crypto startup containing 4-5 sentences.
Is it mineable? Answer: "No" if your smart contract doesn't allow you to mint new coins that increase the total token supply.
Is it open-source? The standard answer is "No".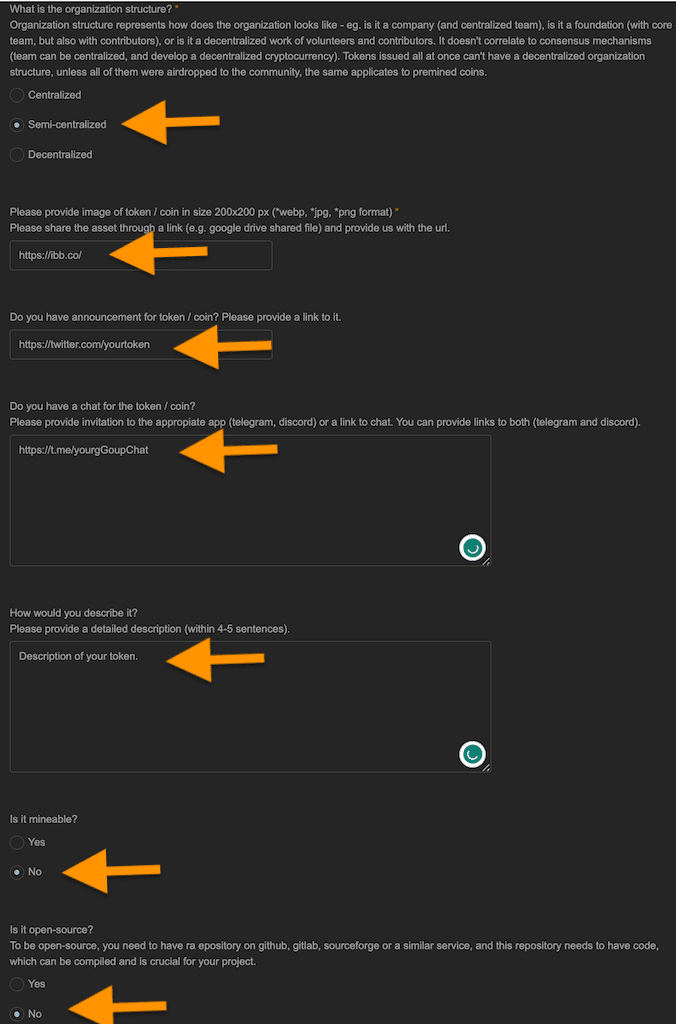 Step 4
After that, scroll down again and continue.
Does it have hardware wallet? Reply "no" if you're listing an altcoin/token.
What is the GitHub link to your main repository? Add the link to the project's account on Github if you have it.
What is the link to official twitter account? Enter the link to the project's account on Twitter.
Another optional question. What is the official video? Add a link if you have it.
What is the official reddit? Add the link to the project's group on Reddit (not to account) if you have it. So, your link should be like https://www.reddit.com/r/yourproject/
What is consensus of coin? No need to reply to that question if you're adding an altcoin/token (not a coin)
What is the algorithm (of the coin)? Again, you don't have to reply to this question if you list a token.
Who is in the team, and what's his/her function? Reply by using a format like this:
– 1st Person: Name Surname (LinkedIn Profile URL) Developer
– 2nd Person: Name Surname (LinkedIn Profile URL) Web designer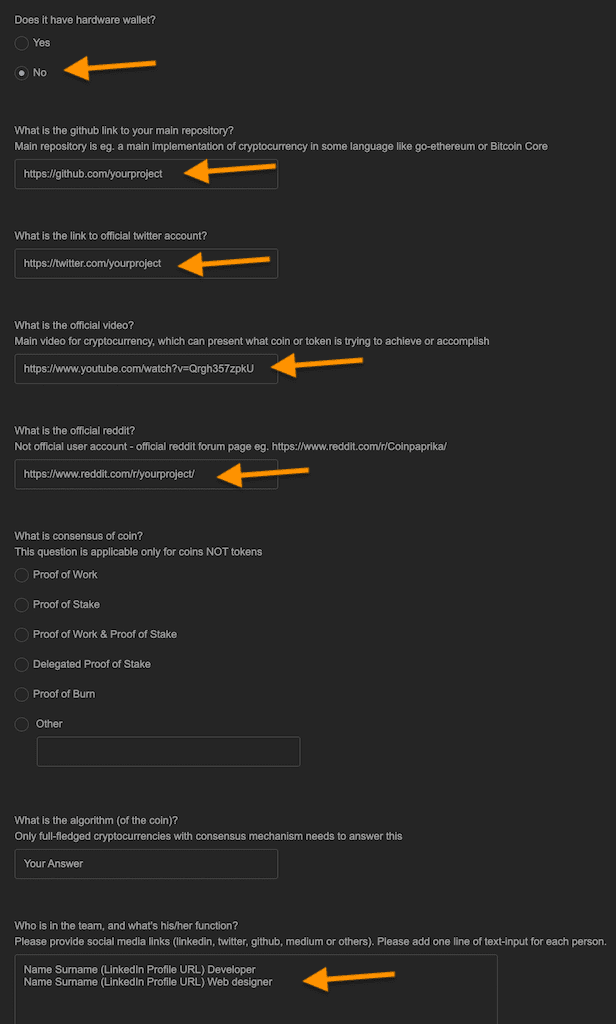 Step 5
Then, fill out the final fields and press the "submit" button.
"Please provide a link to a whitepaper of the token/coin". So, enter https:// URL of your crypto project here.
Provide link/links to at least one block explorer (for coins), or provide link to your blockchain explorer (for tokens). For example, add a link to your token contract 0x… on BscScan (for BEP20 asset) or on Ethereum (for ERC20 asset).
Please provide circulating supply information. That is not a strict requirement, so you can skip this field.
Please provide a link that shows the total supply of coins in real-time. Also, no need to provide a link if you're adding a token.
What is the max supply of the coin/token? Enter a numerical value without commas and dots.
Provide download link for the native wallet. There's no need to insert anything here if you're listing an altcoin.
Did the coin have a premine? Skip this field when listing a token/altcoin.
Then, click on the submit button.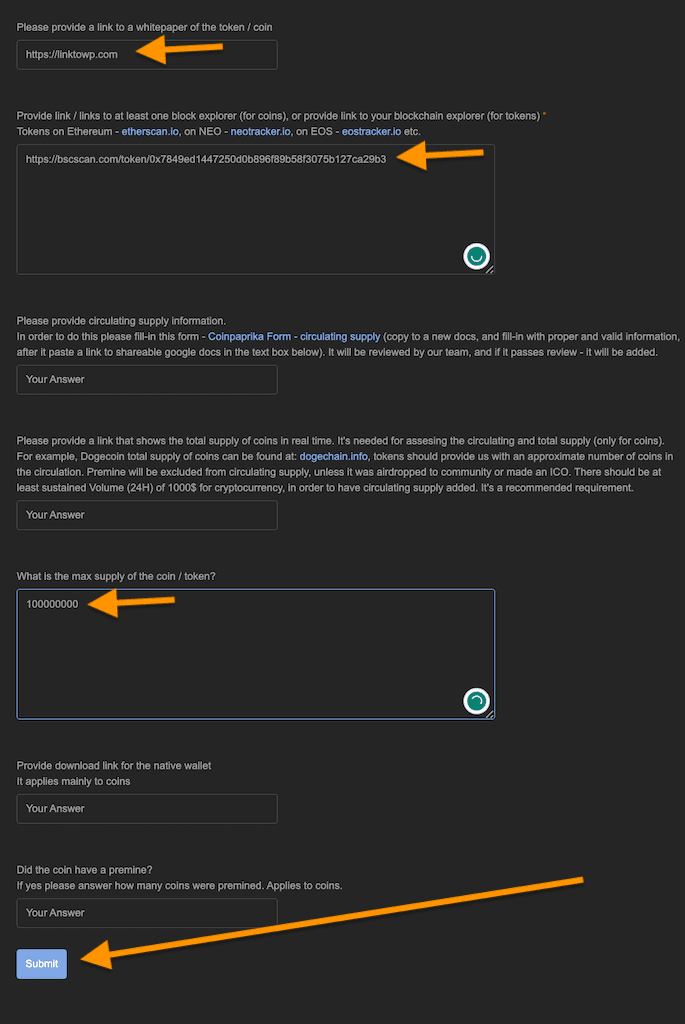 How long does it take to add token to Coinpaprika?
Usually, adding a coin to Coinpaprika for free takes around 14-31 days. Although Coinpaprika doesn't charge for this service, they offer a "Fast Track" feature. This feature prioritizes your request over others, ensuring quicker processing, although it still undergoes the same rigorous checks as regular requests. Once your submission is accepted, monitoring its status and proactively communicating with the Coinpaprika team for a seamless listing process is crucial. So, the standard waiting time for a free listing is up to 31 days. But if you want to add a coin within 48 hours under "Fast Track," you must pay $1000 with crypto directly or via Coinbase.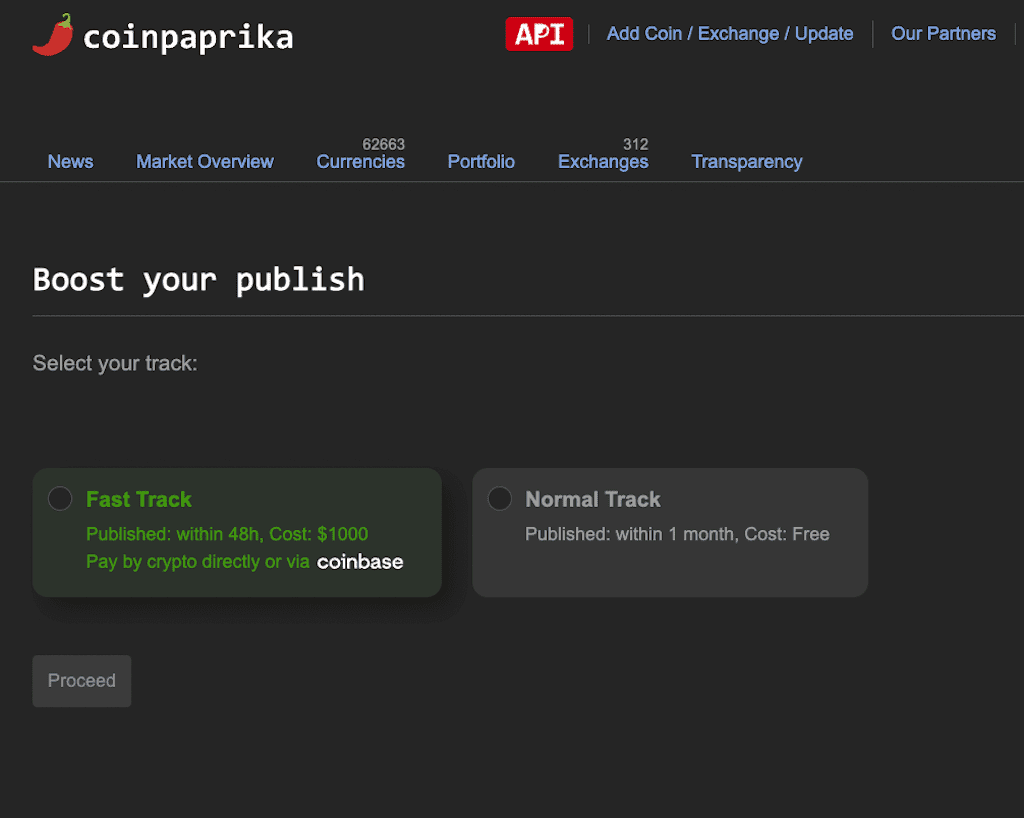 Adding additional market
Also, you should update your Coinpaprika's page every time your token starts trading on a new exchange (or on a new pair). Therefore, Coinpaprika updates your token's price, making it a weighted average among all exchanges where the asset is tradable. Also, it leads to a smoother price chart on TradingView for your currency. How to do that? Follow the following steps:
Go to that page.
Select "Modify your project" and press the "Proceed" button to update information about your asset quickly and easily.
Then, enter an official project's email address, select 'Update cryptocurrency', and find/select your token's name in the list. Note that you can find/select your currency only if your coin has already received a page on Coinpaprika.
Finally, write your request using an example template below and click 'Proceed.'
Dear Coinpaprika team,
Kindly add a new market for my token: (Tokpie BAMBOO-USDT): https://tokpie.com/view_exchange/BAMBOO-USDT
into this page: https://coinpaprika.com/coin/bamboo-bamboodefi/#!exchanges.
Thanks in advance!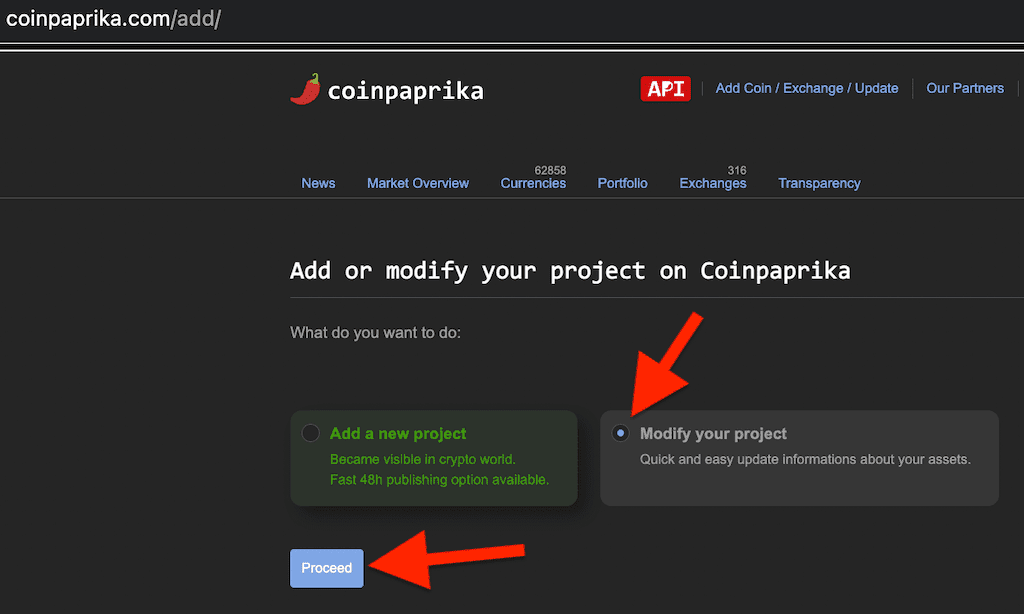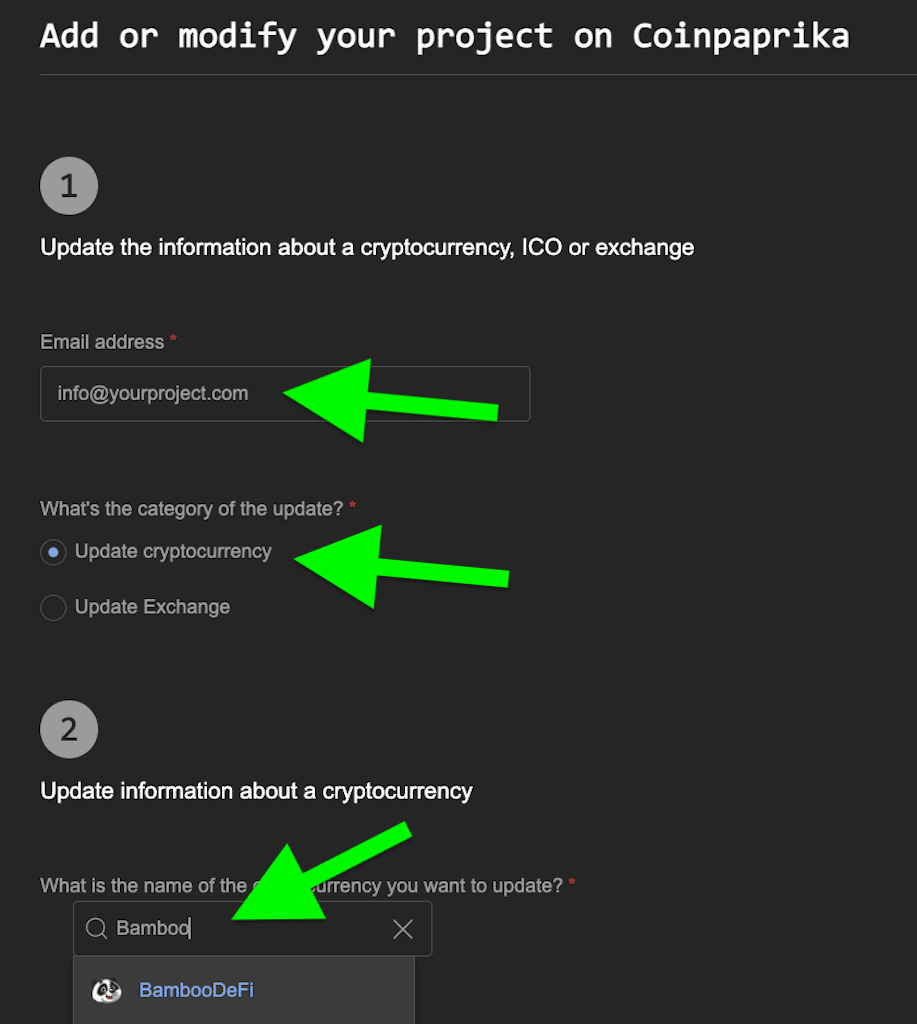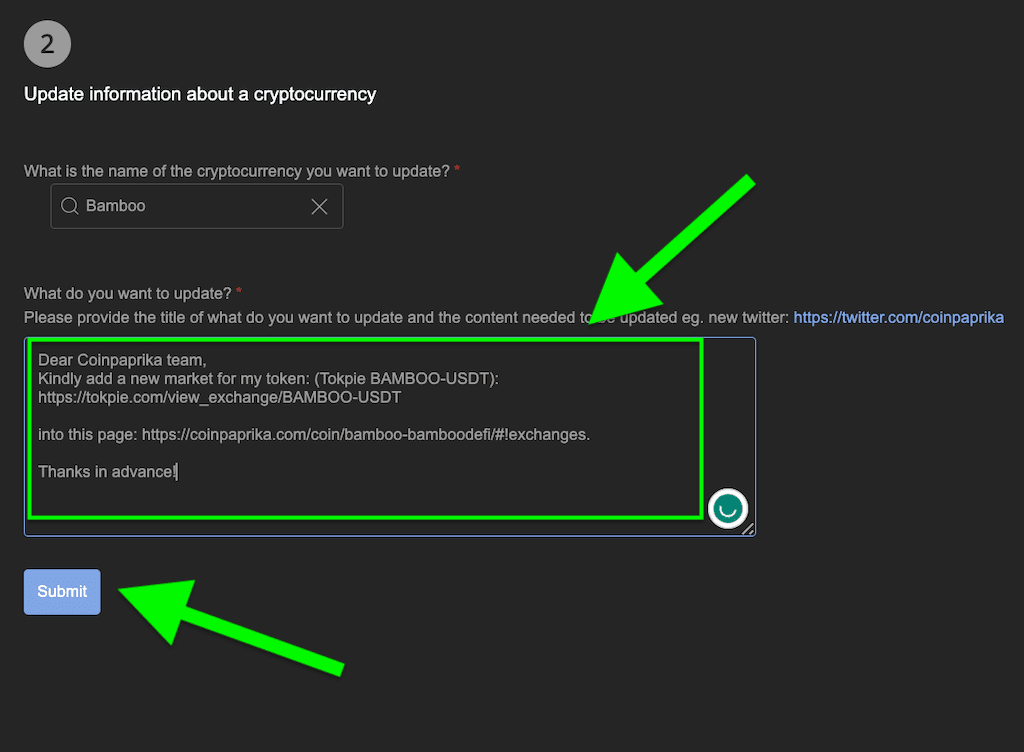 Other Options to Boost a Currency
Besides merely listing your token on Coinpaprika, there are multiple strategies you can employ to enhance its visibility and appeal.
Add Coin to Other Crypto Aggregators
While Coinpaprika is a significant player in the crypto space, diversifying your token's presence across various platforms is beneficial. Consider listing your asset on other crypto aggregators. Such platforms help broaden your token's reach, attracting different demographics and reinforcing its legitimacy. Every aggregator comes with its unique user base, and tapping into multiple audiences ensures better market penetration.
Additional Guides to Improve a Coin
Beyond listing, there's a slew of promotional channels at your disposal. Engage in community building on social platforms, host webinars or AMAs to address queries, and collaborate with influencers in the crypto space for shoutouts. Furthermore, consider leveraging Coinpaprika's COINS platform, a holistic crypto app that offers services from storage to direct coin purchases. It's a one-stop solution for crypto enthusiasts, and being active on it can significantly boost your token's visibility.
Conclusion
In the dynamic world of cryptocurrencies, ensuring your token stands out is paramount. Coinpaprika offers a formidable platform for tokens to gain visibility and credibility. However, the journey doesn't end with a mere listing. Engaging with the community, maintaining transparency, and continuously innovating are crucial elements in ensuring the long-term success of your token. With the right strategies and platforms like Coinpaprika, your altcoin can achieve remarkable milestones in the crypto ecosystem.