Are you looking for a real-time cryptocurrency data provider offering more than price updates? Look no further than Coinopy. Established in 2017, Coinopy provides a wealth of insights into popular digital assets like Bitcoin and Ethereum. Beyond that, Coinopy offers robust analytics, genuine customer reviews, and a passionate team committed to creating an inclusive community of crypto enthusiasts. If you want to list your token with Coinopy, the process is refreshingly straightforward and can be completed within 30 minutes. And if you're looking for additional ways to grow your cryptocurrency, there are plenty of cost-effective strategies to explore. So, continue reading this article to learn how to add token to Coinopy tracker.
What is Coinopy?
So, Coinopy is one of the top cryptocurrency data providers. It offers real-time insights into popular cryptocurrencies like Bitcoin and Ethereum. Coinopy goes beyond price updates to provide market share, revenue, and traffic analytics. Also, user reviews enrich the platform, and the team is diverse and passionate. Moreover, this aggregator's team aims to create an inclusive community of crypto enthusiasts.
Real-Time Cryptocurrency Data Hub
Coinopy is a leading cryptocurrency data provider. Of course, it provides real-time insights into popular cryptocurrencies such as Bitcoin and Ethereum. Also, the platform goes beyond price updates and offers analytics on market share, revenue, and traffic. Established in 2017, the team provides an unparalleled perspective into the ever-evolving crypto space. Its real-time data is suitable for everyone, from beginners to experienced traders. Moreover, the tracker aims to equip people with a wealth of knowledge. In other words, users can apply strategic and well-informed decisions in the dynamic realm of cryptocurrency.
Beyond Price Tracking: Dive Deep with Coinopy's Robust Analytics
Additionally, Coinopy is a cryptocurrency data provider offering more than price tracking. They provide detailed analytics on market share, revenue, and traffic metrics for many coins. This ensures that users gain a comprehensive understanding of the crypto ecosystem. Coinopy also offers transparency through customer reviews, which helps to enhance synergy within the trading community. Besides, their market intelligence is accurate, timely, and profound, making it valuable for rookies and seasoned traders.
Professionals Behind Coinopy's Success
In addition, the Coinopy has a team of cryptocurrency enthusiasts who come from various backgrounds and bring different perspectives to the platform. Their insights make Coinopy a valuable data provider and a beacon of knowledge in the crypto world. Such a team believes in community and celebrates a passion for digital assets. So, anyone can join the ever-evolving crypto community and discover what drives Coinopy.
Advantages for my token
So, are you looking to boost your token's performance? Consider listing on Coinopy. This platform simplifies the application process for crypto projects. How? Thanks to connecting to API, it draws metrics directly from CMC. So, it saves your time and effort. Plus, the tracker gives a deep history price chart (see an image below). So, it provides potential investors with valuable insight into your currency's performance over the past four years. Check the live example. So, in a crypto industry where transparency and trust are essential, Coinopy is a valuable partner.

Traffic
When considering Coinopy as a platform for showcasing your token, it's essential to understand its web traffic metrics. Drawing in approximately 35,000 visitors monthly, as SimilarWeb indicates (image below), Coinopy has a steady inflow of crypto enthusiasts and traders.

Moreover, according to Ahrefs, Coinopy's domain holds a respectable rating of 30.0. For those unfamiliar with Domain Rating (DR), it's a metric developed by Ahrefs to quantify the strength of a website's backlink profile. Rated on a scale from 0 to 100, a score of 30 indicates a reasonably strong online presence, making Coinopy a worthwhile platform for token visibility. In essence, integrating your token with Coinopy not only ensures it is presented to a substantial audience but also benefits from the platform's robust online reputation.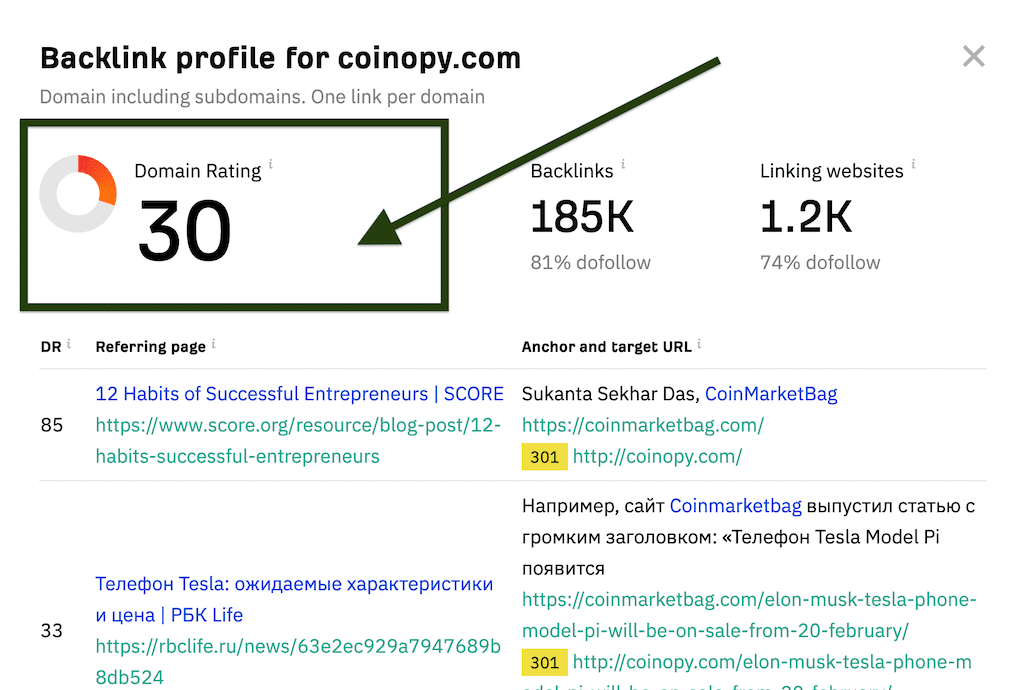 How Can I List Token?
For those pondering over the listing process on Coinopy, it's refreshingly straightforward. The journey can be distilled into two pivotal steps:
Begin by listing your coin on an exchange recognized by CoinMarketCap—Tokpie exchange serves as an apt example. So, you can list asset on Tokpie fast. Furthermore, Coinopy supports Tokpie and tracks tokens, which are tradable there.
Subsequently, ensure your token gains traction on CMC. If you're uncertain about this, fret not, as guidance is available on achieving this feat.
Post the successful completion of these stages, your token will grace Coinopy's asset list, typically within a short 30-minute window. Why is it so fast? It's because the tracker retrieves trade stats of your coin from CMC. So, by bypassing the hassle of lengthy forms and prolonged wait times, Coinopy offers a hassle-free and expedient listing experience.
Additional ways to grow cryptocurrency
Elevating your cryptocurrency's stature goes beyond just listing. To truly bolster its performance and ignite demand, consider tapping into the multitude of resources and strategies detailed below. Moreover, a significant chunk of these methodologies won't dent your wallet, ensuring cost-effective growth. The opportunities are abundant, whether it's leveraging alternative coin trackers like CMC and Coingecko or exploring an array of avenues to nurture your crypto asset organically. Dive into these resources, refine your strategy, and watch your cryptocurrency soar.
Alternative coin trackers
Beyond Coinopy, there are a plethora of other coin-tracking platforms that crypto startups should consider. Platforms like CoinMarketCap (CMC) and CoinGecko stand out as paramount in the industry. These platforms provide extensive data and analytics on countless tokens; best of all, listing on them is absolutely free. Ensuring your cryptocurrency is listed on multiple trackers amplifies its visibility across different user bases, fostering greater interest and trust. To facilitate this, detailed guides for listing on these platforms have been provided below, ensuring a smooth and hassle-free process.
Other options to boost crypto asset
The journey of enhancing your cryptocurrency's appeal isn't confined to just trackers. Numerous other strategies can be employed to nurture and grow your coin's presence, many of which are available at zero cost. From engaging in community-building activities and forging meaningful partnerships to optimizing your token's utility in real-world scenarios, there are myriad ways to fortify its market position. Explore the compilation of strategies below, each aimed at providing your cryptocurrency with the momentum it needs to thrive in the competitive crypto landscape.
Conclusion
Coinopy, with its robust analytics, comprehensive data, and dedicated team, offers an invaluable platform for tokens looking to enhance their visibility and credibility in the crypto world. By understanding its offerings, web traffic, and the seamless token listing process, crypto startups can leverage Coinopy to its fullest. Moreover, diversifying token presence across multiple trackers and employing various growth strategies can propel a cryptocurrency to new heights. In this ever-evolving crypto landscape, staying informed, proactive, and adaptable is the key to enduring success.
For any questions or cooperation, you can contact Tokpie at info@tokpie.com.