The recent decrease of gas cost in the Ethereum network by ten times could revitalize the usage of many DApps. One of such decentralized applications is the Degen$ Farm Bags. This application allows people to farm unique nonfungible (NFT) creatures and use them in the decentralized game. Also, with the help of the BAGZ token, anyone can randomly get an in-game item to join the farming game. So, read below to learn more about this app. Besides, you'll get an outline on how to trade BAGZ tokens on the Tokpie exchange.
What's the Degen$ Farm?
The Degen$ Farm is the NFTs-farming game running on the Ethereum blockchain. So, if a user has one $BAGZ token, he can farm a unique NFT creature that accumulates ETH and $DUNG. Moreover, users can reveal animals, lands, and other rare species and items. There are 2000 unique normies, 400 chads, and many rare in-game intangibles. Furthermore, each creature brings network fees to its owner. The logic behind the game connects DeFi protocols with the NFT perspective. The team has also partnered with Chainlink to get a transparent go-to oracle solution.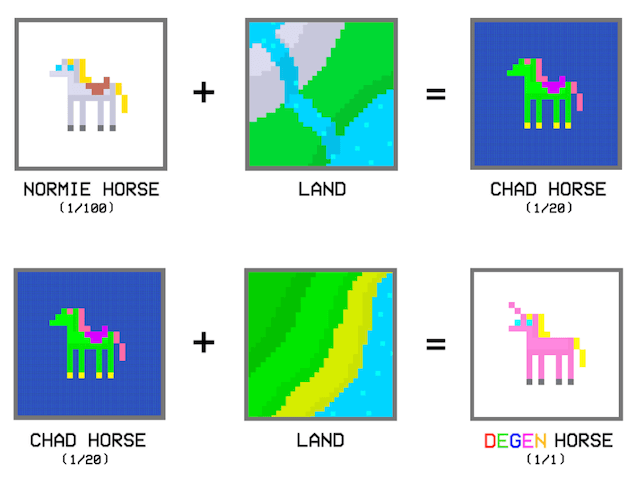 How does it work?
Assume you want to farm one chad creature. Then, you need to get one normie and one land to deploy both into the Degen$ Farm's farming cabinet for one week. But, not everyone could get them. Only 20% of normies will give birth to chads. Also, only 5% of chads will give birth to the mighty degen creatures. Therefore, it all depends on the farmer's luck and DeFi experience. For example, if a farmer holds $UNI, the probability of farming a chad horse grows higher. However, it's not only a game for whales. Small farmers can increase their likelihood by selecting the right market momentum. For instance, if UNI's price increases during the farming process, users obtain an additional boost. Simultaneously, each time you farm, your land goes out, and you get a next-gen creature or DUNG. Note that the $DUNG is precious, and the user can trade it at the DUNG SWAP to get tools that affect chances to win.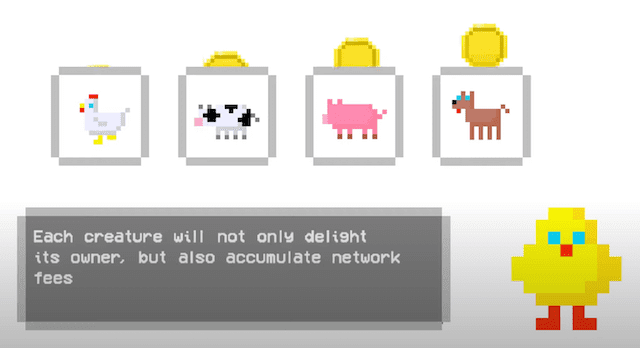 What's the BAGZ token?
BAGZ is an ERC20 token serving as the means of the Degen$ Farm game's onboarding. So, 1 $BAGZ allows a person to reveal one 1 NFT collectible. There's either a unique normie creature NFT (ERC721) or land (ERC721) inside. Moreover, the token-holder gets these in-box nonfungible tokens randomly during the actual reveal process. In that way, the startup gives the authentic gamification experience to the community and increases engagement.
How to buy BAGZ tokens?
To purchase BAGZ tokens for ETH do three simple steps:
Fund your account with ETH. If you don't have crypto, you can purchase ETH with a bank card in a few minutes.
Open the BAGZ/ETH order book and place your trade order to buy. Use this instruction if you don't know how to place a trade order.
Withdraw BAGZ tokens to your personal Ethereum wallet or hold them on the account.
How to sell BAGZ tokens?
To sell BAGZ tokens for ETH follow three steps:
Deposit BAGZ tokens into your account.
Open the BAGZ/ETH order book, and place your trade order to sell. Read the instruction if you don't know how to place a trade order.
Withdraw ETH to your personal Ethereum wallet or hold them on the account.
How to deposit BAGZ token?
To deposit a BAGZ token into your Tokpie account, follow this guide. Also, make sure that you are going to deposit ERC20 tokens that relate to this smart contract address. If you deposit the wrong tokens or the wrong blockchain type, Tokpie could not identify your transfer.
Note: Tokpie doesn't charge any fees for depositing.
How to withdraw BAGZ token?
To withdraw BAGZ token from your Tokpie account, use this instruction. Besides, you must have an eth compatible wallet address to be able to withdraw tokens. Also, check the withdrawal commission.
Disclaimer
In addition, please be aware that Tokpie charges a fee for the listing. Tokpie does not give any investment, legal, tax, financial advice, or warranty of token price performance.
Useful links to trade BAGZ tokens
For any questions or cooperation, you can contact Tokpie at https://t.me/tokpie.