Like the Google is a giant in the Internet world, the Binance exchange is a colossus on the cryptocurrency market. They are similar to each other in terms of market dominance. Also, these companies have the same expansion strategy. Like Google purchases small startups, Binance buys small crypto-related projects. For example, Binancians bought CoinMarketCap (CMC) – the biggest coin tracker, for around $400M in 2020. So, considering all the advantages of Binance exchange, its native Chain (BSC), the Tokpie team has decided to list BNB token. In the following article, you will find the BNB's benefits. Also, you will get a guide on how to trade BNB tokens on the Tokpie exchange.
Rebranding
Starting from 15th February 2022, the new name of BNB is Build and Build. So, instead of Binance Coin (BNB), it's now BNB (BNB). Binance's CEO made such a rebranding because the BNB's ecosystem grows fast. As a result, this cryptocurrency moves to the MetaFi concept combining GameFi, SocalFi, Web 2.0-3.0, and NFT technologies.
What's the Binance exchange?
The Binance is the top exchange due to CoinMarketCap. Why is it on the Top? Because Changpeng "CZ" Zhao's (CEO) platform has the highest trade volume and the most significant number of trading pairs and listed assets. Moreover, Coinbase and Kraken (2nd and 3rd rank) have five times lower liquidity and available coins for trading. So, there is no surprise that Binance's BNB token has a strong demand among the crypto community. However, the token has many other use cases that we explain below.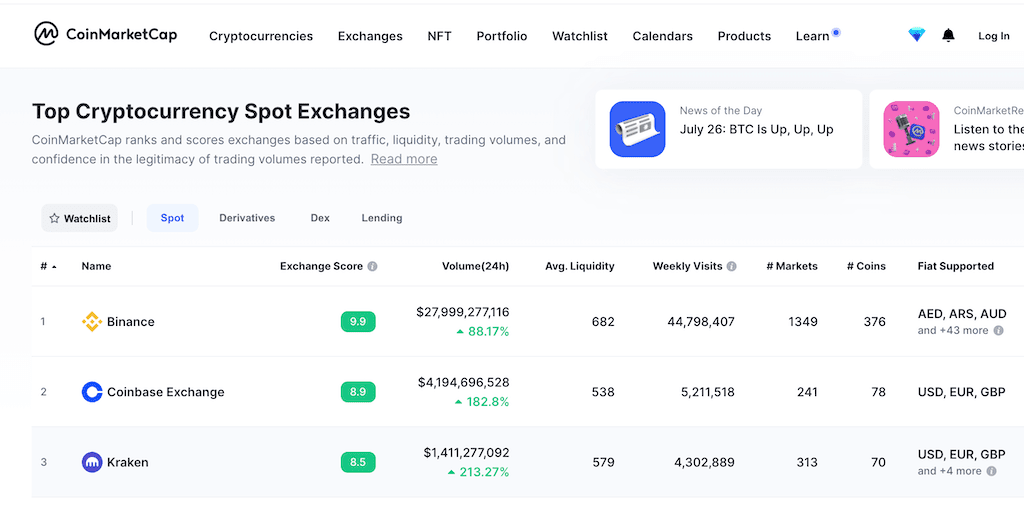 BNB utility value
Among many popular coins, the BNB has one of the most robust sets of utility values. First, it allows to save up to 25% on trading fees in different exchange sections. These sections are Spot, Margin, and Futures trading. Moreover, by holding BNB coins on a Binance account a user can get the following advantages:
Get qualified for the VIP Program
Lend via new token farming on Binance Launchpool
Send and receive crypto payments with Binance-Pay
Earn a flexible percentage yield by depositing BNB on select Binance Smart Chain projects
Earn up to 40% commission by joining Referral Program
Obtain exclusive tokens listed on Binance Launchpad
Receive crypto loans using Binance Loan
Stake BNB to earn rewards inside BNB Vault
Spend BNB at more than 60 million merchants worldwide with Binance Visa Card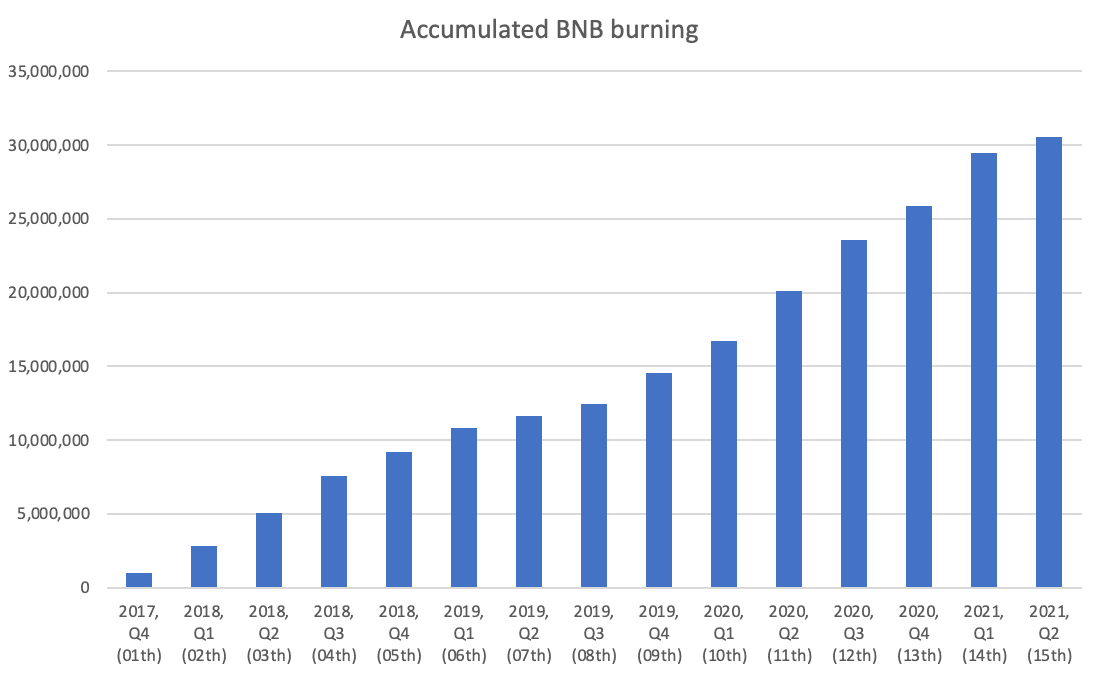 What's the BNB token?
BNB is the Binance exchange's token running on different chains and has many thousands of holders. Starting from 2020 this coin has become like ETH because users spend BNB for gas payment on Binance Smart Chain. Besides its enormous utility value, the coin has a burning schedule. So, the team buyback and burns BNB every quarter. Consequently, they have already burned 31,862,964 tokens for 2017, Q4 to 2022, Q1 period (image above). It's important to note here that the coin's total supply is limited to 200M (look at the pie chart below). Expecting the growing demand on BNB, the Tokpie team made it available for trading, depositing and withdrawing in BEP20 (BSC).
Token Name: Binance Coin
Symbol: BNB
Token total supply: 200,000,000
How to buy BNB tokens?
Purchase BNB tokens for ETH, USDT, or WBTC in three simple steps:
Fund your account with ETH, USDT, or WBTC. If you don't have crypto, you can purchase BNB with a bank card in few minutes.
Open BNB/ETH, BNB/USDT, or BNB/WBTC order book, and place your trade order to buy. Use this instruction if you don't know how to place a trade order.
Withdraw BNB tokens to your personal BEP20 wallet or hold them on the account.
How to buy BNB with Bank Card or Apple Pay?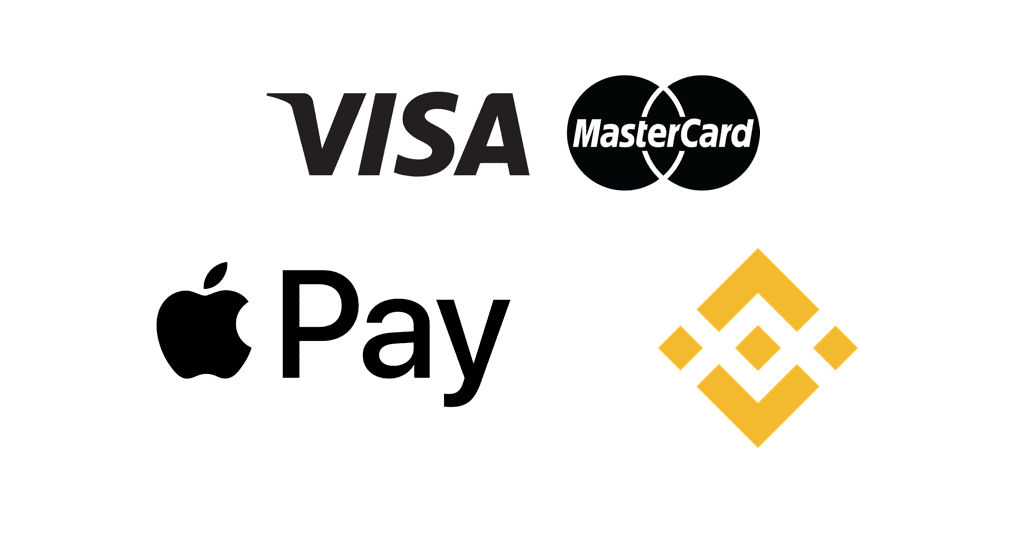 Use your bank card or Apple Pay to obtain Binance coins directly in minutes. Open the bank card processing page, enter the amount of BNB and your wallet address. Then click the Continue button. That's it.
How to sell BNB tokens?
To sell BNB tokens for ETH, USDT, or WBTC, follow three steps:
Deposit BNB tokens on your account.
Open BNB/ETH, BNB/USDT, or BNB/WBTC order book, and place your trade order to sell. Read the instruction if you don't know how to place a trade order.
Withdraw ETH, USDT, or WBTC to your personal wallet or hold them on the account.
How to deposit BNB tokens?
To deposit BNB tokens into your Tokpie account, follow this guide. Also, make sure that you are going to deposit via BEP20 chain. If you deposit the wrong tokens or the wrong blockchain type, Tokpie could not identify your transfer.
Note: Tokpie doesn't charge any fees for depositing.
How to withdraw BNB token?
To withdraw BNB tokens from your Tokpie account, use this instruction. Besides, you must have a BEP20 compatible wallet address to be able to withdraw tokens. Also, check the withdrawal commission.
Disclaimer
Also, please be aware that Tokpie charges a fee for the listing. Tokpie does not give any investment, legal, tax, financial advice, or warranty of token price performance.
Useful links to trade BNB
For any questions about trading bounty stakes, contact Tokpie at https://t.me/tokpie.