All crypto passionate people know about the Nonfungible tokens' extraordinary success that happened in 2021. However, the NFT industry has some primary problems, such as overpricing and lack of information. Fortunately, the Ginoa platform has come to the scene. With the help of its GIN token, this platform aims to provide users with adequate price information about any NFT. In this article, you'll learn how that solution works. Besides, you'll get detailed instructions on how to trade GIN tokens on the Tokpie exchange.
UPDATE: The trading of $GIN is temporarily closed because of the contract replacement.
What's the Ginoa?
The Ginoa is a decentralized platform (DAAP). It provides people with fair price information about none fungible tokens by scanning the Amazon artificial intelligence infrastructure market. As a result, the buyer or seller learns the current value of the related crypto assets (NFTs). Moreover, Ginoa's algorithms analyze the past price movements from Etherscan and find the most transparent price. Also, users can ask the actual value for their NFTs to buy or sell on Opensea, Larvalabs, and Decentraland. Currently, the devs have already added Bored Ape Yacht Club and Meebits to the platform.
What are Ginoa's advantages?
One of the main Ginoa's advantages is the usage of AI to provide expert service to NFT collections. Therefore, collectors can avoid losses by getting the most accurate price to the NFT. Another advantage is the easy-to-use interface. For example, a purple bar (look at the image below) represents the best opportunities. It means Ginoa's price is more than the sale price above 99%. Furthermore, it's free, and the team promises to continue providing free service.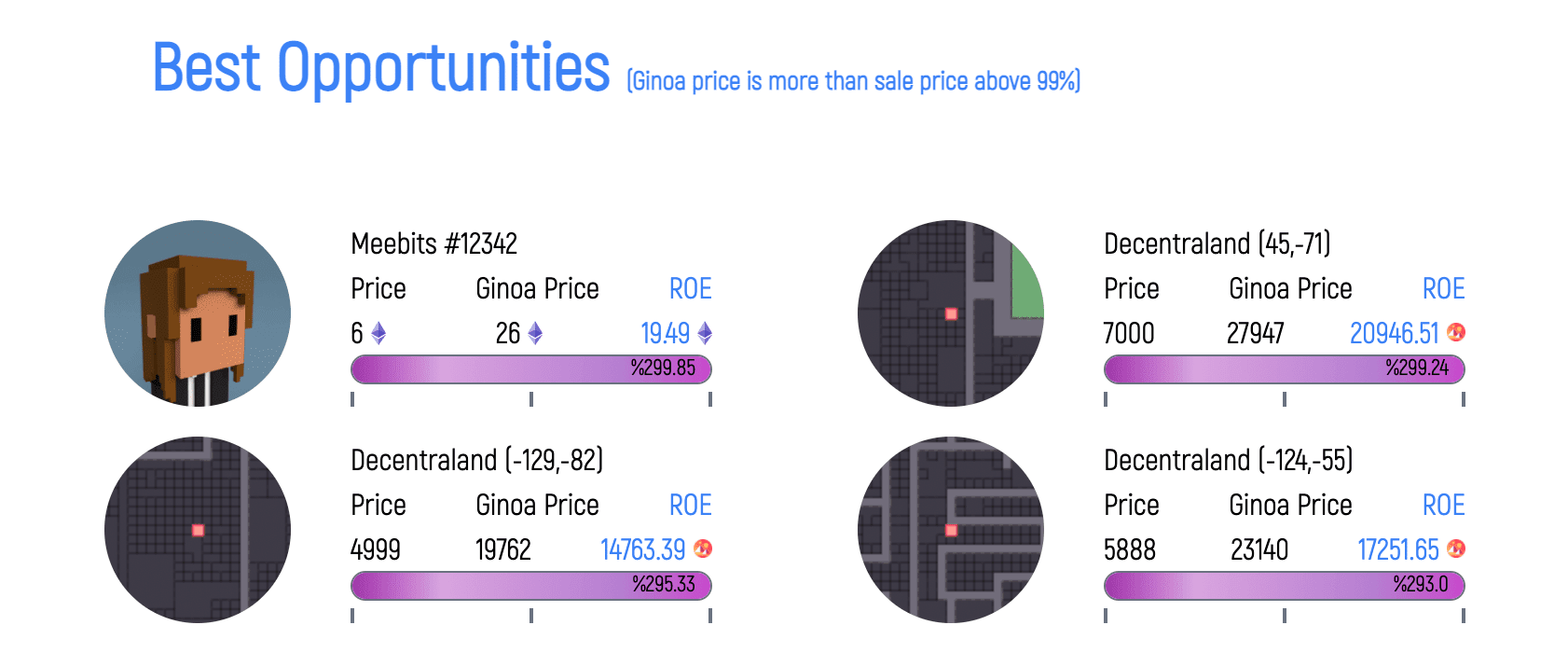 How does Ginoa work?
The Ginoa application collects data in a pool based on the characteristics of the collection pieces and historical sales data to perform the work and provide users with helpful information. Then, it calculates the most accurate price thanks to machine learning. The result tells the user whether the current selling price of NFT is expensive or cheap. To start, the user needs to do the following steps:
Connect to MetaMask wallet to see NFT's price from Ginoa. This process is safe and allows to display of a user's Ethereum address.
See the prices from the Artificial Intelligence algorithm for the NFT's.
Trade the NFT through a page that sends a user to trusted marketplaces such as OpenSea, LarvaLabs, etc.
What's the GIN token?
The GIN is an ERC20 token that helps Ginoa's developers to raise funds and build the necessary infrastructure. For example, the artificial intelligence function will allow showing more reliable results faster and give prices to all NFT collections in the future. Also, important to note that the total supply of the $GIN token is 160.000.000, where 50M coins are in reserve for future partnerships, exchange integrations, and team developers' gifts. Moreover, the token smart contract can mint additional tokens, but not more than 160M. In addition, keep in mind that the initial GINOA token price is 0.0002 ETH. Due to the team statement, all raised funds go to customization and specialization of artificial intelligence, enhancement of cyber security, advertising & marketing activities.
How to buy GIN tokens?
To purchase GIN tokens for ETH do three simple steps:
Fund your account with ETH. If you don't have crypto, you can purchase ETH with a bank card in a few minutes.
Open the GIN/ETH order book and place your trade order to buy. Use this instruction if you don't know how to place a trade order.
Withdraw GIN tokens to your personal Ethereum wallet or hold them on the account.
How to sell GIN tokens?
To sell GIN tokens for ETH follow three steps:
Deposit GIN tokens into your account.
Open the GIN/ETH order book, and place your trade order to sell. Read the instruction if you don't know how to place a trade order.
Withdraw ETH to your personal Ethereum wallet or hold them on the account.
How to deposit GIN token?
To deposit GIN token into your Tokpie account, follow this guide. Also, make sure that you are going to deposit ERC20 tokens that relate to this smart contract address. If you deposit the wrong tokens or the wrong blockchain type, Tokpie could not identify your transfer.
Note: Tokpie doesn't charge any fees for depositing.
How to withdraw GIN token?
To withdraw GIN token from your Tokpie account, use this instruction. Besides, you must have an eth compatible wallet address to be able to withdraw tokens. Also, check the withdrawal commission.
Disclaimer
In addition, please be aware that Tokpie charges a fee for the listing. Tokpie does not give any investment, legal, tax, financial advice, and warranty of token price performance.
Useful links to trade GIN tokens
For any questions or cooperation, you can contact Tokpie at https://t.me/tokpie.