The rise of transactional cost on Ethereum blockchain led to Binance Smart Chain's explosive growth. For example, 10% of new projects were issuing BEP20 tokens at the beginning of 2021. But the share changed to 80% in the middle of 2021. That's a tremendous change. Moreover, even if the gas cost of ERC20 assets' transferring goes down, it could not decrease BSC usage later. Therefore, it creates an excellent opportunity for startups that helps companies and individuals to make fast and secure conversions from one chain to another. So, today we are happy to introduce you to one of such startups – the Hot Cross. Its team consists of real professionals motivated by the HOTCROSS token and bringing practical crypto applications. Moreover, they have working two products, and more are coming. Continue reading to know some details about Hot Cross's tools and how to trade HOTCROSS tokens on the Tokpie exchange.
What's the Hot Cross?
The Hot Cross is a startup that provides blockchain teams and their communities with a multi-chain tool suite. Moreover, this startup has two competitive advantages. The first one is the availability of working products:
Binance Smart Chain Bridge that allows a smooth conversion of BEP20 tokens to ERC20 and back.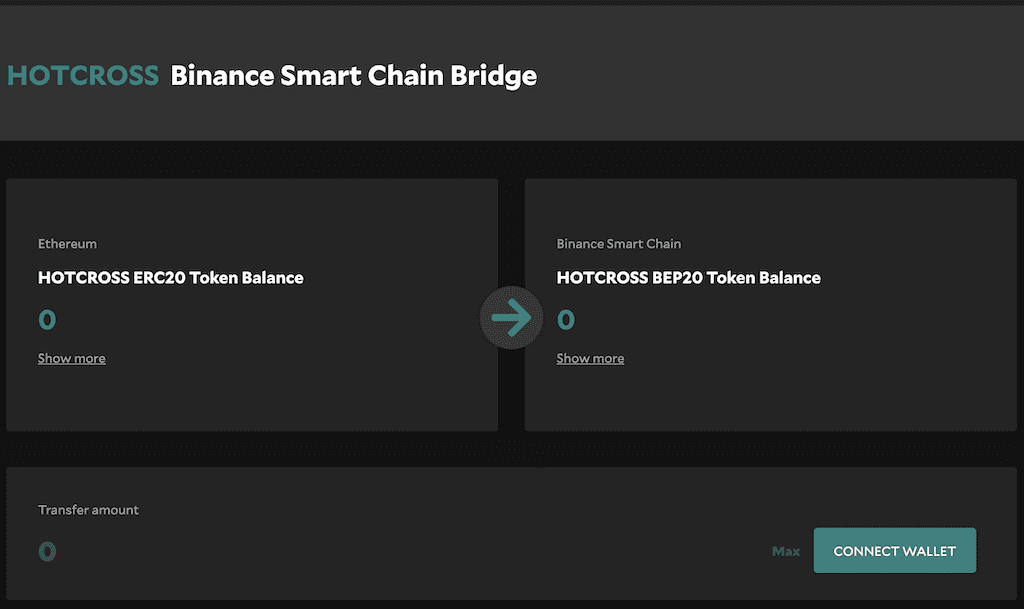 Cross Pool. This tool allows a secure and decentralized way of rewarding users for staking both LP tokens and single-sided, traditional BEP20 tokens.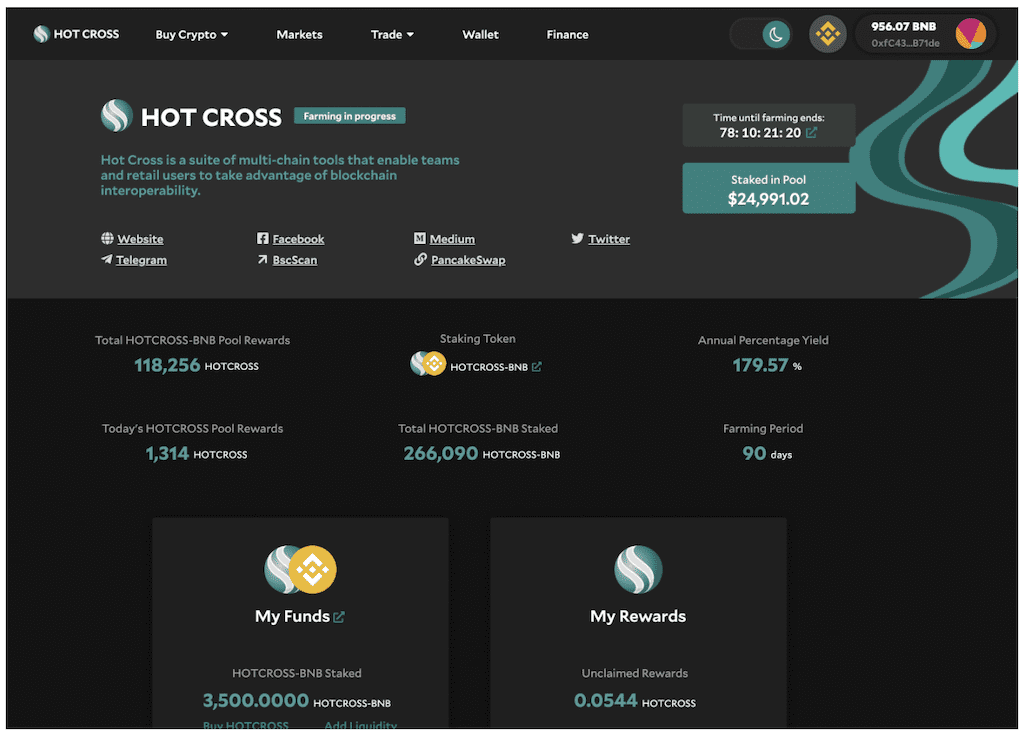 Another competitive advantage is the quality of the realization. What does it mean? Look at the Hot Cross website, check links to the team members, read how wisely they describe everything they do. Moreover, it's a pleasure to see that the team takes care of the token's attractiveness. They added the logo and social profile on Etherscan and BSCscan. Also, they provided the community with a detailed explanation about the token's allocation and listed HOTCROSS on good exchanges. So, if the team continues focusing on its multi-chain tool suite and tokenomics, then success will come fast.
What's the HOTCROSS token?
The HOTCROSS is a token that runs on two blockchains simultaneously: Binance Smart Chain (BEP20) and Ethereum Network (ERC20). Also, the team plans to add other chains like Huobi ECO Chain, OKExChain, etc. The token has fundamental utility values. First of all, users must have HOTCROSS tokens to access a various number of Hot Cross's products. Moreover, the discounts and rebates for creating pools on the cross-chain B2B tool are also available only with tokens. Another benefit is that the team wants to provide token-holders with voting power later. So, it will be shifting to DAO tokenomics (like a UNI from Uniswap). To check HOTCROSS's circulating supply, use the links below.
How to buy HOTCROSS token?
To purchase HOTCROSS tokens for USDT do three simple steps:
Fund your account with USDT. If you don't have crypto, you can purchase USDT with a bank card in few minutes.
Open the HOTCROSS/USDT order book and place your trade order to buy. Use this instruction if you don't know how to place a trade order.
Withdraw HOTCROSS tokens to your personal BEP20 or ERC20 wallet or hold them on the account.
How to buy HOTCROSS with Bank Card or Apple Pay?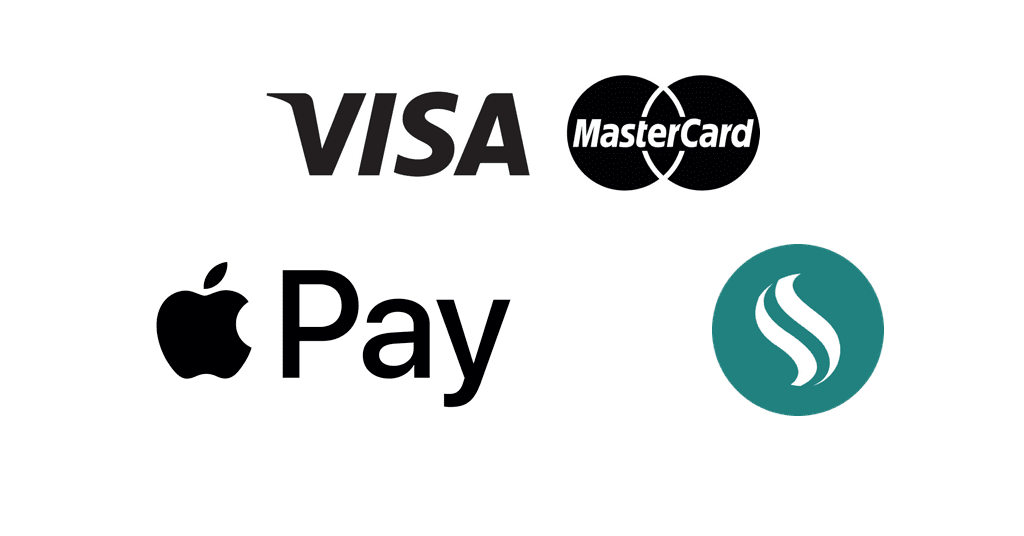 Use your bank card or Apple Pay to obtain HOTCROSS tokens for your local fiat currency.
Enter the generated USDT address on the bank card processing page. Also, enter the amount of USDT and click on the "Continue" button.
After getting a confirmation email, obtain HOTCROSS tokens here.
How to sell HOTCROSS tokens?
To sell HOTCROSS tokens for USDT do three simple steps:
Deposit HOTCROSS tokens into your account.
Open the HOTCROSS/USDT order book, and place your trade order to sell. Read the instruction if you don't know how to place a trade order.
Withdraw USDT to your personal wallet (ERC20 or BEP20) or hold them on the account.
How to deposit HOTCROSS tokens?
To deposit HOTCROSS tokens into your Tokpie account, follow this guide. Also, make sure that you are going to deposit BEP20 or ERC20 tokens that relate to these BSC or Ethereum smart contract addresses. If you deposit the wrong tokens or the wrong blockchain type, Tokpie could not identify your transfer.
Note: Tokpie doesn't charge any fees for depositing.
How to withdraw HOTCROSS token?
To withdraw HOTCROSS tokens from your Tokpie account, use this instruction. Besides, you must have a BEP20 or ERC20 compatible wallet address to be able to withdraw tokens. Also, check the withdrawal commission.
Disclaimer
In addition, please be aware that Tokpie charges a fee for the listing. Tokpie does not give any investment, legal, tax, financial advice, or warranty of token price performance or successful fundraising.
Useful links to trade HOTCROSS