Sooner or later, all attributes of the offline world could become virtual assets inside metaverses. Even such an intangible thing as Religion comes to the digital world. Discover the Candle startup that brings spirituality into the Candle's metaverse. Also, thanks to its CNDL token, the team aims to provide users with voting power. Continue reading to learn more about this crypto project. Besides, get instructions to trade CNDL tokens on the Tokpie exchange easily.
UPDATE (new): the project's coin has migrated again. So, trading is not available on that moment.
UPDATE (old): the project's coin has successfully migrated to the new ERC20 address: 0x3D97EdB1c1D87C0cBf098a0D2230d7380d4b1432 with total supply proportion 1 (new coin) : 500 (old coin).
What's the Candle Metaverse?
The Candle Metaverse is a virtual place with tools and functions that mimic real-world spiritual actions. As a result, users receive remote and simple spiritual worship. In addition, people could obtain and trade NFTs representing metaverse's lands and other items. So, the user or organization can create and manage spiritual practices on the decentralized blockchain. Furthermore, the developers plan to launch a free DEX.
What's the CNDL token?
CNDL is an ERC20 token that serves the Candle's project. So, anyone can vote with $CNDL inside the governance tool (image below). Therefore, the community decides what they wish to do and has control over it. Important to note that the team allocated 40% of the circulation supply to the staking rewards programs. Another 40% is on the CandleGovernor smart contract. The rest 20% of coins will go to developers with a 2-year lockup.
Token Name: Candle
Symbol: CNDL
Token total supply: 100,000,000.
Ethereum smart contract address: 0x3D97EdB1c1D87C0cBf098a0D2230d7380d4b1432.

Old ERC20: 0xbc138bD20C98186CC0342C8e380953aF0cb48BA8.
Old BEP20: 0xdaBcdBc8eCEbE3b2f59ee7B5FC1a46FEEF50dB5A.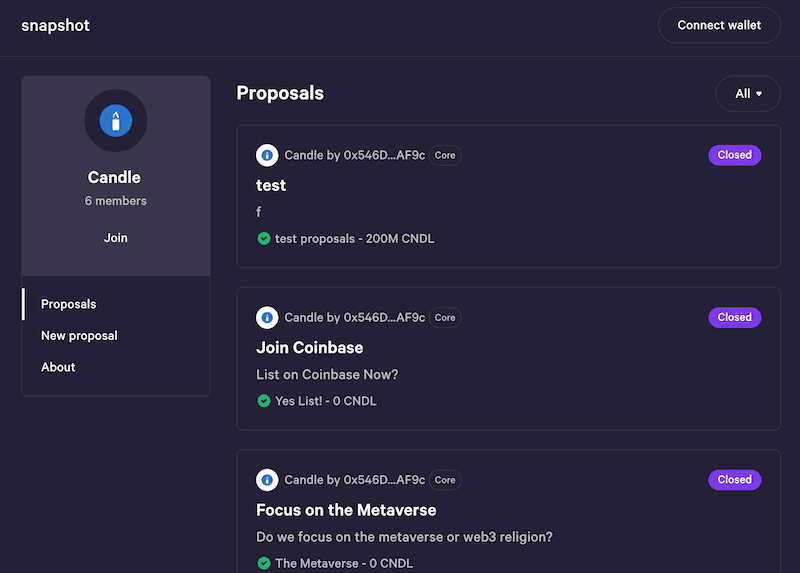 How to buy CNDL tokens?
Purchase CNDL tokens for USDT or BNB in three simple steps:
Fund your account with USDT or BNB. If you don't have crypto, you can purchase it with a bank card in a few minutes.
Open the CNDL/USDT or CNDL/BNB order book, and place your trade order to buy. Use this instruction if you don't know how to place a trade order.
Withdraw CNDL tokens to your personal ERC20 wallet. Alternatively, you can hold them on the account.
How to sell CNDL tokens?
To sell CNDL tokens for USDT or BNB follow three steps:
Deposit CNDL tokens on your account via Ethereum chain.
Open the CNDL/USDT or CNDL/BNB order book, and place your trade order to sell. Read the instruction if you don't know how to place a trade order.
Withdraw USDT or BNB to your personal wallet (ERC20 / BEP20) or hold them on the account.
How to deposit CNDL tokens?
To deposit CNDL tokens into your Tokpie account, follow this guide. Also, make sure that you are going to deposit tokens that relate to this smart contract address. If you deposit the wrong tokens or the wrong blockchain type, Tokpie could not identify your transfer.
Note: Tokpie doesn't charge any fees for depositing.
How to withdraw CNDL tokens?
To withdraw CNDL tokens from your Tokpie account, use this instruction. Besides, you must have Ethereum compatible wallet address to be able to withdraw tokens. Also, check the withdrawal commission.
Disclaimer
Also, please be aware that Tokpie charges a fee for the listing. Tokpie does not give any investment, legal, tax, financial advice, or warranty of token price performance.
Useful links to trade CNDL token
For any questions, contact Tokpie at https://t.me/tokpie.