Most people who deal with crypto prefer to use USDT for storing and transferring U.S. dollars value. Why? Because Tether is the oldest and most popular stable coin. However, its competitors like USDC, DAI, and others don't sleep trying to get revenue in such a profitable market. Today, you will find out the main features of the second-largest stablecoin – the BUSD token. Moreover, some of you will be surprised to learn that Binance is not an issuer of Binance USD (BUSD). Also, you will get a guide on how to trade BUSD tokens on the Tokpie exchange.
Update: Due to Paxos discontinuing the minting of new BUSD, the trading of BUSD will not be available starting from on November 29, 2023.
We advise our users to withdraw their BUSD before December 15, 2023. Starting December 16, 2023, at 03:00 (UTC), Tokpie will disable BUSD withdrawals.
What's the BUSD Utility value?
The utility value of Binance USD includes three advantages.
The first one is the ability to purchase BUSD with fiat U.S. dollars and redeem at no charge. But of course, a person who wants to make such a conversion pays bank wire transfer fees. Fortunately, Binance and Paxos (the primary converters) don't charge any commission.
The second advantage is the ability to transfer USD fast from all over the world. Moreover, thanks to the BUSD running on BEP20, such transfers are low-cost. For example, you can send 1M in seconds and pay just a $0.1 gas fee on the Binance Smart Chain.
Finally, thanks to the support from Binance Exchange, BUSD holders can earn interest with lending. Furthermore, the annual percentage rate (APR) from BUSD lending usually will be higher than APR from USDT, USDC, or DAI.
Who's the issuer of BUSD?
The Paxos Trust Company is the issuer and custodian of BUSD (Binance USD). Are you surprised? So, this company assures that each BUSD corresponds to 1 U.S. dollar in the bank account. Therefore, users can always purchase and redeem their assets anytime with 1:1 pegged U.S. dollars. Moreover, the New York State Department of Financial Services (NYDFS) approved this 1:1 USD-backed stablecoin, issued by Paxos in partnership with Binance.
What's the BUSD token?
BUSD is a stable coin from the largest and most trusted companies in the crypto space – the Paxos and Binance. Besides, the New York State Department of Financial Services regulates it and ensures consumer protection. This coin is 100% backed by U.S. dollars held in FDIC-insured U.S. banks. So, the top auditing firm will attest to the matching supply of BUSD tokens and underlying U.S. dollars every month. Also, the token is running on many chains. But on Tokpie, users can use the two most popular to deposit and withdraw BUSD on Ethereum blockchain (ERC20) and Binance Smart Chain (BEP20). By the way, look at the images below to see that Binance USD is the second largest coin on the Ethereum chain by volume. Simultaneously, it's a TOP4 coin on BSC by volume due to BSCscan.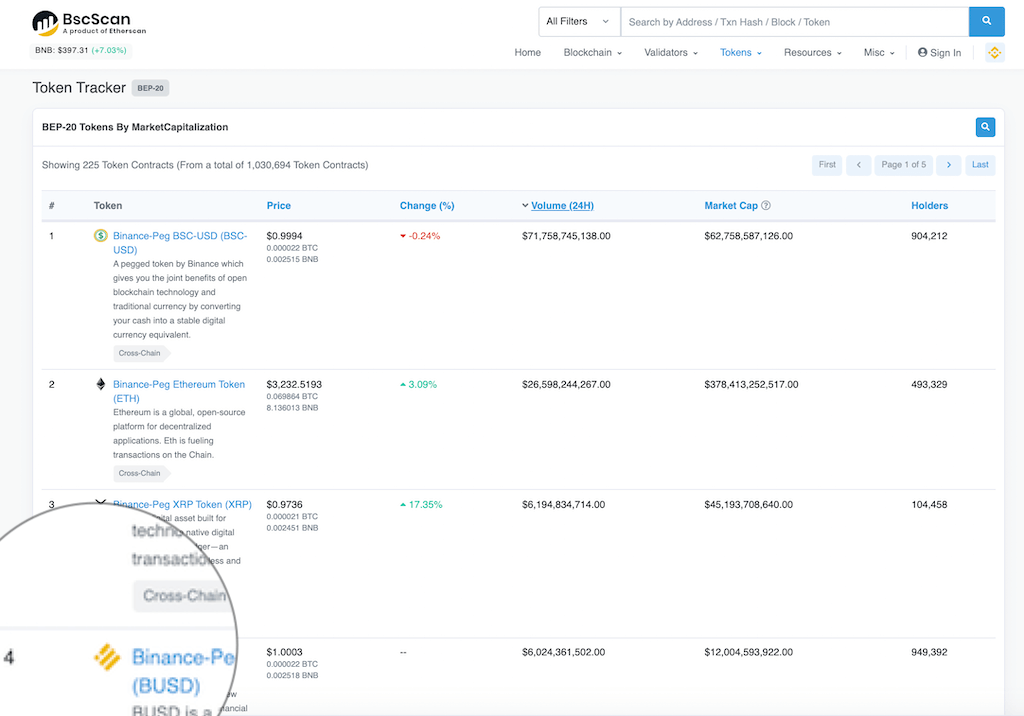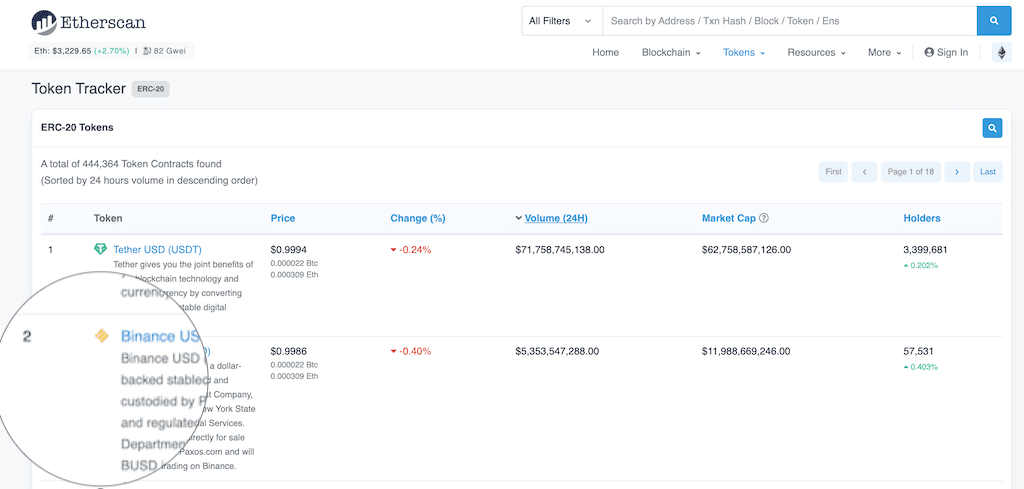 How to buy BUSD token?
To purchase BUSD tokens for USDT and USDC do three simple steps:
Fund your account with USDT or USDC. If you don't have crypto, you can purchase USDT with a bank card for local fiat currency in few minutes.
Open the BUSD/USDT or BUSD/USDC order book and place your trade order to buy. Use this instruction if you don't know how to place a trade order.
Withdraw BUSD tokens to your personal BEP20 or ERC20 wallet or hold them on the account.
How to buy BUSD with Bank Card or Apple Pay?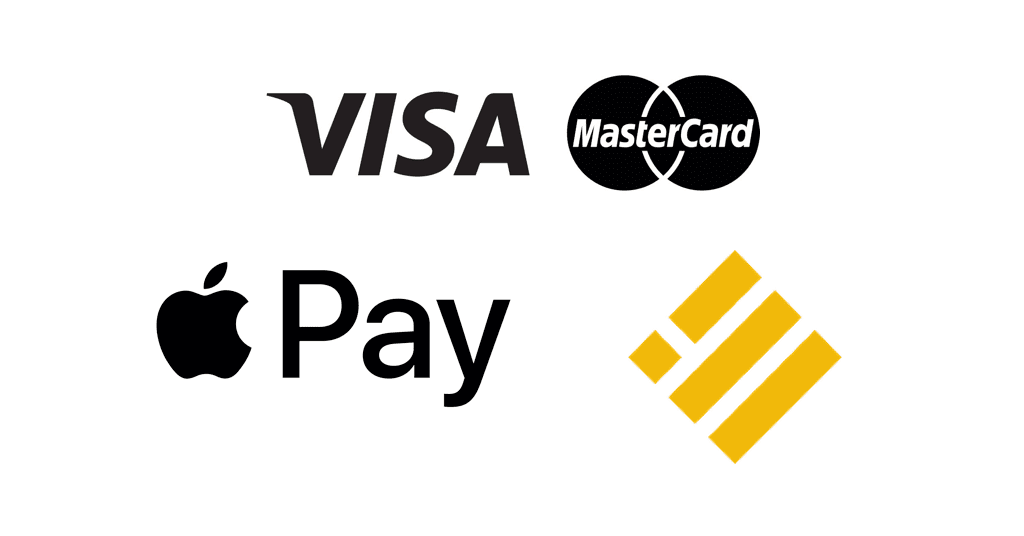 Use your bank card or Apple Pay to obtain Binance USD coins directly in minutes. Open the bank card processing page, enter the amount of BUSD and your wallet address. Then click the Continue button. That's it, very simple.
How to sell BUSD tokens?
To sell BUSD tokens for USDT or USDC do three simple steps:
Deposit BUSD tokens into your account.
Open the BUSD/USDT or BUSD/USDC order book, and place your trade order to sell. Read the instruction if you don't know how to place a trade order.
Withdraw USDT or USDC to your personal wallet (ERC20 or BEP20) or hold them on the account.
How to deposit BUSD tokens?
To deposit BUSD tokens into your Tokpie account, follow this guide. Also, make sure that you are going to deposit BEP20 or ERC20 tokens that relate to these BSC or Ethereum smart contract addresses. If you deposit the wrong tokens or the wrong blockchain type, Tokpie could not identify your transfer.
Note: Tokpie doesn't charge any fees for depositing.
How to withdraw BUSD token?
To withdraw BUSD tokens from your Tokpie account, use this instruction. Besides, you must have a BEP20 or ERC20 compatible wallet address to be able to withdraw tokens. Also, check the withdrawal commission.
Disclaimer
In addition, please be aware that Tokpie charges a fee for the listing. Tokpie does not give any investment, legal, tax, financial advice, or warranty of token price performance.
Useful links to trade BUSD