Did you ever dream to get Ethereum (ETH) immediately for bounty work?
If "yes" then click on the Bounty Analyzer button below to select bounty programs to participate (earn some stakes) and trade them instantly on the Tokpie exchange platform. Alternatively, ? get Ethereum and USDC upfront for bounty work using our new solution for hunters.
How Bounty Stakes Trading Works?
BOUNTY HUNTERS PROBLEMS
High risk of a Token Sale fail and getting zero rewards;
Have to wait about 4-7 months or more to get cash for hard-working;
Inability to receive a reward as soon as the work is done/evaluated.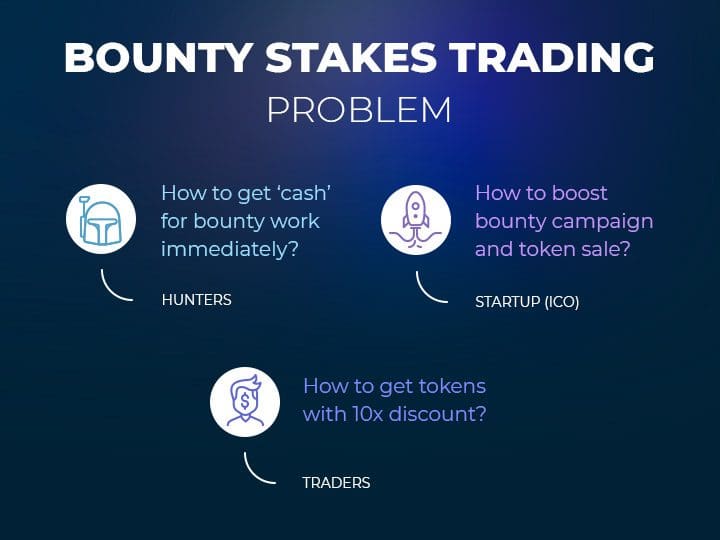 SOLUTION
TOKPIE lists the related bounty stakes titles, after partnering with a Startup (ICO).
All hunters participating in a Startup (ICO) bounty campaign receive the ability to deposit part of the stakes immediately as they earned on their Tokpie accounts balances.
Bounty hunters and investors get the ability to trade deposited stakes for ETH or keep them until execution.
TOKPIE converts bounty stakes to related tokens when bounty campaign is over. The result, every stakeholder gets tokens on his/her Tokpie account balance.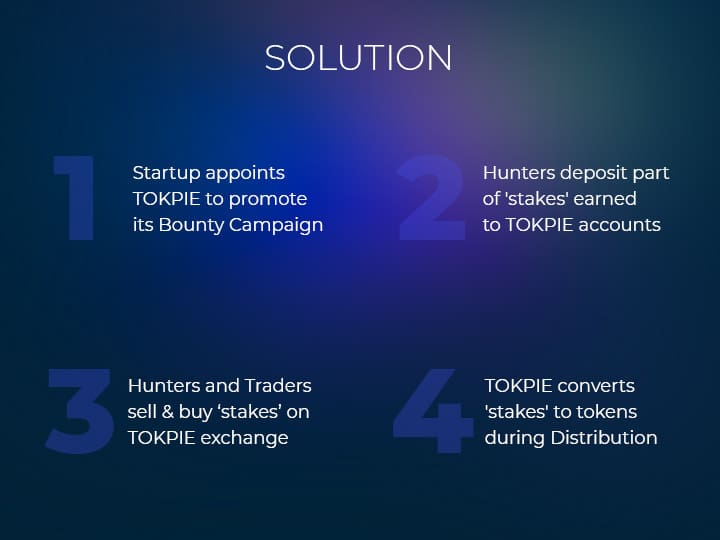 ADVANTAGES
Trade stakes for Ethereum (ETH) during the campaign
No need to wait 4-7 months or longer to be rewarded
Get both: ETH instantly for 50% of stakes earned/sold and related tokens later for another 50% of bounty stakes.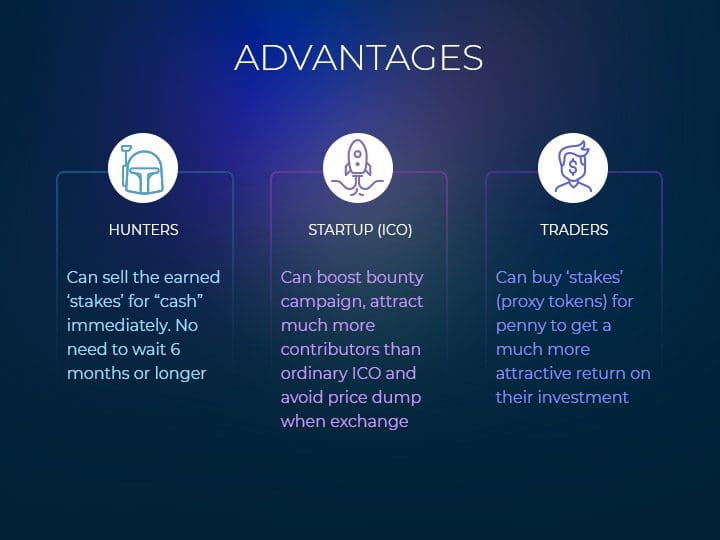 FAQ
Q: May I see some feedbacks for how it works?
A: Sure, this is not our first "Get ETH for stakes Immediately" campaign. Check the list of all previous campaigns and find many feedbacks on Tokpie ANN and subthread on Bitcointalk.
Q: Can I try Bounty Stakes Trading right now?
A: Yes, click on links on the above tables to earn some bounty stakes and trade them in seconds.
Q: What is TOKPIE?
A: TOKPIE is the new crypto exchange platform that penetrates the market by providing a unique Bounty Stake Trading service to hunters and early investors.
Q: I have questions. Where can I ask them?
A: You can post your questions here or ask them on the TOKPIE telegram group.
Useful Links
Stay always in touch with TOKPIE to Earn, Trade and Invest as never before.