Are you wondering where to trade TOKPIE's native token, TKP? If so, this article provides you with a comprehensive list of exchanges and markets where you can trade these tokens. Additionally, we'll discuss how you can vote for TOKPIE, boosting its rank and awareness on popular cryptocurrency trackers such as CoinMarketCap and CoinGecko.
List of exchanges and markets to trade TKP
At TOKPIE, we continually ensure our TKP token is available on as many exchanges and markets as possible. So, such approach provides our users various options to trade TKP tokens according to their preferences. However, it's essential to understand that listings on high-ranking exchanges can be quite costly, potentially impacting platform development. So, to balance exchange availability and steady platform growth, we strategically list our tokens without a rash or hurry. Our goal is to maintain a gradual but sustainable growth trajectory for TKP, ensuring maximum benefit for our users and platform.
Vote for TOKPIE
Obviously, brand awareness plays a crucial role in the success of any token. Thus, the higher the brand awareness, the more likely the token will attract potential investors and traders. That's why we need your help. For example, by voting for TOKPIE on popular altcoin trackers, you're boosting the token's visibility and credibility in the crowded cryptocurrency market.
CoinMarketCap
CoinMarketCap is one of the most widely used cryptocurrency platforms globally. Therefore, it's an essential crypto agregator for boosting the rank of the TKP token. So, to help TOKPIE gain more visibility on CoinMarketCap, visit the TKP page on the platform and click on the [★ Watch] button. As a resut of this action, the token gets higher ranking, promoting greater awareness and visibility for TOKPIE in the cryptocurrency community.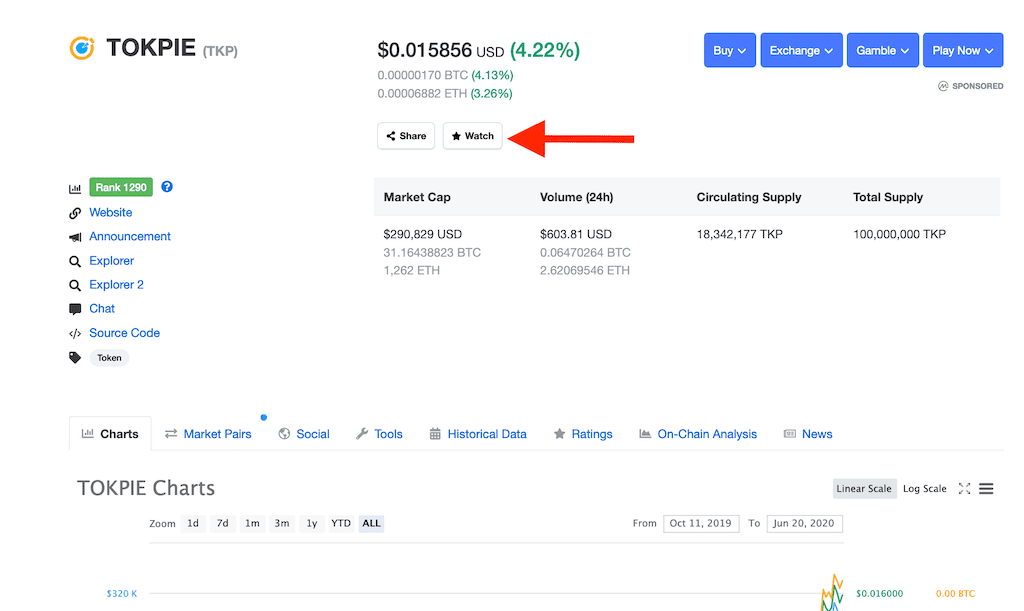 CoinGecko
Another influential cryptocurrency tracker is CoinGecko. It's a platform where your vote can make a significant difference. So, to vote for TOKPIE on CoinGecko, navigate to the TKP page, give us a thumbs up, and click on the star ⭐. As a result, your vote assists in enhancing the rank of the coin. Moreover, it is drawing more attention to TOKPIE, and encouraging more users to consider trading TKP tokens.
By voting for TOKPIE on these trackers, you're supporting our platform and contributing to the growth and recognition of TOKPIE in the wider cryptocurrency community. Your support is greatly appreciated!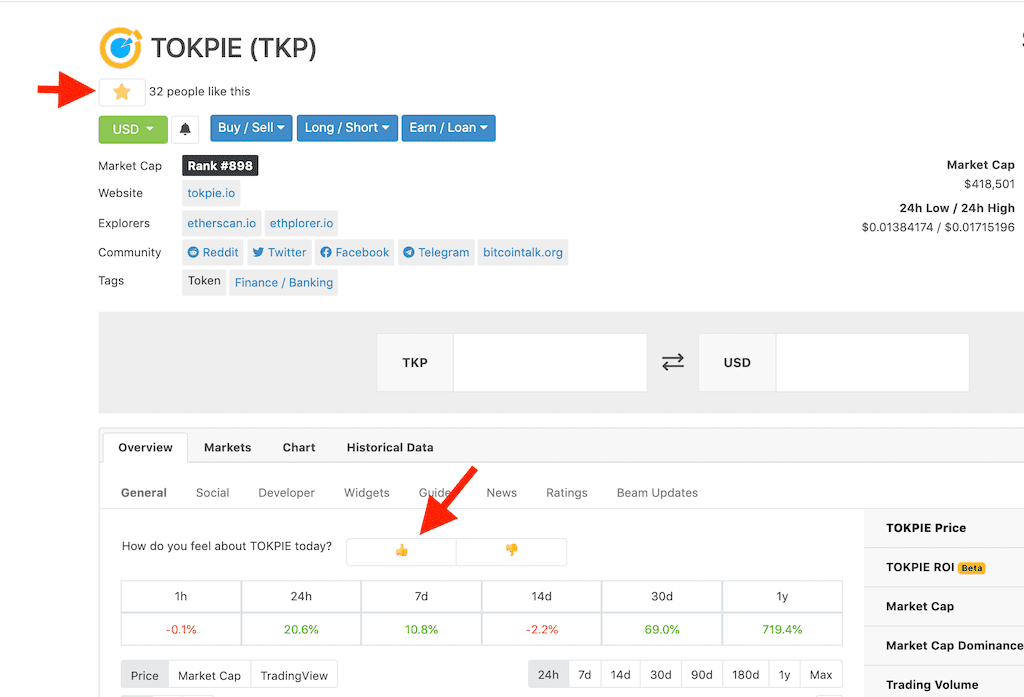 Useful Links
Stay always in touch with TOKPIE to Earn, Trade, and Invest as never before.