Great news! Tokpie partnered with Simplex, the most reliable payment processor that has the EU license. So now, you can buy Bitcoin or any other popular crypto with a credit card on the Tokpie exchange.
Buy Bitcoin (BTC), Ethereum (ETH), DAI Stablecoin (DAI), Litecoin (LTC), and other fifteen coins in your local fiat currency with either a VISA or MasterCard (credit or debit card).
Also, We are happy to announce extended coverage of Simplex's services within the U.S. to enable more users to purchase crypto assets easily and risk-free.
As of today, in addition to all of the other regions it serves, Simplex supports the purchase of cryptocurrency from users in Nevada (NV), Washington (WA), New Mexico (NM), Vermont (VT), Alaska (AK), and Louisiana (LA). The supported cryptocurrencies in these territories will be Bitcoin (BTC), Bitcoin Cash (BCH), Etherium (ETH), Litecoin (LTC), Ripple (XRP), and Tether (USDT).
Find below a step-by-step guide to buying crypto with a bank card on Tokpie.
Select cryptocurrency
1. Select a cryptocurrency that you want to buy here.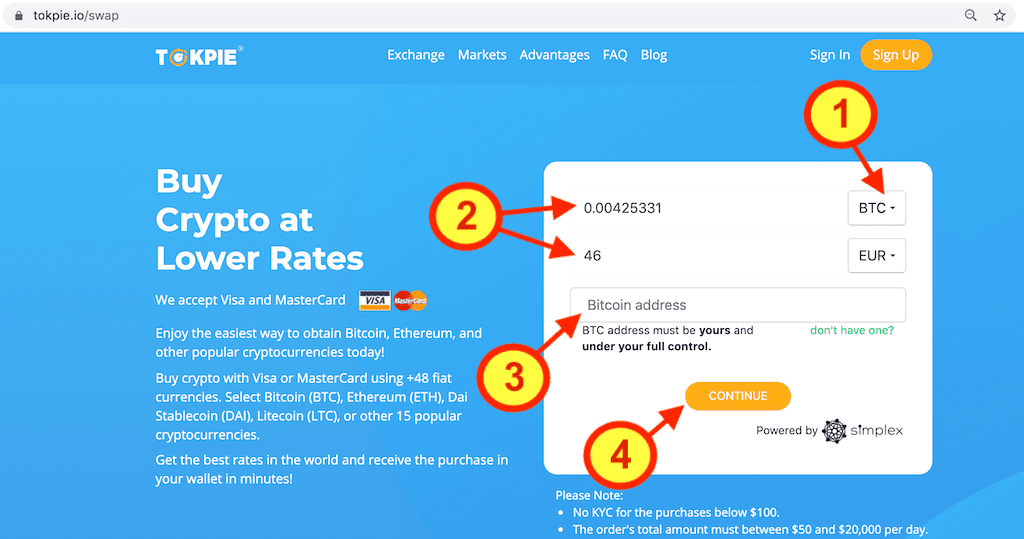 Enter amount
2. For example, enter the amount of BTC to purchase or the amount of EUR you are willing to spend. A result, the system automatically calculates the best rate for you.
Note: The amount shall be between $50 and $20,000 US dollars equivalent.
Enter wallet address
3. Enter your wallet address. If you don't have a one, then create it here.
Confirm purchase
4. After selecting crypto and entering amounts, press the 'continue' button to confirm the purchase.
Note that the residents of some countries cannot buy crypto with bank cards.
Fill in the billing information
 5. Then, enter billing information and verify it through mobile phone and email.
Methods of payment
You can pay with a bank card. It can Visa or MasterCard, debit or credit card. Also, you can buy cryptocurrency with Apple Pay.
Upload document
6. Upload any one of your identity documents and fill the details.
Check the status
7. Congratulations! You have completed the payment. Track the status here.
Popular crypto
This is the list of all popular crypto that you can buy with a credit or debit card (Visa or MasterCard).
Restricted countries
The service is not available to the citizens of these countries:
Afghanistan AF
Albania AL
Bahamas BS
Barbados BB
Botswana BW
Cambodia K
Cube CU
Democratic People's Republic of Korea KP
Ghana GH
Iceland IS
Iran IR
Iraq IQ
Mongolia MN
Mauritius MU
Myanmar (Burma) MM
Jamaica JM
Kyrgyzstan KG
Nicaragua NI
Pakistan PK
Panama PA
Sudan SD
Syria S
Uganda UG
Yemen YE
Zimbabwe ZW
US States:
Alabama (AL)
Florida (FL)
Georgia (GA)
Hawaii (HI)
New York (NY)
Oregon (OR)
For any question or cooperation, you can contact Tokpie at https://t.me/tokpie