The market of non-fungible tokens is booming. Famous musicians, artists, and other non-crypto professionals are starting to use all advantages of the ERC721 standard. So, there is no surprise that companies from the hentai anime industry also want to wrap their intangible assets into NFTs. From this article, you will learn what Dirty Finance and its DIRTY token are. Also, you'll get a guide on how to trade DIRTY tokens on Tokpie.
What's the Dirty Finance?
The Dirty Finance is a crypto project that focuses on the none fungible tokens of a hentai genre. Currently, the project's anime authors produce such NFTs. Simultaneously, Dirty Finance is a cryptocurrency. Users can farm $DIRTY and get $DirtyCash tokens to purchase Dirty Finance's arts (none fungible tokens). Important to note that the team uses a rank star system. Big token-holder can obtain the rarest NFTs. For example, the most infrequent non-fungible hentai tokens have the rank of 5 stars and accessible only to big token holders. Simultaneously, NFTs' characters that with full dress have the lowest grade of 1 start.
What's the DIRTY token?
The DIRTY is an ERC20 token. The primary value of the DIRTY is to open access to the rarest hentai NFTs. Also, the team is going to issue the Dirty Cash token. To redeem hentai NFTs, people are paying Dirty Cash tokens. But to earn these tokens, people must stake LP tokens of the original DIRTY/ETH pair derived from Uniswap.
Additional value of DIRTY comes from its tokenomics. First, the team burned half of the token issue. Moreover, every transaction leads to 5% commissions (due to audited contract). Therefore, the smart contract allocates 5% commission as follows: 2% burning, 2% sends to all holders, and 1% of all transactions goes to the project's growth fund (chart below).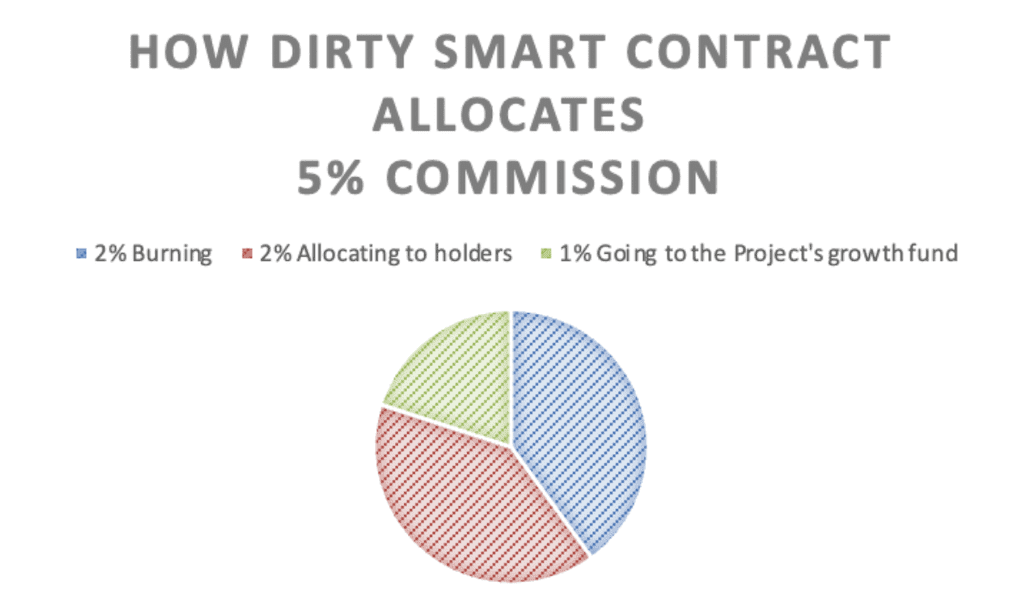 How to buy DIRTY tokens?
To purchase DIRTY tokens for ETH do three simple steps:
Fund your account with ETH. If you don't have crypto, you can purchase ETH with a bank card in a few minutes.
Open the DIRTY/ETH order book and place your trade order to buy. Use this instruction if you don't know how to place a trade order.
Withdraw DIRTY tokens to your personal Ethereum wallet or hold them on the account.
How to sell DIRTY tokens?
To sell DIRTY tokens for ETH follow three steps:
Deposit DIRTY tokens on your account.
Open the DIRTY/ETH order book, and place your trade order to sell. Read the instruction if you don't know how to place a trade order.
Withdraw ETH to your personal Ethereum wallet or hold them on the account.
How to deposit DIRTY token?
To deposit DIRTY tokens on your Tokpie account, follow this guide. Also, make sure that you are going to deposit ERC20 tokens that relate to this smart contract address. If you deposit the wrong tokens or the wrong blockchain type, Tokpie could not identify your transfer.
Note: Tokpie doesn't charge any fees for depositing.
How to withdraw DIRTY token?
To withdraw DIRTY tokens from your Tokpie account, use this instruction. Besides, you must have an eth compatible wallet address to be able to withdraw tokens. Also, check the withdrawal commission.
Disclaimer
In addition, please be aware that Tokpie charges a fee for the listing. Tokpie does not give any investment, legal, tax, financial advice, or warranty of token price performance or successful fundraising.
Useful links
For any questions or cooperation, you can contact Tokpie at https://t.me/tokpie.