Just think about the following figures. The OpenSea reached $10 billion in total volume in November 2021. It happened three months after getting the $1 billion vol. Notable, isn't it? But now, imagine a better place where people could create, sell, re-sell and convert nonfungible tokens to physical objects. We're talking about the already working NFTmall platform. Continue reading to learn more about the NFTmall GEM Token startup. Also, get insight on how to trade GEM tokens on the Tokpie exchange.
What's the NFTmall?
The NFTmall is a platform where NFTs Meet DeFi and eCommerce. It's the first creator-centric, DeFi-powered, multichain-operational NFT Marketplace where users can physically redeem virtual items. Moreover, it works on Binance Smart Chain, Polygon, and Avalanche. So, users can save a lot of gas fees.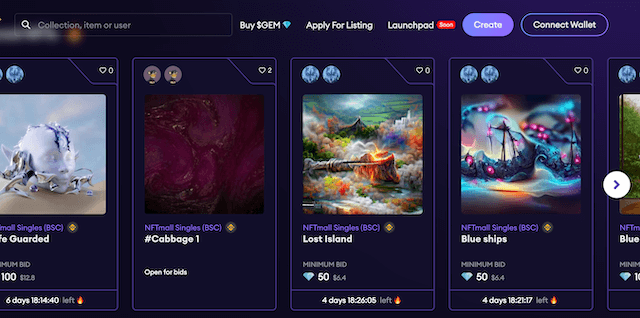 How to physically redeem NFT?
Also, NFT's lovers will be excited to redeem their items for physical objects. Thanks to the unique NFTmall's function, anyone can bridge digital arts and authentic products. In that way, the NFT and eCommerce meet each other. Looking at the image below, you'll understand how the mobile app converts intangible items into tangible in three steps.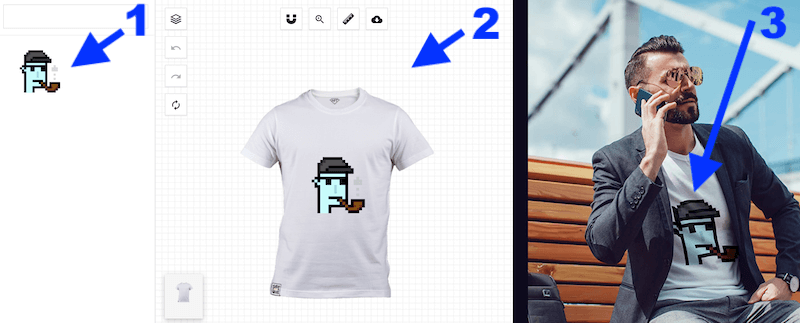 Who are the users?
Although NFTmall is a decentralized NFT Marketplace for everyone, it has four primary categories of users.
Creators: unknown and mainstream artists can mint single and multiple NFTs. Also, they receive the total price and ongoing royalties while paying zero fees. Note that on Opensea, creators' costs can be $50-200 depending on Ethereum chain overload.
Collectors: digital arts buyers can obtain artworks with confidence because the platform protects copyrights and the quality of all listed nonfungible tokens.
Affiliates: Anyone can promote favorite creators' NFTs to get an affiliate commission. Creators, in turn, define such a commission.
Curators: Anyone can report a bug to get a transparent reward.
What's the GEM token?
GEM is a BEP20 (BSC) token with straightforward utility values.
Creators can bid on weekly auctions for NFT's advertisement slots on the website's main page. Also, creators can stake coins to rank their art higher on the smart sorting engine. Besides, holders can stake $GEM to get exclusive NFT airdrops.
The team intends to spend 10% of platform fees to buy back GEMs and burn them.
Simultaneously, the developers want to attract and retain new users by rewarding them for buying and selling on the marketplace. So, the team will use a special reserve with 30% of the total $GEM supply for rewarding purposes. Such a strategy was also used by Rarible a few years ago and helped build a big community. Also, the Certic has already audited NFTmall's protocols. Besides, the team has passed KYC on the Assure.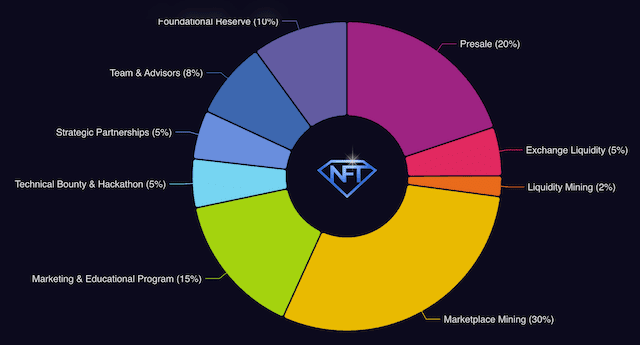 How to buy GEM tokens?
To purchase GEM tokens for ETH or WBTC do three simple steps:
Fund your account with ETH or WBTC. If you don't have crypto, you can purchase ETH with a bank card in a few minutes.
Open the GEM/ETH or GEM/WBTC order book and place your trade order to buy. Use this instruction if you don't know how to place a trade order.
Withdraw GEM tokens to your personal BEP20 wallet or hold them on the account.
How to sell GEM tokens?
To sell GEM tokens for ETH or WBTC follow three steps:
Deposit GEM tokens into your account.
Open the GEM/ETH or GEM/WBTC order book, and place your trade order to sell. Read the instruction if you don't know how to place a trade order.
Withdraw ETH or WBTC to your personal ERC20 wallet or hold them on the account.
How to deposit GEM token?
To deposit a GEM token into your Tokpie account, follow this guide. Also, make sure that you are going to deposit $GEM tokens that relate to this smart contract address. If you deposit the wrong tokens or the wrong blockchain type, Tokpie could not identify your transfer.
Note: Tokpie doesn't charge any fees for depositing.
How to withdraw GEM token?
To withdraw the GEM token from your Tokpie account, use this instruction. Besides, you must have an eth compatible wallet address to be able to withdraw tokens. Also, check the withdrawal commission.
Disclaimer
In addition, please be aware that Tokpie charges a fee for the listing. Tokpie does not give any investment, legal, tax, financial advice, or warranty of token price performance.
Useful links to trade GEM tokens
For any questions or cooperation, you can contact Tokpie at https://t.me/tokpie.