The CRAD CASH (CRAD) is an Ethereum based utility token. Token holders can use token in two ways:
apply on the CryptoAds platform;
stake them to earn passive income
Update: Website is not working!
What is CRAD token supply?
The total token supply is strictly limited to 100,000,000 CRADs only! In other words, nobody could issue any additional token.
Therefore, token-holders should not afraid the value inflation.
How to stake CRAD tokens
In addition, CRADs holders can earn passive income. The process of staking is very simple.
Open the bot ?
Follow the bot's instructions.
For instance, you can hold tokens for 12 months and earn +25% bonus in CRAD tokens!
What is CryptoAds platform?
Also, the CryptoAds platform provides developers/publishers with advertisement exchange features. It supports five innovative principles:
There is only one middleman between parties. All parties benefit from fees;
App owners (publishers) get rewards for all transactions in accordance with the number of tokens in the hold;
Token holders have voting power to participate in platform development;
Thanks to the blockchain technology, all transactions, and marketing campaigns are visible to the public;
Every mobile device has a personal crypto wallet address. It allows to calculate a reputation score based on transaction history.
What is CFC Bot
In addition, the CryptoAds provides all users with its special bot: @cctip_cfc_bot. It allows earning cryptocurrencies in the most convenient way. Above all, users can use this bot regularly to earn more money.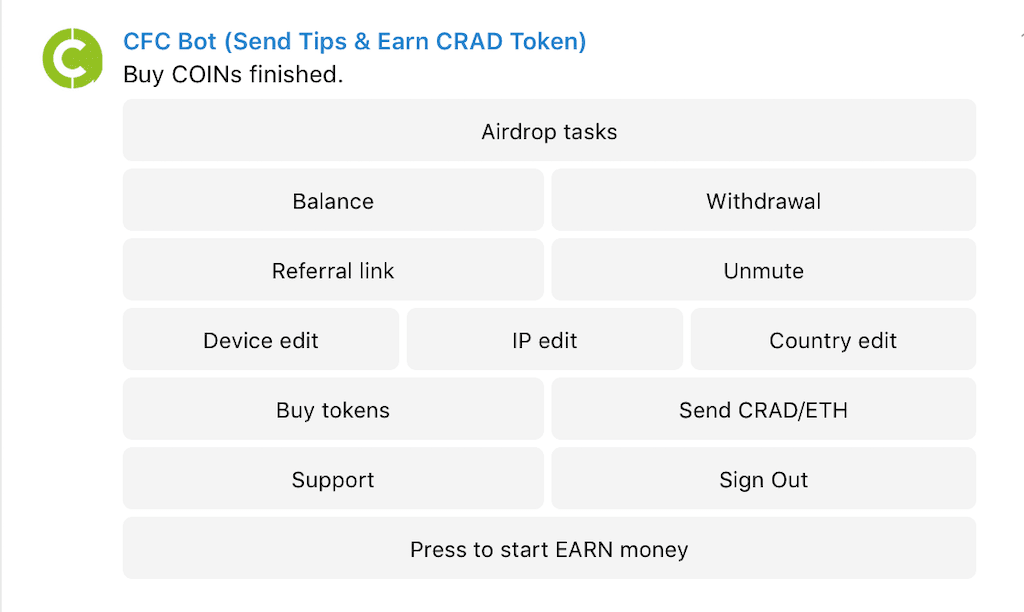 Useful Links
Stay in touch with TOKPIE to earn, trade, and invest as never before.