Not a secret that the 2021 year is the time of the massive explosion of DeFi space. Yield farming, staking, and liquidity mining are exponentially growing in popularity. Many people close their bank deposits with zero-around interest rates and buy cryptocurrencies to lock them in liquidity pools and gain transparent returns. However, unpredictable crypto price dropdowns create risks for such holders. Fortunately, there are deflationary coins on the market. One of them is the MOONB token from the MOONBITCH project. In the following paragraphs, you will learn more about that startup. Also, you will learn how to trade MOONB tokens on the Tokpie exchange.
What's the Moonbitch project?
The Moonbitch is a crypto project that allows users to benefit from programmed autonomous yield and liquidity generation protocol. Therefore, anyone can get a reward by holding $MOONB. Also, the startup plans to launch a wallet that will allow community members to vote. Moreover, the developers want to release a decentralized exchange. With the help of auto-liquidity and auto-rewarding protocol, the project has good chances to attract users for its wallet and DEX.
What's the MOONB token?
The MOONB is the BEP20 (BSC) token with automated liquidity generation and rewarding. What does it mean? Whenever someone transfers $MOONB tokens, the Binance Smart Chain contract takes 7% tax. Then the contract allocates this money as follows. 3% goes to all token-holders. Also, 2% replenishes the coin's liquidity pool on the PancakeSwap. Another 2% goes to the charity wallet. So, the all above auto-reallocations place HODLers in a winning position in the long run. Moreover, the devs have already burned 55% of the total token supply. Please check the image below to learn about initial coin allocation.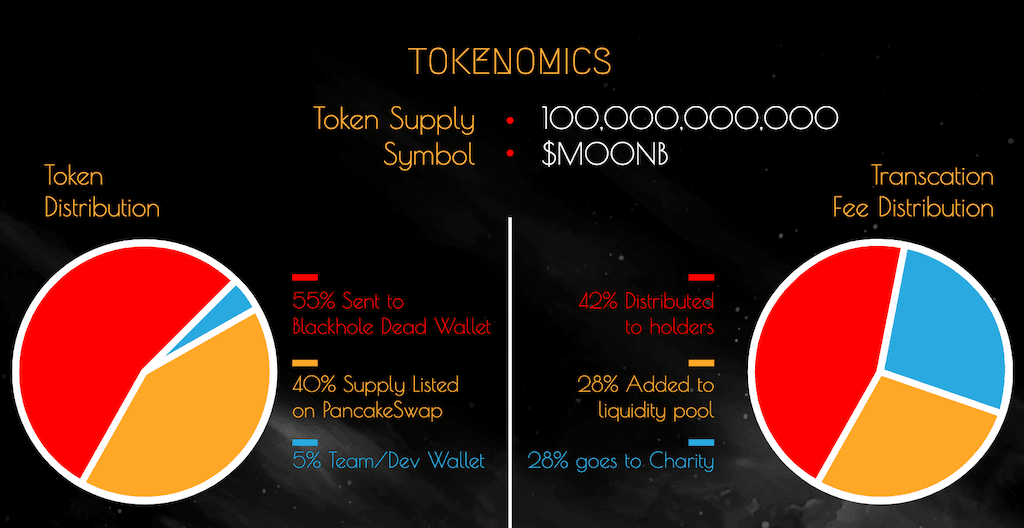 How to buy MOONB token?
To purchase MOONB tokens for USDT do three simple steps:
Fund your account with USDT. If you don't have crypto, you can purchase USDT with a bank card in few minutes.
Open the MOONB/USDT order book and place your trade order to buy. Use this instruction if you don't know how to place a trade order.
Withdraw MOONB tokens to your personal BEP20 wallet or hold them on the account.
How to buy MOONB with Bank Card or Apple Pay?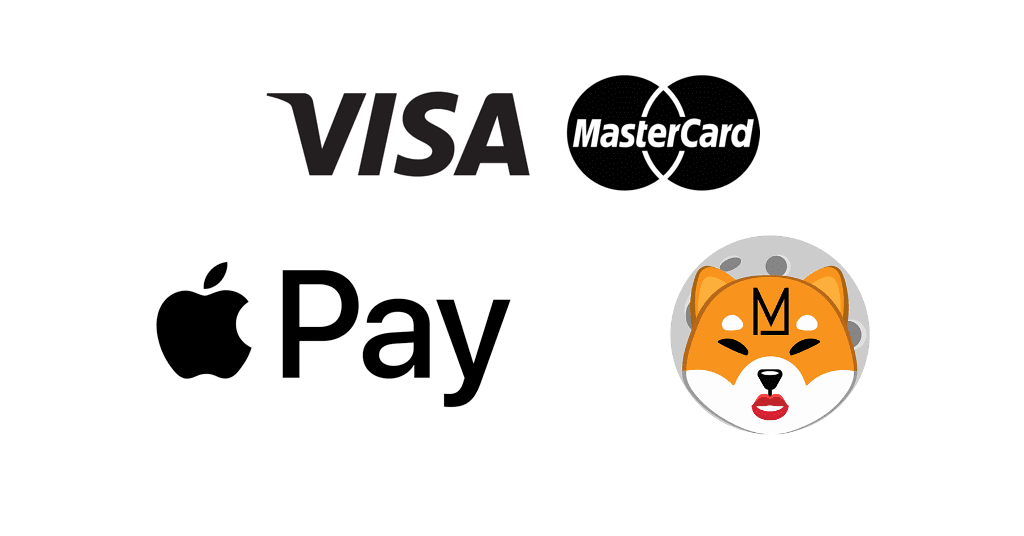 Use your bank card or Apple Pay to obtain MOONB tokens for your local fiat currency.
Enter the generated USDT address on the bank card processing page. Also, enter the amount of USDT and click on the "Continue" button.
After getting a confirmation email, obtain MOONB tokens here.
How to sell MOONB Puppy tokens?
To sell MOONB tokens for USDT do three simple steps:
Deposit MOONB tokens into your account.
Open the MOONB/USDT order book, and place your trade order to sell. Read the instruction if you don't know how to place a trade order.
Withdraw USDT to your personal wallet (ERC20 / BEP20) or hold them on the account.
How to deposit MOONB token?
To deposit MOONB tokens into your Tokpie account, follow this guide. Also, make sure that you are going to deposit BEP20 tokens that relate to this smart contract address. If you deposit the wrong tokens or the wrong blockchain type, Tokpie could not identify your transfer.
Note: Tokpie doesn't charge any fees for depositing.
How to withdraw MOONB token?
To withdraw MOONB tokens from your Tokpie account, use this instruction. Besides, you must have BEP20 compatible wallet address to be able to withdraw tokens. Also, check the withdrawal commission.
Disclaimer
Also, please be aware that Tokpie charges a fee for the listing. Tokpie does not give any investment, legal, tax, financial advice, or warranty of token price performance.
Useful links to trade MOONB tokens
For any questions about trading bounty stakes, contact Tokpie at https://t.me/tokpie.