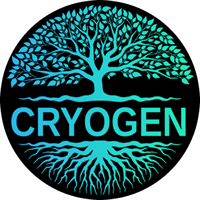 0x6A73A99fAC60c265863307c5A40abf32F0a040aC
It's a Web3.0 blockchain startup that rewards token-holders with Cake coins.
Upvote
You can upvote by clicking on the buttons below. Moreover, you can get profit from price changes when voting by buying. Also, you can earn passive income by voting through staking.
CRYOGEN's Advantage 
CRYOGEN's advantage is in $Cake bonuses that go to the $CRYOGEN holders. It means that each transaction generates rewards in PancakeSwap's coins. Such valuable dividends automatically go to the users' addresses based on their volumes. For example, the Cryogens smart contract has already rewarded +$65,000 in $Cake since October 03, 2021. 
What's the CRYOGEN token?
CRYOGEN is a BEP20 (BSC) token with 10% buying tax and 11.2% selling taxation. Also, if a holder has over 200 billion $CRYOGEN, he gets a 6% hourly reward (depends on volume) in CAKE tokens. Besides, the contract allocates 1% of each transaction to the locked liquidity. Moreover, the protocol sends 3% (in Cakes) to the marketing and development wallet. Therefore, the team doesn't have to sell their coins and increase tokens supply on the market.
Disclaimer
Also, be aware that the text on this page is not investment advice. Besides, Tokpie does not give any legal, tax, financial suggestions, or warranty of the coin's price performance.
More links to trade CRYOGEN tokens
For any question contact Tokpie at https://t.me/tokpie.