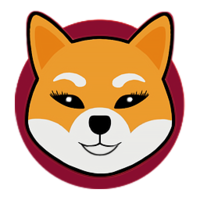 0xF1dD8B1CBaD6c8D33F1D17c25af6733149023F0b
It's a decentralized meme token that complements Shiba's Vibrant Ecosystem.
Upvote
You can upvote by clicking on the buttons below. Moreover, you can get profit from price changes when voting by buying. Also, you can earn passive income by voting through staking.
SHIBA INU GIRL's advantage 
The SHIBA INU GIRL advantage is the absence of taxation. The developers believe that a genuine meme coin must be free of taxes. However, the community can vote for $ShibaGirl's burning instead of a tax.
What's the ShibaGirl token?
ShibaGirl is a tax-free ERC20 meme coin. The project has not had products and applications at the time of launch. Therefore, it's entirely a community-based altcoin.
Disclaimer
Also, note that the text on this page is not an investment recommendation. Besides, Tokpie does not give any legal, tax, financial suggestions, or warranty of the coin's price performance.
More links to trade ShibaGirl tokens
For any questions, contact Tokpie at https://t.me/tokpie.