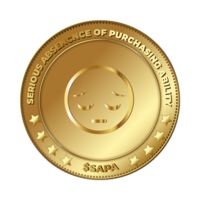 Serious Absence of Purchasing Ability
$SAPA
0xFc35e83Bad6E0323eC08442e645B55A7E92d01da
It's a semi-Indexed meme coin backed with BTC, ETH, UNI, and USDC.
Upvote
You can upvote by clicking on the buttons below. Moreover, you can get profit from price changes when voting by buying. Also, you can earn passive income by voting through staking.
Serious Absence of Purchasing Ability's Advantage 
The Serious Absence of Purchasing Ability's advantage is in meager supply. Moreover, the team has added BTC, ETH, UNI, and USDC into the SAPA pool on the Balancer and Uniswap. 
What's the SAPA token?
SAPA is an ERC20 meme token that utilizes the arbitrage opportunity between Uniswap's and Balancer's protocols. Besides, the developers put 90% of the coin supply into the liquidity pool. The rest, 10%, goes to marketing and development. Also, there is no buy/sell taxation.
Disclaimer
Also, be aware that the text on this page is not investment advice. Moreover, Tokpie does not give any legal, tax, financial suggestions, or warranty of the token's price performance.
Other links to trade SAPA tokens
For any questions or cooperation, contact Tokpie at https://t.me/tokpie.