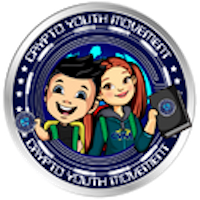 Crypto Youth Movement
CYME
0xED68e10d44279ab5F06Fd1a25C53D62Fec185AD8
The team wants to provide the Youth with a transparent educational opportunity to prepare them for the future cryptocurrency age.
Upvote
You can upvote by clicking on the buttons below. Moreover, you can get profit from price changes when voting by buying. Also, you can earn passive income by voting through staking.
Crypto Youth Movement's Advantages 
A primary advantage of the Crypto Youth Movement is the rewarding holders with stable coins (BUSD). In addition, the management plan to release the Academy. In that way, the project focuses on the next generation. Such Academy will allow users to get optimal education. Also, it helps young people to become prepared for the digital age. 
What's the CYME token?
CYME is a BEP20 (BSC) token with 15% taxation. Its protocol takes fifteen percent of each transaction. Then, 8% covers BUSD rewards. Then, 3% goes to marketing. After that, another 2% goes to liquidity. And the rest 2% covers buybacks and burning events. Apart from the above, the developers have already burnt 25% of the total emission. Also, they locked ¼ of the total supply inside the liquidity pool for one year. 
Disclaimer
Also, be aware that the text on this page is not investment advice. Moreover, Tokpie does not give any legal, tax, financial suggestions, or warranty of the token's price performance.
Useful links to trade CYME tokens
For any questions or cooperation, contact Tokpie at https://t.me/tokpie.