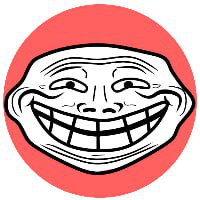 0xEf425A181893Fa71DE650c5E8995E34eE56637e8
It's hyper-deflationary and auto-staking altcoin.
Upvote
You can upvote by clicking on the buttons below. Moreover, you can get profit from price changes when voting by buying. Also, you can earn passive income by voting through staking.
TROLL BNB's advantage 
The Pepe Killer has arrived, shaking up the crypto world like never before. The TROLL BNB is an auto-staking token that's hyper-deflationary and inspired by the iconic troll face meme. With a proven track record of delivering massive gains to HOLDRs, the dedicated team behind TROLL BNB is bringing it to life. By holding this token, users can earn passive income through HOLDER rewards while fueling creative content, NFTs, community engagement, and future platform innovations. So, the future of crypto meme domination is here, and it's called Troll Face Meme Coin.
What's the TROLLBNB token?
TROLLBNB is a BEP20 meme-coin. Move over Pepe the Frog because the troll face meme is the new king in town. This meme has been dominating the internet for years, representing humor, mischief, and the spirit of online communities. With its own digital currency and ecosystem, it's taking the crypto world by storm. The Troll Face Meme Coin project is fueling the meme magic to revolutionize the crypto space with a unique token and thriving community at its heart. The aim is to become the most significant and entertaining meme coin in the cryptocurrency world by creating an engaging platform for users to trade, connect, and celebrate the playful essence of internet culture. So prepare for an exciting journey as the Troll Face Meme Coin conquers the crypto meme universe.
Disclaimer
In addition, please note that the information on this page does not constitute investment advice. Besides, Tokpie does not provide legal, tax, or financial advice or guarantee the coin's price performance.
More links to trade TROLLBNB tokens
For any questions, contact Tokpie at: https://t.me/tokpie.