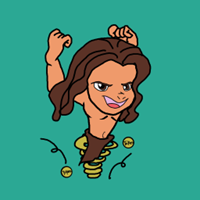 0x44e4446E4D218ac5a89A8c86Cb65Ee23F7De718b
It's a crypto project that combines NFTs, metaverse, Defi, and fun activities.
Upvote
You can upvote by clicking on the buttons below. Moreover, you can get profit from price changes when voting by buying. Also, you can earn passive income by voting through staking.
Tarzan's Advantage 
Tarzan's advantage is a play-to-earn platform allowing users to receive rewards in tokens or NFTs. So, P2E gamers could earn money for doing what they love. 
What's the Tarzan token?
Tarzan is a community-based BEP20 (BSC) token for everyday transactions in Tarzan's metaverse and the physical world. For example, users can utilize $Tarzan for shopping and getting fun. Also, this altcoin has a 9% tazation. Therefore, the protocol deducts eight percent from each transaction. Then, 4% goes to marketing. Another 3% goes to the liquidity pool. And the rest 2% goes to all existing token holders. 
Disclaimer
Also, note that the text on this page is not an investment recommendation. Besides, Tokpie does not give any legal, tax, financial suggestions, or warranty of the coin's price performance.
More links to trade Tarzan tokens
For any questions, contact Tokpie at https://t.me/tokpie.