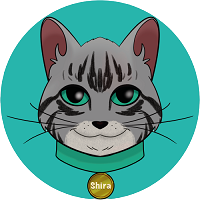 0x18D9D0d6e42BB52a13236F4fA33d9D2485D9015a
Aiming to create an online game where players win coins and use them to upgrade their characters.
Upvote
You can upvote by clicking on the buttons below. Moreover, you can get profit from price changes when voting by buying. Also, you can earn passive income by voting through staking.
Shira Cat's Advantages 
Apart from having a good score on Tokensniffer, the Shira Cat's main advantage is new play-to-earn gameplay. The team wants to release a beta version of its online game in July-September 2022. After that, people could play it to earn $CATSHIRA. Also, players could sell their coins or use them to upgrade in-game characters. Moreover, anyone will be able to trade his virtual character as a non-fungible token (NFT).
What's the CATSHIRA token?
CATSHIRA is a BEP20 (BSC) token serving as a currency inside the Shira Cat's game. Important to note that the management allocated 5% of the total token's emission to the developers. Another 5% belongs to the game's owners. 5% went to marketing. And the rest, 10%, goes to the long-term investors. 
Disclaimer
Also, be aware that the text on this page is not investment advice. Moreover, Tokpie does not give any legal, tax, financial suggestions, or warranty of the token's price performance.
Additional links to trade CATSHIRA tokens
For any questions or cooperation, you can contact Tokpie at https://t.me/tokpie.