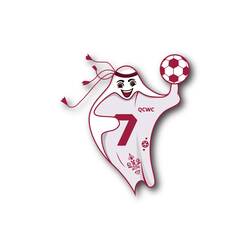 QATAR CHAMPS WORLD CUP ⚽
QCWC
0x1bd7a9d9675385ad78628ec6bb87e11f578264e8
QATAR CHAMPS WORLD CUP is a meme token created with the Blockchain Binance smart chain (bsc) following the adaptation of DOGE and SHIBA to the crypto market and celebrating the 2022 World Cup in QATAR. We distributed the tokens very meticulously so that investors are secure, distribution security and , unique NFTs, Humanitarian project, and many others so that the project grows and does not stop after the World Cup. Don't miss this opportunity with QCWC! Join us now.
Upvote
You can upvote by clicking on the buttons below. Moreover, you can get profit from price changes when voting by buying. Also, you can earn passive income by voting through staking.
QATAR CHAMPS WORLD CUP's advantage 
QATAR CHAMPS WORLD CUP's advantage includes the adaptation of DOGE and SHIBA
What's the QCWC token?
QCWC is a meme BEP20 token running on the Binance Smart Chain.
Disclaimer
Also, kindly note that the text on this page is not investment advice. Besides, the Tokpie does not give any legal, tax, or financial suggestions or warranty of the coin's price performance.
More links to trade QCWC tokens
For any questions, contact Tokpie at https://t.me/tokpie.