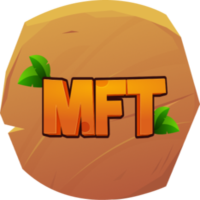 0xdB1A277E6e0C2cc1EbA6f340de1AdDF19C9971f3
Play-to-earn farming game for daily passive profit.
Upvote
You can upvote by clicking on the buttons below. Moreover, you can get profit from price changes when voting by buying. Also, you can earn passive income by voting through staking.
My Farm Token's Advantage 
The My Farm Token's advantage allows users to earn passive income while playing. How? The team creates a play-to-earn game for daily passive profit. Once released, players could become virtual farmers who grow, raise, and sell farming products. Besides, everyone could participate in the Metaverse's building with many unique farms.
What's the MFT token?
MFT is a BEP20 (BSC) token serving as a means of payment inside the game. Furthermore, the developers plan to burn 50% of $MFT from players' purchasing in-game items. Simultaneously, the remaining 50% goes back to the in-game coin's circulation.
Disclaimer
Also, be aware that the text on this page is not investment advice. Moreover, Tokpie does not give any legal, tax, financial suggestions, or warranty of the token's price performance.
Valuable links to trade MFT tokens
For any questions or cooperation, contact Tokpie at https://t.me/tokpie.