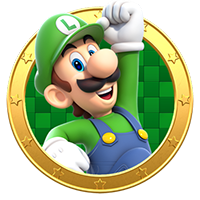 0xd7E81c66502e19ceFC44a4BCE4C0B4fb7a5f144A
It's a memecoin that blends community fun with robust tokenomics for sustainable growth.
Upvote
You can upvote by clicking on the buttons below. Moreover, you can get profit from price changes when voting by buying. Also, you can earn passive income by voting through staking.
Luigi Inu's advantage 
Venturing into the exhilarating world of cryptocurrency, the Luigi ($LUIGI) meme-coin emerges as a fun-filled, community-driven project centered on fans of the beloved Luigi video game character. This coin isn't just a digital asset; it's a delightful, decentralized embodiment of cheerful mayhem and playful adventurism. Drawing inspiration from Luigi's witty and inventive essence, the $LUIGI coin brings a unique blend of jest, boldness, and innovation to the table. This project doesn't just promise financial investment; it offers an upbeat community, a convivial digital space where jesters, jokers, and adventurers gather. By nurturing this harmonious blend of chaos and camaraderie, $LUIGI aims to rocket its way to the moon, encapsulating the power of collective excitement and bringing a sense of cheer and fun to the world of cryptocurrencies.
What's the LUIGI token?
$LUIGI token, with its impressive tokenomics, stands as a testament to the project's commitment to sustainability and growth. With a whopping initial supply of 42 quadrillion tokens and no further minting possible, $LUIGI positions itself as a deflationary token. This feature and team buy-back and burns ensure the coin's value potential. The project takes necessary measures to ensure security and trust - the liquidity pool is entirely locked, and the contract is renounced, underpinning its commitment to transparency. Moreover, the tokenomics promises 2% USDT rewards on all transactions, automatically distributed to $LUIGI holders, serving as an exciting incentive for investors. The 8% tax on buy/sell transactions, 6% marketing fund, and allocation of 15% for promotion & CEX all indicate the project's strategy for growth and its focus on robust marketing.
Disclaimer
In addition, please note that the information on this page does not constitute investment advice. Besides, Tokpie does not provide legal, tax, or financial advice or guarantee the coin's price performance.
More links to trade LUIGI tokens
For any questions, contact Tokpie at: https://t.me/tokpie.