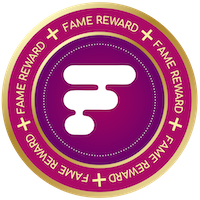 0x8eCA5C1B51A801A822912167153041ed0B92a397
It offers a secure, user-friendly token within an expansive, community-driven ecosystem.
Upvote
You can upvote by clicking on the buttons below. Moreover, you can get profit from price changes when voting by buying. Also, you can earn passive income by voting through staking.
FAME REWARD PLUS's advantage 
Fame Reward+ (FRP) is a unique, community-driven token that brings a host of advantages to its users. As part of the versatile Fame Infinity ecosystem, FRP is designed to reward crypto enthusiasts who participate and contribute to its ever-expanding platforms. Key to the project's appeal is its firm foundation on Binance Smart Chain technology, ensuring a virtually fraud-proof, censorship-resistant environment. Fame Reward+ is more than a token – it represents a sustainable economy supported by a robust currency that has garnered significant interest from the crypto community for its promise of a bright future. Featuring an AI-based transparent monitoring system, it provides insights into overall protocol performance, thus fostering a next-generation ecosystem. This ecosystem's goal is straightforward: to establish Fame Reward+ as the powerful, community-driven reward token for the entire Fame Ecosystem.
What's the FRP token?
The Fame Reward+ token (FRP) is an intrinsic part of this ecosystem, bringing a series of appealing features to the table. Built with a focus on end-user convenience, FRP boasts high levels of safety, ease of use, and a reputation as one of the most trusted lending platforms in the industry. With an ambitious mission to scale the highest peak in the cryptocurrency sphere, Fame Reward+ provides easily trackable rewards and promotes complete anonymity, enabling transactions without compromising personally identifying information. Emphasizing security, FRP relies heavily on cryptography to thwart counterfeiting attempts. It's underpinning by Binance Smart Chain affirms its commitment to swift, secure, and cost-efficient transactions. Lastly, with a total supply of just one million tokens, FRP ensures exclusivity and value, making it an exciting prospect for crypto investors and users alike.
Disclaimer
Also, note that the text on this page is not an investment recommendation. Besides, Tokpie gives no legal, tax, financial suggestions, or warranty of the coin's price performance.
More links to trade FRP tokens
For any questions, contact Tokpie at https://t.me/tokpie.