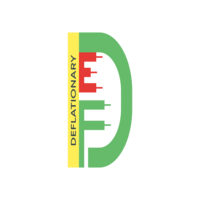 0x0091371Eaef2dA68C8DD77975358C91e8570640f
It's a genuinely deflationary altcoin.
Upvote
You can upvote by clicking on the buttons below. Moreover, you can get profit from price changes when voting by buying. Also, you can earn passive income by voting through staking.
Deflationary's advantage 
The Deflationary's advantage is in its coin that genuinely lives up to its name. It has an actual use case and aims to combat the problem of inflation, making it a valuable asset. Furthermore, unlike other tokens, DEF does not collect taxes for LP generation or reward distribution. Instead, it has a simple fee of only 3%. So, this fee is instantly and automatically sent to the Dead wallet rather than being deposited into a Dev wallet, making DEF a truly deflationary token.
What's the DEF token?
DEF is a BEP20 altcoin operating on the Binance Smart Chain. DEFswap Finance platform uses Deflationary (DEF) as its native utility token. DEF is a token with a true deflationary feature and the purpose of promoting financial literacy. Furthermore, it offers a lifetime solution to the inflation problem, making $DEF a valuable asset. Also, essential to know that token's contract takes 3% from each transaction.
Disclaimer
In addition, please note that the information on this page does not constitute investment advice. Besides, Tokpie does not provide legal, tax, or financial advice or guarantee the coin's price performance.
More links to trade DEF tokens
For any questions, contact Tokpie at: https://t.me/tokpie.