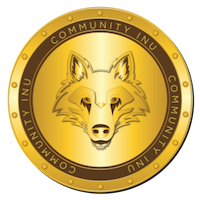 0x60C45C9EC1db6B9DE9f1b7E91C8a13FB825AE154
It's a decentralized altcoin powering a new open-source project.
Upvote
You can upvote by clicking on the buttons below. Moreover, you can get profit from price changes when voting by buying. Also, you can earn passive income by voting through staking.
Community Inu's advantage 
Community INU is a unique decentralized and deflationary token that offers numerous advantages to its users. As a peer-to-peer digital currency, it operates on the principles of transparency, security, and accessibility. It is an open-source project that fosters collaboration and innovation within the crypto community. To revolutionize the digital world through its CTI and ecosystem, Community INU strives to make money more readily available and enable swift transactions. By leveraging its decentralized nature, Community INU eliminates the need for intermediaries, ensuring direct peer-to-peer transactions.
Furthermore, the deflationary nature of the token introduces scarcity, leading to potential value appreciation over time. With a dedicated team of highly motivated professionals from diverse backgrounds in tech and markets, Community INU is committed to overcoming technological challenges and supporting its community in every possible way. By becoming part of Community INU, you'll join the world's best community and contribute to something much more significant than yourself.
What's the CTI token?
CTI is a BEP20 altcoin. The token associated with Community INU plays a vital role in the project's ecosystem. So, token holders can access various privileges within the project's web-based 8-ball pool game. By leveraging blockchain technology, Community INU aims to create an engaging gaming experience where players can participate in PvP matches using cryptocurrency. Moreover, integrating a matchmaking lobby ensures players can easily find opponents, enhancing the gaming experience. By owning Community INU tokens, users contribute to the project's success and gain exclusive benefits and incentives within the gaming ecosystem.
Disclaimer
In addition, please note that the information on this page does not constitute investment advice. Besides, Tokpie does not provide legal, tax, or financial advice or guarantee the coin's price performance.
More links to trade CTI tokens
For any questions, contact Tokpie at: https://t.me/tokpie.