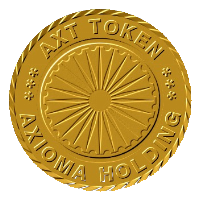 0xB6CF5b77B92a722bF34f6f5D6B1Fe4700908935E
Market cap:
$3,055,800,437
It facilitates peer-to-peer transactions in the global real estate market by introducing smart contracts.
Upvote
You can upvote by clicking on the buttons below. Moreover, you can get profit from price changes when voting by buying. Also, you can earn passive income by voting through staking.
AXIOMA TOKEN's advantage 
Axioma Holding, established in the UK by Abdalla Abou Shanab in 2019, boldly steps into the global real estate market, focusing on peer-to-peer transactions and smart contracts. This company is also firmly positioned in the United Arab Emirates, aligning its growth with Dubai's 2030 business strategies in the blooming blockchain and metaverse arena. Boasting a significant deal with BSC Blockchain, Axioma takes on the ambitious task of tokenizing assets worth over EUR 835 million, potentially reshaping the real estate industry on a grand scale.
What's the AXT token?
Axioma's core is the Axioma Token, the payment processor in this extensive deal. This token, underpinned by real estate assets, opens up a broader range of potential investors in the real estate market. Axioma's vision goes beyond merely creating a profitable investment environment; it's about leveraging blockchain technology to address the pain points in foreclosure and aiding those under financial duress. Through Axioma, investors can profit from real estate, while tenants - who were the former owners - get a chance at redemption by being able to repurchase their properties. Axioma Token, therefore, embodies a unique blend of financial and social value, signaling a new era for the real estate industry.
Disclaimer
In addition, please note that the information on this page does not constitute investment advice. Besides, Tokpie does not provide legal, tax, or financial advice or guarantee the coin's price performance.
More links to trade AXT tokens
For any questions, contact Tokpie at: https://t.me/tokpie.